Second Year, Society & Environment Major
Shelby O'Neil, an undergraduate in the Department of Environmental Science, Policy, and Management, became interested in ocean conservation in high school. Through the Girl Scouts program, O'Neil developed Jr Ocean Guardians, an organization that promotes ocean conservation literacy and policy. At Rausser College, her studies inspired her to share her passion for science as a National Geographic Young Explorer.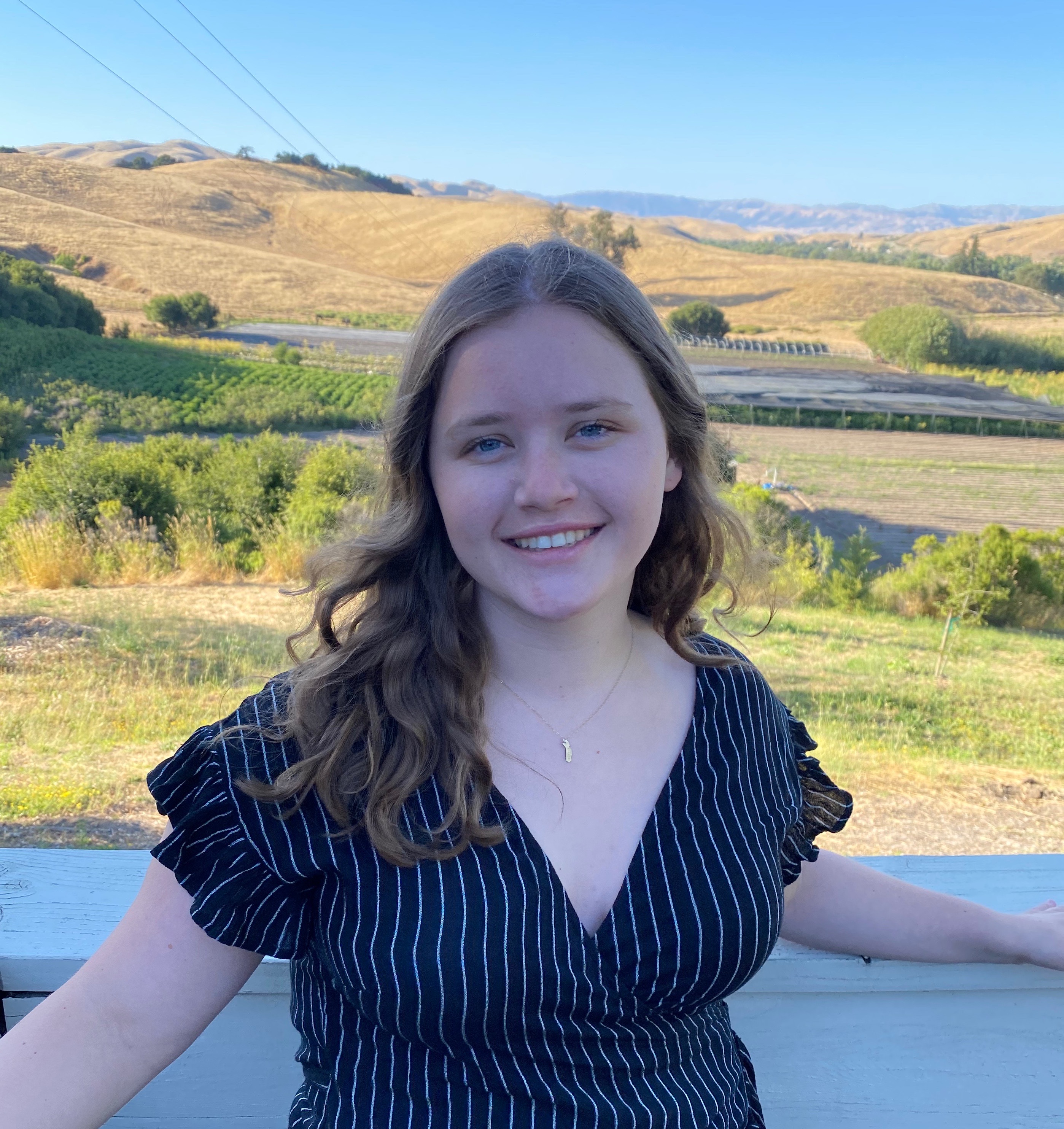 What first sparked your interest in ocean protection and education?
Everyone thinks California is an ocean state, but I wasn't surrounded by much water growing up in the Salinas Valley. My exposure to the ocean only began in seventh grade when I joined the Young Women in Science team at the Monterey Bay Aquarium. I learned many fascinating facts about the ocean during my training, and I returned to work at the Aquarium through the Teen Conservation Leader program two years later. While I enjoyed explaining concepts such as ocean acidification and pollution to aquarium visitors of various ages and backgrounds, I found that many people do not recognize the vulnerability of our oceans. I knew I needed to take action. Since that time, my goal has been to spread environmental education about the oceans inland. 
Describe your work organizing Jr Ocean Guardians and #NoStrawNovember.
I started developing Jr Ocean Guardians in high school for my Girl Scouts Gold Award Project. It was a very intimidating process, and I only started receiving support from my community once I got the organization off the ground myself.
Today, Jr Ocean Guardians is an organization committed to both ocean conservation literacy and advocacy. At its conception, however, Jr Ocean Guardians mostly focused on classroom visits, where I spoke with elementary school students about ocean conservation. During a classroom visit with second graders, I realized they wanted to do something to support oceans, but they didn't know what actions to take. So I created #NoStrawNovember as a tool for people of all ages to refuse single-use plastic straws for at least one month. I believed then that if people could better understand their consumption of single-use plastics, they could start to find ways to remove plastic from their daily lives. 
The #NoStrawNovember initiative expanded to the corporate sphere when I went on an "email rampage," messaging CEOs of companies who I thought could reduce the environmental impact of their operations. I would write messages that highlighted the environmental and economic benefits of reducing plastic use. Through this work, I've been able to collaborate with companies such as Alaska Airlines, Delta Airlines, Dignity Health, and others to stop the use of over 37 million single-use plastic straws and coffee stirrers per year.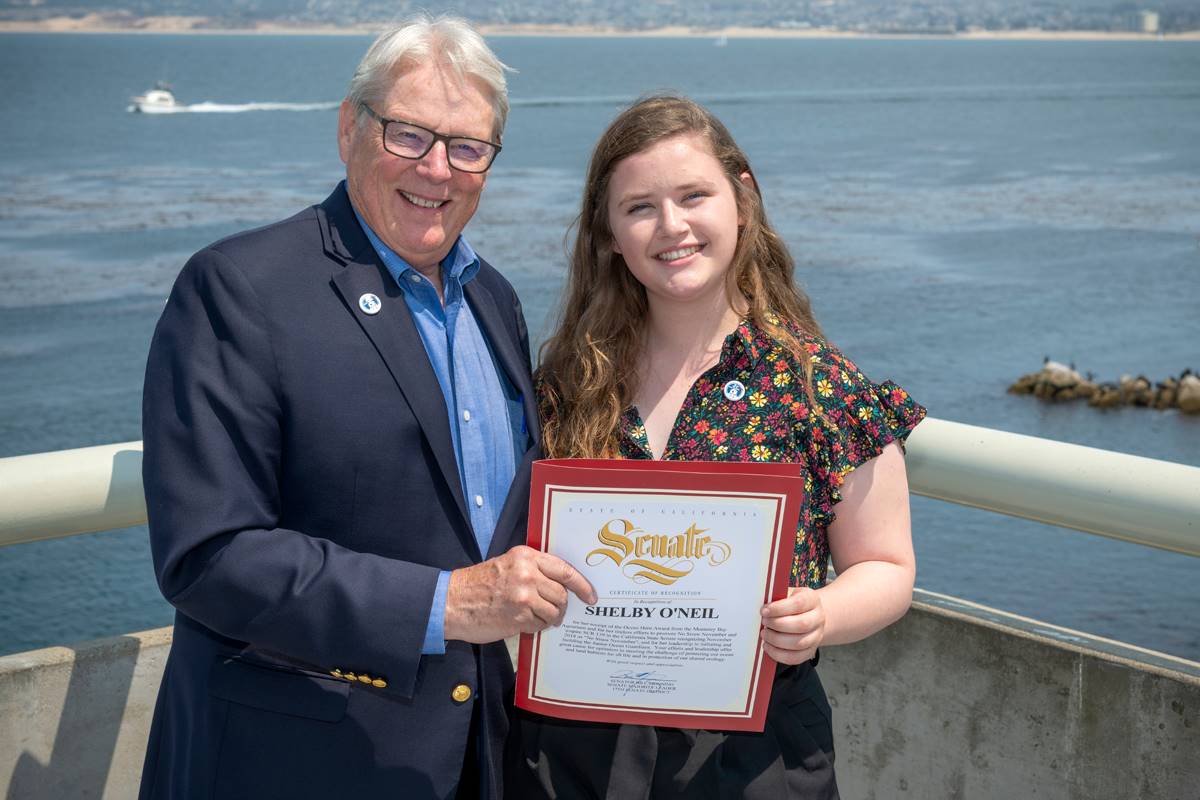 State Senator Bill Monning presented O'Neil with a senate recognition at the Paul Walker Foundation award ceremony.
Later, I began to work with the California legislators to legitimize a No Straw California campaign for the entire state. I reached out to the California Coastal Commission and received unanimous approval for a No Straw November resolution. With the help of members of the California Senate and Assembly, SRC-19 passed, designating November in California as No Straw November.  
What further opportunities have you had through your work?
Through Jr Ocean Guardians, I have been able to speak at events like DreamForce, Good Housekeeping's Raise the Green Bar Summit, and youth activist conferences. I am happy to be able to spread the message about the importance of ocean conservation and youth leadership to large audiences. For Jr Ocean Guardians, I also earned the title of National Gold Award Girl Scout, which opened up new networks to promote ocean conservation further by designing and sharing activity books with schools and organizations. 
Describe your experience filming Sesame Street's "N is for Nature."
After appearing in a Washington Post article for my work with Dignity Health, I decided to reach out to Sesame Street to ask if they planned any episodes on oceans and nature conservation. My request was forwarded to the production team, and I was invited to meet them in New York. I was coincidentally traveling to New York for the Girl Scout Award Ceremony, so I agreed to meet them at their office. I had assumed they were going to lay out a plan for a nature-focused episode, but they ended up inviting me to appear in the episode myself. 
I invited their production team, Wavecrest Films, to film the episode at Monterey Bay Aquarium and Del Monte Beach. In the episode, I shared lessons on what nature was and how anyone could protect it. It was great to get the message out to kids that even their small actions could make big impacts on the future and to show the children a world outside of a concrete jungle. 
 Shelby appears in this preview of Sesame Street's "N is for Nature" episode at the Monterey Bay Aquarium.
 What has been your experience as a National Geographic Young Explorer?
As a National Geographic Young Explorer, I have been beyond blessed to meet some of the most inspiring people; their passions are palpable to anyone who meets them. My fellow Young Explorers are working on projects around the globe to make the world a better, kinder, and more informed place. I am currently working on a project which highlights the multidimensional nature of science, in hopes of inspiring young students to engage far beyond their surface-level science classroom lessons. 
At Berkeley, I have been amazed by how diverse the class subjects are. I remember taking a class on the history of insects in my freshman year and realizing how fascinating science could really be—much more inviting than my high school classes on physics and chemistry. I hope to pass on my sense of wonder by sharing various aspects of science with youth, such as its role in music, art, and more.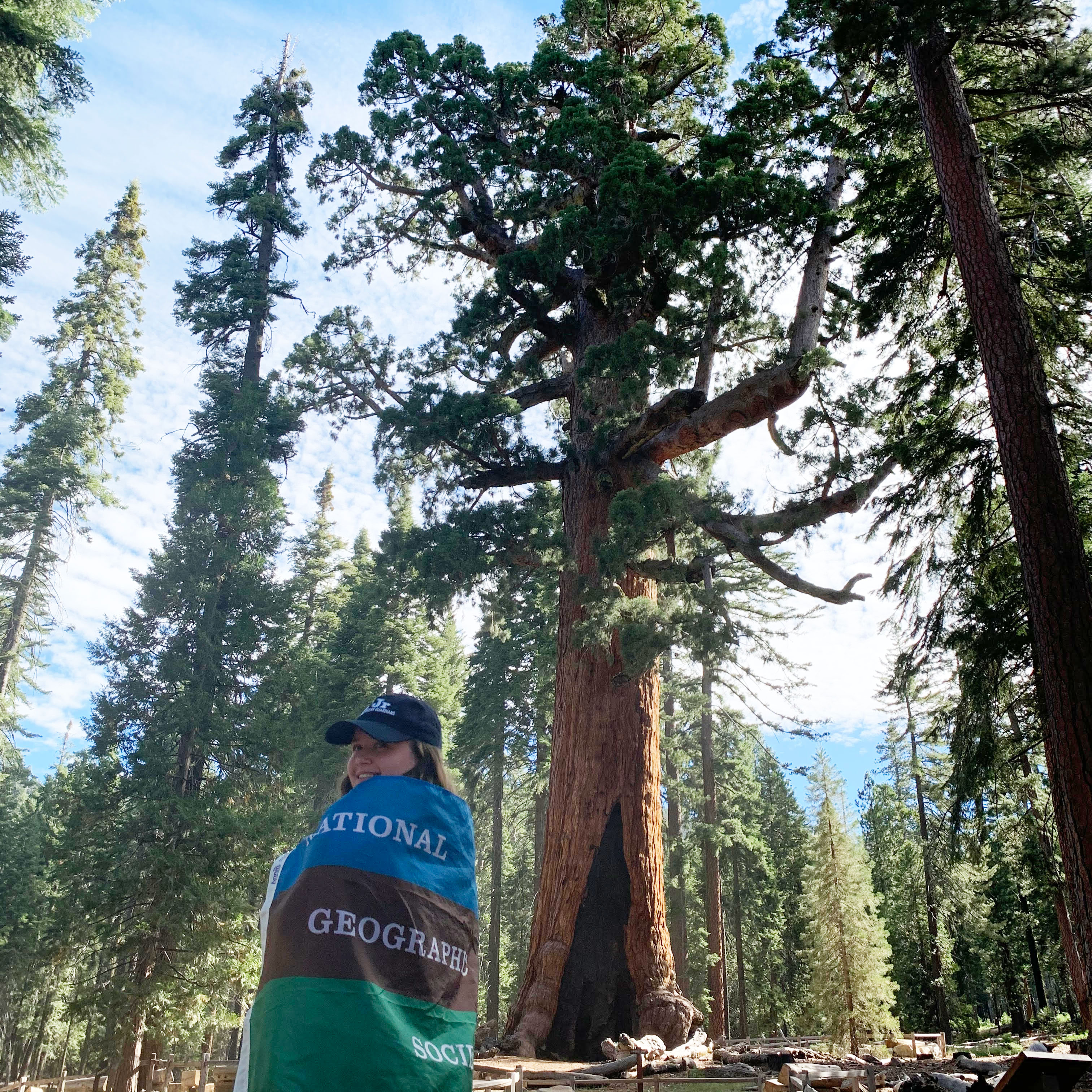 How have your goals changed since coming to UC Berkeley, or how has Berkeley helped you achieve your goals?
My goals have fundamentally remained the same—educate the youth! Though none of my extracurricular projects are tied directly to Cal, I'm working on projects which aim to have huge impacts in the broader community. It's refreshing to be in a campus environment where people are accepting and supportive of environmental action. Going into Cal, I loved participating in policy, and I believed that I wanted to become a politician. Now, I see myself contributing to improving policy rather than as a political figurehead. I'm getting to the stage of college where I'm reorienting myself and figuring out future possibilities. I'm learning how the environment can affect many different communities, including ones I am not part of. Cal has brought me out of my comfort zone, and I now feel more well-rounded and excited to see where I can go from here.
Do you know of a student or group in Rausser College involved in noteworthy research, community outreach, or extracurricular activities? Let us know by submitting a suggestion with this nomination form.