Fourth-Year, Conservation and Resource Studies, African American Studies 
Violet Henderson has had a long career in zero waste and municipal waste reduction. Before retiring in 2018 to attend Berkeley full-time, she worked as Zero Waste Coordinator for San Francisco Municipal Transportation Agency (SFMTA). As Regents scholar, she traveled to Ghana to study the e-waste economy, and she conducted interviews on the health effects of illegal dumping of trash in Oakland as a McNair scholar. In 2018, she was also featured in a short documentary video titled "SFMTA Achieving Zero Waste."
What drew you to attend Berkeley initially?
I've been a longtime resident of the Bay Area. I came here from Los Angeles in the early 1970s and during that time there was a lot of student unrest at SFSU and Berkeley. As a teenager, I was aware of the Free Speech Movement, and whenever I had an opportunity to come to Berkeley I would. I always wanted to go to college, and I had opportunities when I was younger but I didn't feel like I was ready. 
A few years ago, I was a student at Merritt College doing my community college work. I had been working full time for the city for ten years, and taking classes in addition to work was challenging. But when I decided to transfer, I applied through a program called Experience Berkeley and enrolled in 2018.
How did you first become interested in zero waste issues?
While working in construction, where I did a lot of cleanup in housing units, office buildings, and major worksites. I started noticing waste and thinking more about the recycling happening on those construction sites. And I was used to thinking about it because I recycle in my personal life. I come from a family who grew their own vegetables; my grandfather and great aunts always had a compost pile. So it was easy to transition to thinking about compost and recycling in my profession. We also had a big family, so my mom sewed and bought hand-me-downs. It was a reuse mentality, unlike today where someone can just buy a bunch of inexpensive clothes.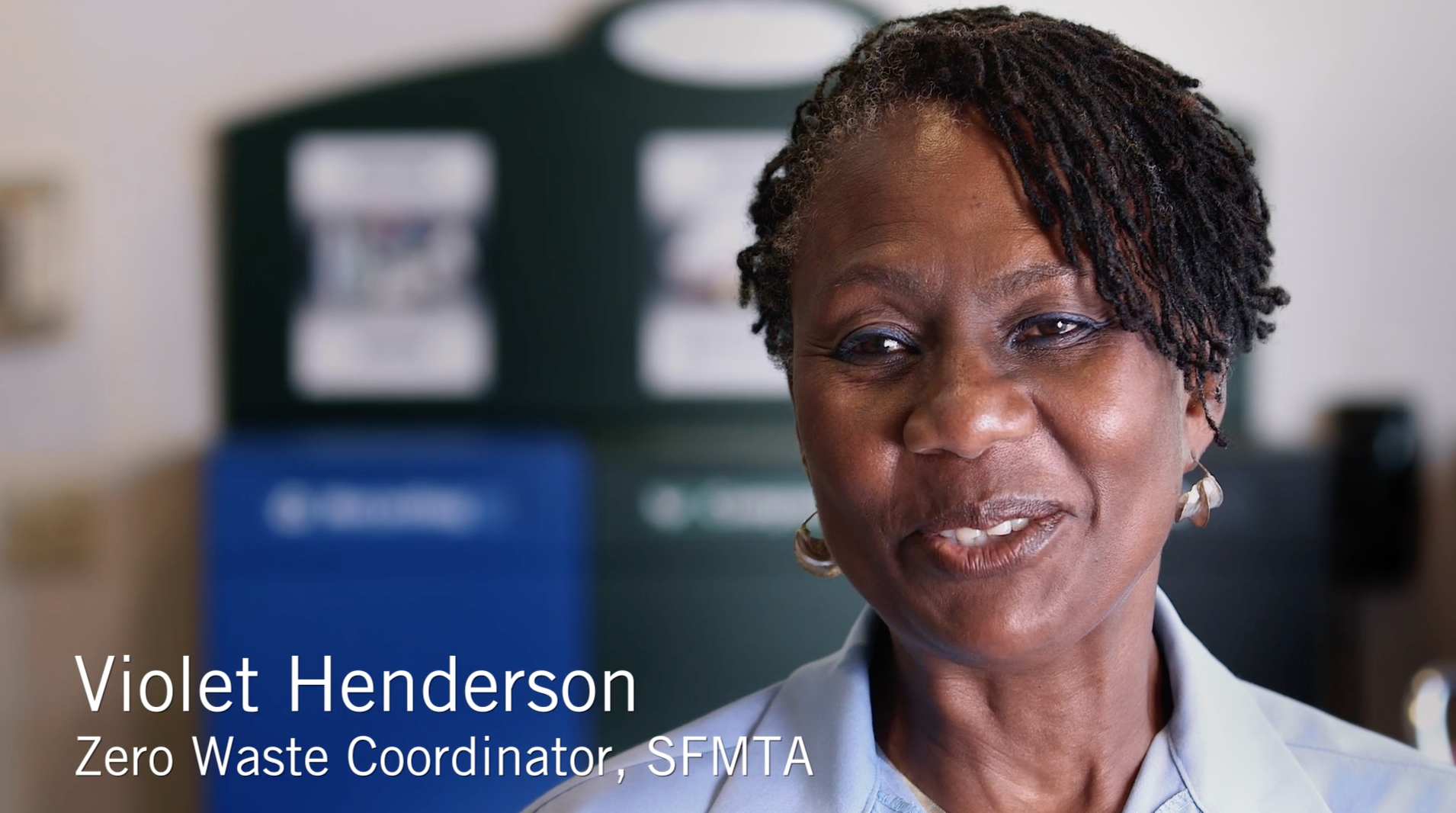 What was your favorite part of the job? And what did you learn from talking to so many people about waste processing and zero waste? 
I liked being able to intermingle with all of the employees, and I had a wonderful relationship with Recology, the waste hauler. I got to know the garbage collectors and their managers personally. If there was an issue, they knew I was only a phone call away. I liked building those relationships. I enjoyed talking to the bus drivers, mechanics, office staff, and the car cleaners, because those people are the ones no one sees but who keep the whole system running. 
I felt a real connection to all the people doing manual labor, because of my work background. I had to work with my hands my entire life, so being able to connect, to validate that the job they were doing was important, and to get them to understand I'm not better or above them. And when they would see that I would wrap up and start dumpster diving, they'd say "Oh my god you're doing it again." So they gave me the nickname Mother Nature.
I soon found that the key to zero waste programs is, if you get the people at the top to buy into it, they tell their managers and others then it filters on down to the workers. Only then does it become cohesive and run very well. 
People began to understand that the message I was sharing was important, that we all have to be accountable for this planet even on very small things like throwing away a banana peel. At first, people would ask why I was so wrapped up in these issues. I don't know, it's just something that I was asked to do, I agreed to do, and it just felt right. But this whole trash thing… people say when I talk about it I just light up. I often wonder why, of all subjects—trash—I get this energy! I guess someone has to do it.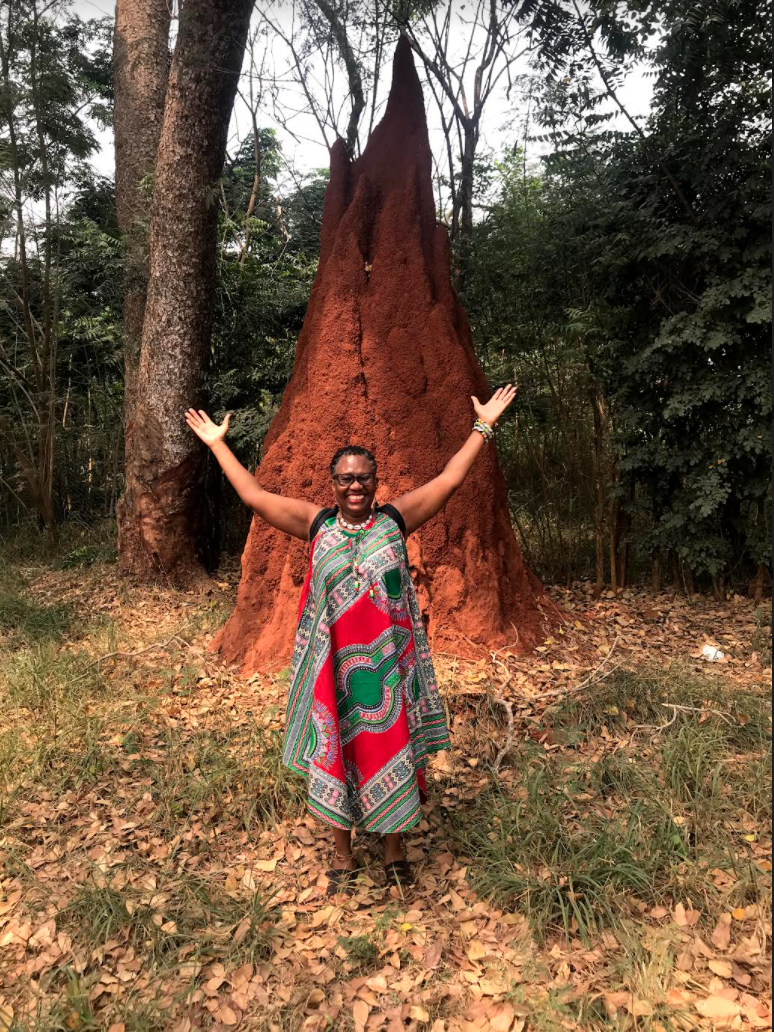 Before the pandemic, you were studying abroad in Ghana and did a research project as a McNair scholar. What did you take away from that experience?
My goal was to conduct in-depth research on the health effects of the young men who spend their day searching through piles of garbage containing e-waste in the Agbogbloshie landfills in Accra, Ghana.  I read they are in constant search of precious metals and anything that can trade for cash. The e-waste arrives in shipping containers from the global north passed off as usable goods but is, in fact, broken and unrepairable. Because of covid, the University of Ghana shut down and sent students home, so I wasn't able to finish the project. It feels like unfinished business, and I really do hope to return when the virus gets under control.
I find it fascinating how this waste has created a whole new revenue stream for people in the area, but the health effects are horrible. These people risk their lives and many don't understand that if they live to be fifty, all the danger in that work now is going to hurt them in the future— emphysema, asthma, and so on. So I thought "Someone has to do something about this." I had also just finished Kate O'Neill's class on environmental politics, and I have both of her books. Kate is such a unique human being and is so genuine, and her class was very relevant because it deals with the international waste economy. In the Society, Environment, and Culture class taught by Michael Mascarenhas, I was introduced to the methods of how corporations and the government worked together to control and regulate everything from our water, food, and air quality. 
What led to your decision to double major in African American studies and conservation and resource studies (CRS)?
I chose African American studies with CRS because it allows me to see through the environmental justice lens, the systemic inequality that has happened year after year.  African American Studies allow me to understand racial segregation and the formation of the ghetto where Black people were forced to live in overcrowded neighborhoods after slavery.  These planned living environments by the government kept  Black people living close to industrial areas with limited resources. This community that I live in was a redlined area, now fully gentrified. Then I took Dara O'Rourke's environmental justice class, which really made sense given what I'd seen personally. I began to understand from his class more and more about the systemic racism and injustice that I was seeing living. 
Even though it was an intentional decision, I didn't really realize the full impact when I combined these areas. Seth Holmes taught one of the first classes that I took on campus, and when he talked about society, health, and environment, it really opened my eyes up to the ways that society and environment are connected, and who is most affected. Where I live in West Oakland, we have the highest asthma rates, because the air quality is so poor.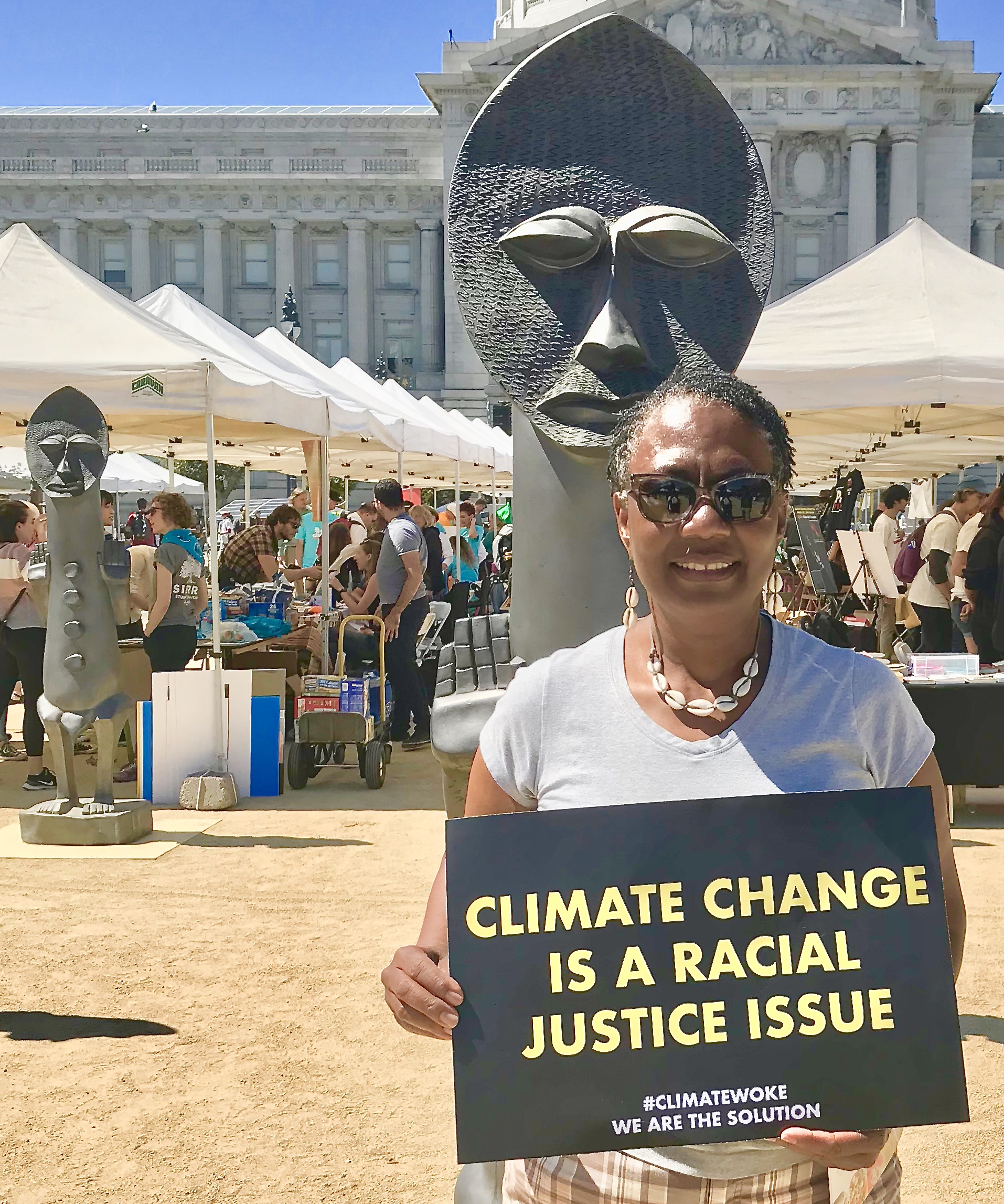 Speaking of zero waste in West Oakland, one thing that really irritated me was that there was a big recycling center where people used to cash in their bottles and cans. Some tech workers/ newly arrived residents complained about it, saying how it attracted homelessness and drugs, but that was a big economy for people! They were there for years and years, and the people who ran that place were very friendly, and the overwhelming complaints from the community made the city of Oakland force them to shut it down. 
What are your career plans after graduation?
I'm attending graduate school. Hopefully once that's done, I can teach. I'd like to use both my education and lived experience to inspire young people to move forward in environmental justice work. Or another option is that I could become a consultant on zero waste for SFMTA, city government, places like that. So those are two different directions I'm considering.
One other thing I had in mind was to start a nonprofit, to create jobs in zero waste and recycling. I imagine getting city contracts to clean up garbage on the streets and create good jobs. It's a rough idea, and I still have to see if it's doable. I'd need to write grants for money and figure out logistics with the equipment and location. But people need to get housed and eat and have shelter, then our streets can also be cleaned up. 
What lessons have you learned in your studies, or is there anything you want to share with other students? 
I would just say keep an open mind and an open heart. Allow yourself to explore the possibilities, because there is no particular class that really made me hungry for more, but it was a combination of many classes. It's important for everyone to know the history of the environmental movement, how it started, all the way from John Muir to finding out about Robert Bullard and all those stories about environmental justice, about how Black people and people of color have been discriminated against, cheated out of land, how the factories and pollutants have been put in those communities. Be open to receive that information and allow it to take you where your heart wants you to go. Something will pull at you, and every time you think about it, it will just be nagging at you. Be willing to explore and follow it.
 Watch the 2017 Citizen Film documentary on San Francisco's journey to achieving "zero waste" by 2020, which features Henderson in her role as Zero Waste Coordinator at SFMTA: 
Do you know of a student or group in Rausser College involved in noteworthy research, community outreach, or extracurricular activities? Let us know by submitting a suggestion with this nomination form.