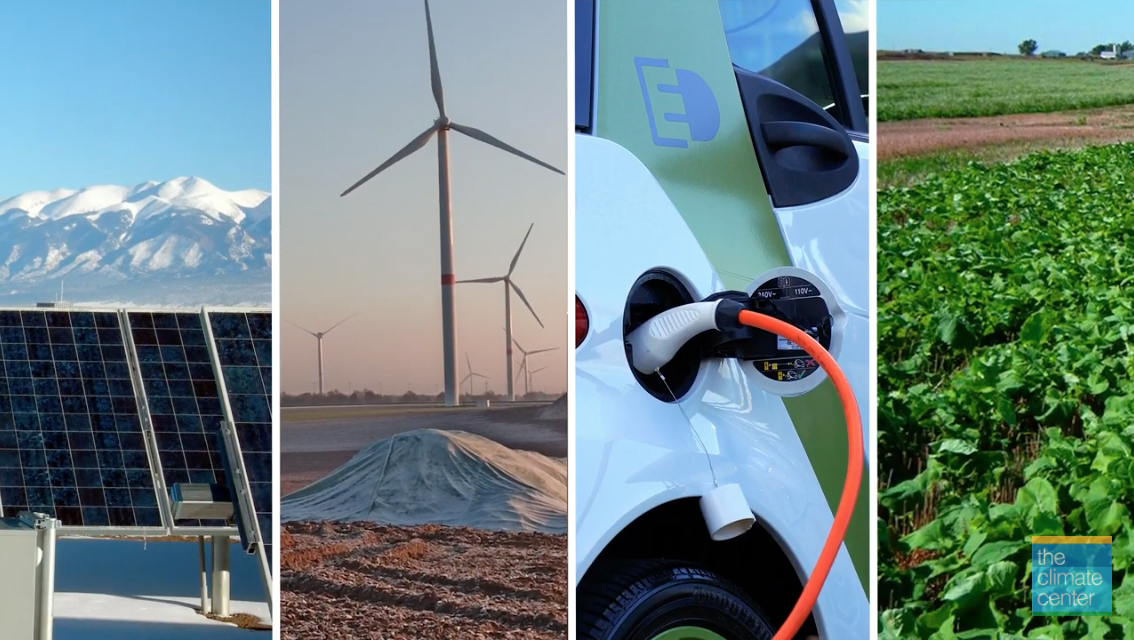 Through the Climate Center's "Climate-Safe California" initiative, professor Dan Kammen and others released a report on the path to net-negative emissions by 2030 in California. Image courtesy of the Climate Center.
Across the nation and the world, California has historically been heralded as the gold standard of progressive environmental policy and climate action. In 2016, the state set ambitious goals for greenhouse gas (GHG) emission reductions to 40 percent below 1990 levels by 2030—a move widely praised by climate researchers and environmental activists. 
Over five short years—and particularly in light of recent commitments made at the local, national, and international levels—California has fallen behind relative to other governments. According to Dan Kammen, professor and chair of the Energy and Resource Group at the Rausser College of Natural Resources, the state's current goals and actions are woefully inadequate. 
On Earth Day, Kammen was featured on KGO Radio, discussing why California must accelerate its action to make a meaningful impact on climate change. Last week, Kammen was featured in a Los Angeles Times  article titled "An Earth Day message for California: Move faster on climate change." The article discusses a forthcoming paper in the journal Environmental Research Letters,  in which Kammen joined a group of researchers and public figures to argue that the state must speed its climate agenda dramatically and without haste, if it is to meaningfully tackle the climate crisis. The authors recommend that California lower its GHG pollution levels close to 80 percent by 2030, instead of the current reduction target of 40 percent. 
Kammen and his co-authors, including climate financier and former presidential candidate Tom Steyer, also call for accelerating net-negative emissions and carbon neutrality targets from 2045 to 2030. They argue that significant action can be taken by bolstering clean transportation and energy standards and by integrating nature-based solutions into natural and working land management.
Sponsored by The Climate Center, the report has bolstered the Center's growing Climate-Safe California campaign. Composed of more than 1,000 elected officials, business leaders, academics, organizations, and community members, Climate-Safe California urges state leaders to take actions outlined in the report by 2030.
The authors write that the climate emergency increasingly threatens communities, ecosystems, food production, health, and economy, disproportionately impacting lower income communities, communities of color, and the elderly. State policy established now could unleash new innovation and spur market forces to further catalyze global climate action, they add.  
"We hope this report is a wakeup call for California's leaders.  Other governments are appropriately rising to the climate challenge with more aggressive action.  California must pull its weight and lead once again," said Kammen, who is lead author of the report. "We need a scientifically credible response to the threats we face. By reclaiming a leadership role on climate and building on its legacy of clean technology innovation, California can prosper while propelling the world towards a safe, healthy future for all."
"California always set the standard for climate leadership but the natural world is demanding even more and it's demanding it now," said Tom Steyer, founder of NextGen Policy and a report co-author. "We need to be bolder and faster to create a clean energy economy and a healthy, just society. As Californians, we know how to lead, to innovate. Now we have to do just that."
Over the past five years, the state has set numerous ambitious targets. Its automotive emissions standards are stricter than those used by the federal government, and it surpassed its own ambitious goals for rooftop solar coverage and electric vehicle adoption. Former governor Jerry Brown, who leads the California-Climate China Institute at Rausser College, made aggressive international commitments to meet the Paris Agreement goals after the Trump administration announced the country's withdrawal from the accord in 2017.
Today, many targets in the state have been surpassed by other, more forceful commitments. The Los Angeles Times  article discusses how the United Kingdom set forth plans to ban gas car sales by 2030, while Finland announced that by 2035, its economy would be zero-emissions—goals that are five and ten years earlier than California, respectively. Washington state now plans to ban gas car sales earlier than California, and Rhode Island has committed to 100 percent renewable energy use by 2030. Federally, the Biden administration proposal on infrastructure aims for 100 percent renewable electricity by 2035.
On April 12, Kammen was invited to provide a technical assessment of SB 582, the Climate Emergency Mitigation, Safe Restoration, and Just Resilience Act of 2021, to the Senate Environmental Quality Committee. In his testimony, he explained how Senate Bill 582 would update the statewide GHG emission target to 80 percent reductions by 2030, establish goals of net negative GHGs by 2035, align California policies to restore GHGs to preindustrial levels before 2050, and task state agencies with developing a just and equitable resilience plan.
Kammen also discussed how the state is well-positioned to take climate action that would have benefits beyond the environmental. "These are ambitious—but I want to stress—achievable goals that are necessary for climate protection," he wrote in his testimony. "Equally important, SB 582 will trigger and integrate a suite of actions that will invest in social justice and will be a huge net economic benefit for all Californians." He provided expert testimony on the same subject before the California State Finance Committee last week. 
Read More: