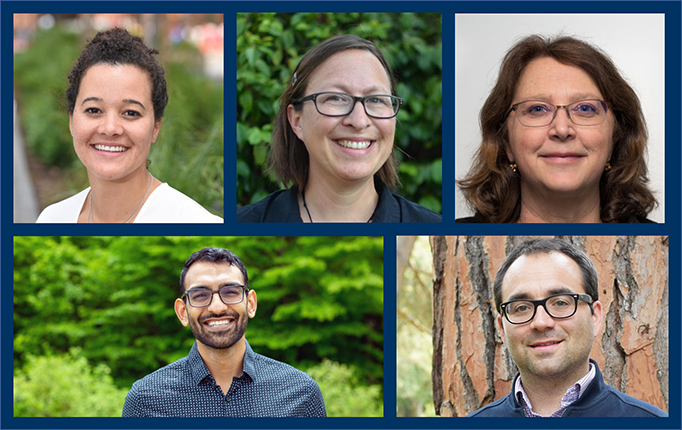 Clockwise from top left: Ashley Reaver, Patina K. Mendez, Mary Wildermuth, Albert Ruhi, and Dhruv Patel.
Congratulations to the five faculty, staff, and student instructors in Rausser College who have received the campus-wide UC Berkeley's Extraordinary Teaching in Extraordinary Times award. Announced by the Academic Senate's Committee on Teaching, this year's award honors individuals in 32 departments across campus who represent a broad range of academic research and disciplines, as well as teams made up of faculty, graduate students, and undergraduate student instructors. Awardees across the university were selected from nearly 500 nominations.
The award recognizes instructors who embraced the challenges from the COVID-19 pandemic last year by engaging in or supporting outstanding teaching. In particular, it honors instructors who have used innovative or creative methods, going above and beyond their traditional roles to engage and support students in the face of pandemic-related challenges. Rausser College recipients are:
Albert Ruhi, an assistant professor in the Department of Environmental Science, Policy and Management (ESPM), received the award for developing an upper division course, ESPM 174A, which teaches time series analyses in ecology and environmental sciences. Using Zoom for interactive lectures and computer labs, Ruhi taught critical data analysis and application skills without the assistance of a graduate student instructor. Student engagement was extraordinary, says Ruhi, and at least five students in the course are moving on to turn their assignment manuscript into a peer-reviewed publication. 
Associate professor Mary Wildermuth and graduate student Dhruv Patel, both in the Department of Plant and Microbial Biology, taught PMB101L, an upper-division, discovery-based experimental lab for plant biology majors. They developed state-of-the-art experimental approaches for remote learning, such as employing unpublished datasets and curating bioinformatic tools to help guide students in small groups online to generate and test hypotheses. 
Lecturer Ashley Reaver in the Department of Nutritional Sciences and Toxicology created novel course materials that called upon students to more deeply engage and study. These methods focused on soliciting increased engagement, effort, and understanding from students, while also offering alternatives to stressfully cramming for exams or relying too heavily on internet resources for study.  
Patina K. Mendez, a continuing lecturer in ESPM, developed online tools and visual activities for students. These materials helped students more efficiently collaborate during large lectures through active-learning activities, connect scientific concepts in papers into visual concept maps, plan elements for scientific writing and theses, and collaborate on undergraduate research within a virtual lab space.