Second-Year, Molecular Environmental Biology and Nutritional Sciences, Physiology and Metabolism major 
Gerard Legaspi is a second-year majoring in both Molecular Environmental Biology and Nutritional Sciences, Physiology and Metabolism. He works as the Rausser College health worker in the Office of Instruction and Student Affairs, where he offers non-emergency health advising and helps undergraduate students navigate resources for wellness. Legaspi also serves as a resident assistant, a lab technician in the Yildiz Lab, and as a research assistant for the Center for Environmental Health in Oakland.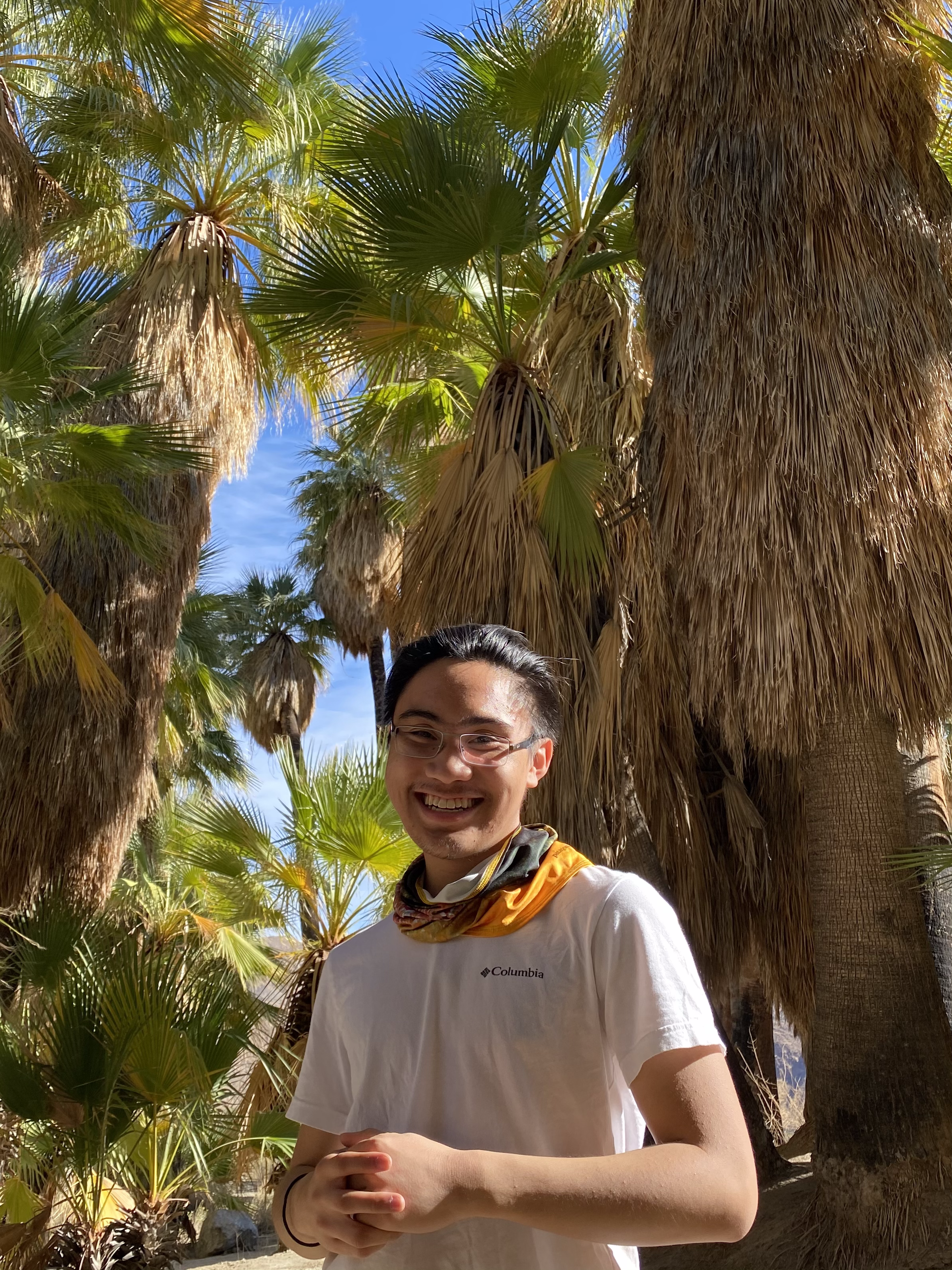 Tell me about your work as a Rausser College of Natural Resources Health Worker. What do you most enjoy about it?
As the Rausser College health worker, I support folx of different backgrounds on a range of health issues as a "first point of contact," and I share resources as a knowledgeable and non-judgmental peer. Every week, I write and post weekly health tips on the College's virtual bulletin board, which range from health tips about basic illness to first aid to safer sex. Overall, I use health education and peer advising to promote self-care, healthy habits, risk management, and using health services. My favorite part of being a health worker for Rausser College is being able to make a difference within a huge community, and to help other students find and use resources for wellness, stability, and prosperity!
How does your background relate to your interest in molecular environmental biology, nutritional sciences, and health work?
In elementary school, I remember a doctor advised that I start eating healthier, which was my first exposure to nutritional sciences. Later on, I joined my middle school's "green team," during which time I learned all about environmental issues like composting, single-use plastics and reusables, and sustainable living. My long-time advisor taught me so much about caring for the Earth, and since then, I've wanted to learn more about biology and environmental health. 
One summer in high school, I was able to intern for my school district's nutritional services department where I put together meal plans for the 85 schools in the district. One added benefit: I even taste-tested some of the products planned for school cafeterias! Then I really got exposed to health work when I was invited by the Long Beach memorial hospital to participate in their healthcare simulation. Basically, the simulation was an in-depth look at what working in a hospital entails, and there I saw how academic and technical skills integrated into real-life situations; for instance, we did medical patient simulation scenarios with mannequins in a mock hospital. Overall, it was a very active learning opportunity where I could think deeply about my career choices. Another thing that solidified my interest was when my high school participated in the Health Occupations Students of America biomedical science competitions, in which I earned the Barbara James Service Award!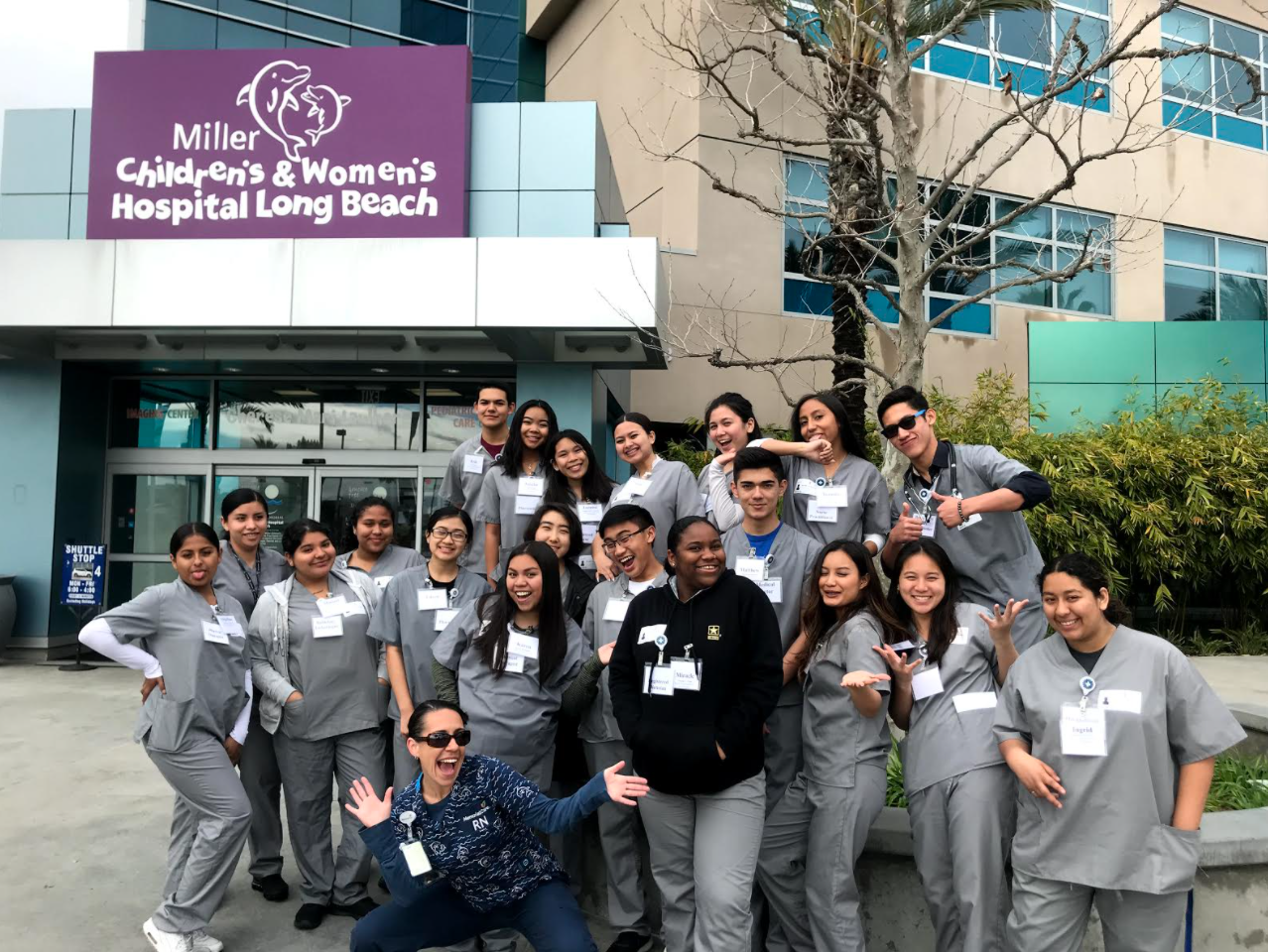 Legaspi (center) with the Spring 2018 cohort of the Long Beach Memorial Healthcare simulation. Image courtesy of Gerard Legaspi.
Can you talk more about your work as a lab technician for the Yildiz Lab and your project internship at CureMD?
I love being able to work with such an awesome team of graduate, postdoc, and PhD students in biophysics, physics, and chemistry. In the lab, I make antibiotic stock solutions, pour agar plates, make medium and lysogeny broth for the growth of bacteria, sterilize lab equipment, and use lab equipment like an autoclave and all sorts of micropipettes. I've definitely been able to perfect my lab techniques, and it's been great to apply some of these lab techniques in my biology courses.
In Summer 2020, I was able to intern for a rare disease nonprofit called CureCMD, whose mission is to fund scientific and medical research, leading to treatments, support, and improved quality of life within the Congenital Muscular Dystrophy community. It's been incredible to learn about a rare disease community and what actually goes into running a nonprofit organization. I was involved in data management of medical records, created a new CMD international registry of patient records, designed and maintained their website, and did community outreach for clinical trials. Working for a nonprofit has so many unparalleled growth opportunities. I found it to be less hierarchical than many companies, and you get to take on multiple projects, with plenty of opportunities for career development.
Are you involved in clubs, extracurricular activities, or other hobbies, either on or off campus?
Ever since middle school, I've been involved with a non-profit called Grades of Green, where I serve on their advisory committee to assist their youth-led campaigns that seek solutions to community-level environmental issues. I am also a research assistant for Oakland's Center for Environmental Health's Endocrine (CEH) Disrupting Chemicals team. I track CEH's work with schools and large purchasers interested in buying healthier products. I also do some really interesting research around a variety of toxics; for example, how CEH could target and begin testing some consumer products that may contain harmful chemicals. It's wonderful to be able to help schools transition to reusable items, and also to help create corporate accountability and transparency around dangerous chemicals.
Legaspi outside of Sacramento City Hall during California HOSA's 2019 Student Leadership Conference. Photo courtesy of Gerard Legaspi.
I'm also a health and wellness committee head for Casa Esperanza, a club I helped pilot at Berkeley last fall. It partners with a women and children's shelter for survivors of domestic violence in Maneadero, Mexico. Through our projects, we work to serve the families of Casa Esperanza, while building our own cultural awareness, delivering health, wellness, and social empowerment programs, and helping provide mentorship, scholarships for higher education, and funds for necessities. Through all of our endeavors, we hope to bring light, love, and hope to the mothers and children at Casa Esperanza. When I'm not working in these areas, some hobbies of mine include running, traveling, hiking, and trying out all sorts of new foods! 
I'm also part of University Health Service (UHS)'s Student Health Advisory Committee (SHAC), an advisory board to the Tang Center and campus administration. There I've helped represent Cal's student population, making recommendations to the UHS senior management. It's been a great experience to be able to discuss with the administration, provide advice, and address barriers regarding student health, needs, and services, all while providing valuable student perspectives. 
What are your post-graduation plans?
During my first year at Berkeley, I was set on going to medical school to become an emergency medicine doctor, but ever since I started working in labs, my eyes have definitely been opened to other career paths. Laboratory research is really intriguing to me, but I also really like the idea of helping others through healthcare. Lately, I've been attending a lot of the career center fairs and events to find out what I want to do after graduation. As of now, after I graduate, I plan on going to medical school, and I'll be getting my EMT certification in the summer 2021.
Do you know of a student or group in Rausser College involved in noteworthy research, community outreach, or extracurricular activities? Let us know by submitting a suggestion with this nomination form.