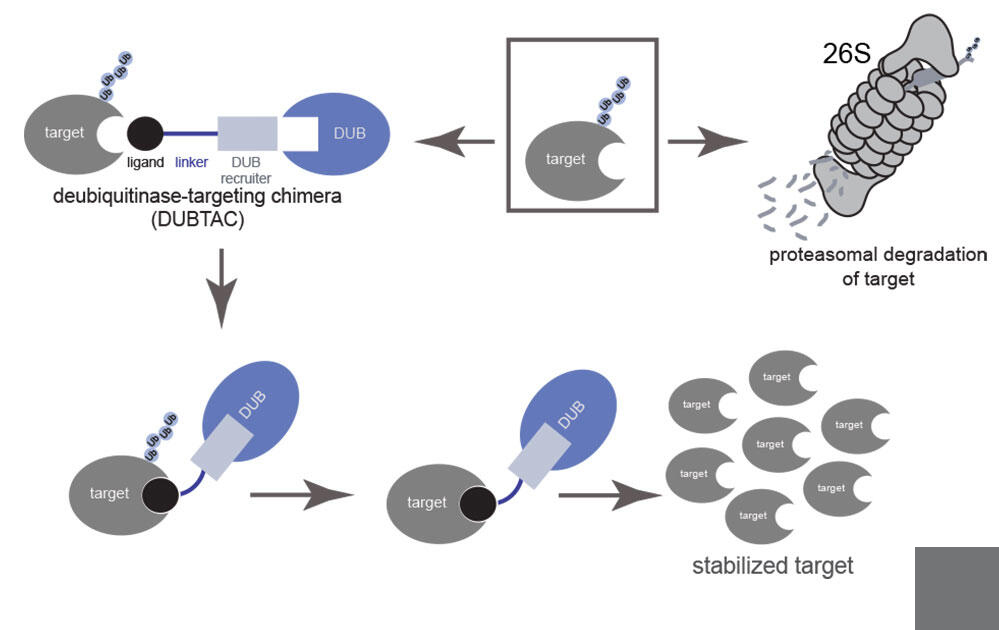 Illustration of DUBTAC in action against a target. (Courtesy Nomura Lab)
Novartis and UC Berkeley have extended their research-based collaboration to develop new technologies for the discovery of next-generation therapeutics, following its successes over the last five years. The combined research team is pursuing a vast number of disease targets in cancer and other illnesses that have eluded traditional small-molecule compounds and drug discovery strategies.
Established in 2017, the research collaboration allows UC Berkeley scientists to work with their scientific peers at Novartis Institutes for BioMedical Research (NIBR) to find new cures for debilitating illnesses. On the Berkeley campus, the collaboration is housed in the Novartis-Berkeley Translational Chemical Biology Institute, which is led by Daniel Nomura, a professor in the Department of Nutritional Sciences and Toxicology (NST). 
In addition to Nomura, the Berkeley team includes NST Professor James Olzmann and Professors F. Dean Toste, Thomas Maimone, and Ziyang Zhang in the Department of Chemistry. 
"One of the biggest challenges facing drug discovery is that the majority of proteins are currently still considered 'undruggable,'" said Nomura, who also  holds appointments in the College of Chemistry and the Molecular Therapeutics division of the Department Molecular and Cell Biology.
"Most proteins do not possess well-defined binding pockets or 'ligandable hotspots' that can be pharmacologically and functionally targeted for therapeutic benefit," he adds."Tackling these undruggable proteins requires the development of innovative technologies for ligand discovery and the discovery of novel therapeutic modalities to functionally manipulate these intractable proteins for therapeutic benefit.
Also announced today is the launch of Vicinitas Therapeutics, a spin-out company founded by Nomura that resulted from the Deubiquitinase Targeting Chimera (DUBTAC) platform, which was developed through the collaboration. The biotechnology company will advance a proprietary targeted protein stabilization platform to develop novel therapeutics in cancer and genetic disorders.
Learn more about the partnership and the research on the College of Chemistry website.