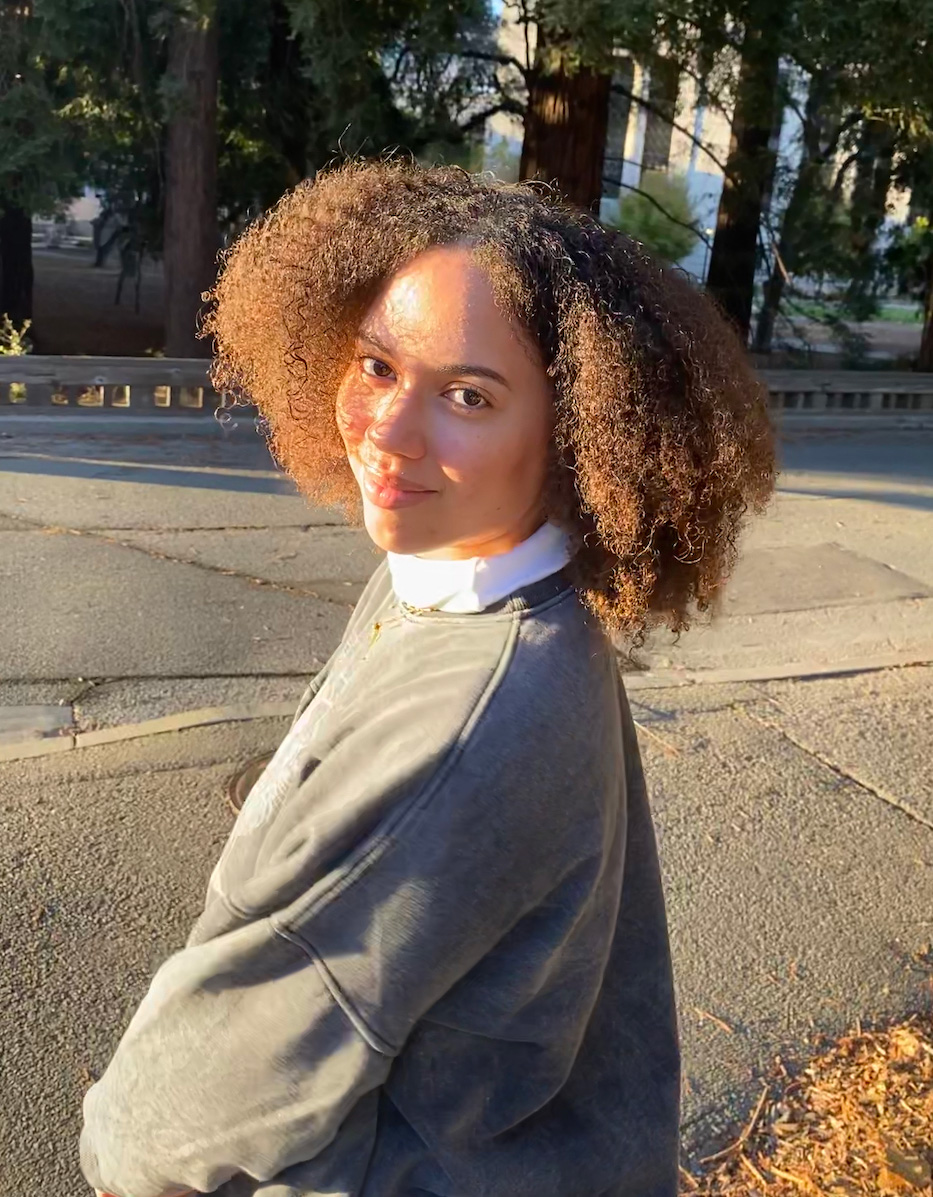 Last November, over 35,000 participants from 190 countries gathered in Sharm El Sheikh, Egypt, for the 2022 United Nations Climate Change Conference (COP27), an annual event where state leaders, international agencies, and other participants discuss the successes, failures, and progress of climate change action.
Jade Marum, a third-year student majoring in environmental science and minoring in African American studies, was one of 10 UC Berkeley students selected by the Student Environmental Resource Center (SERC) to attend the conference. Funded by the Green Initiative Fund, Marum and her fellow delegates had the opportunity to network with conference participants and deliver a press conference that centered on youth concerns regarding the climate conversation. Now back at Berkeley, Marum said she hopes to bring her experience from COP27 to her classes and job as outdoor education co-associate with SERC.
This interview has been edited for length and clarity.
Why did you choose Rausser College?
My mom went to UC Berkeley and growing up, I heard her talk about Berkeley like it was the most magical place. And so far it's living up to its reputation. But halfway through high school, I took an environmental science class which helped me realize that this was what I wanted to study. I originally leaned toward animal or wildlife conservation, but talking about climate change has been a part of every course so far. They're all interconnected, which helped me branch out into other fields like Environmental Justice.
Was there anything in particular that inspired you to get involved in SERC?
I got interested in SERC in 2020. Their website was amazing and they offered book clubs, environmental classes, and guest speakers. Their mission of creating a more equitable, socially just, and resilient future led me to join, but I couldn't do much at the time because of the pandemic. This past summer I applied and was hired to be the outdoor education co-associate. I love working there. I love the people, the direction of the organization, and their principles.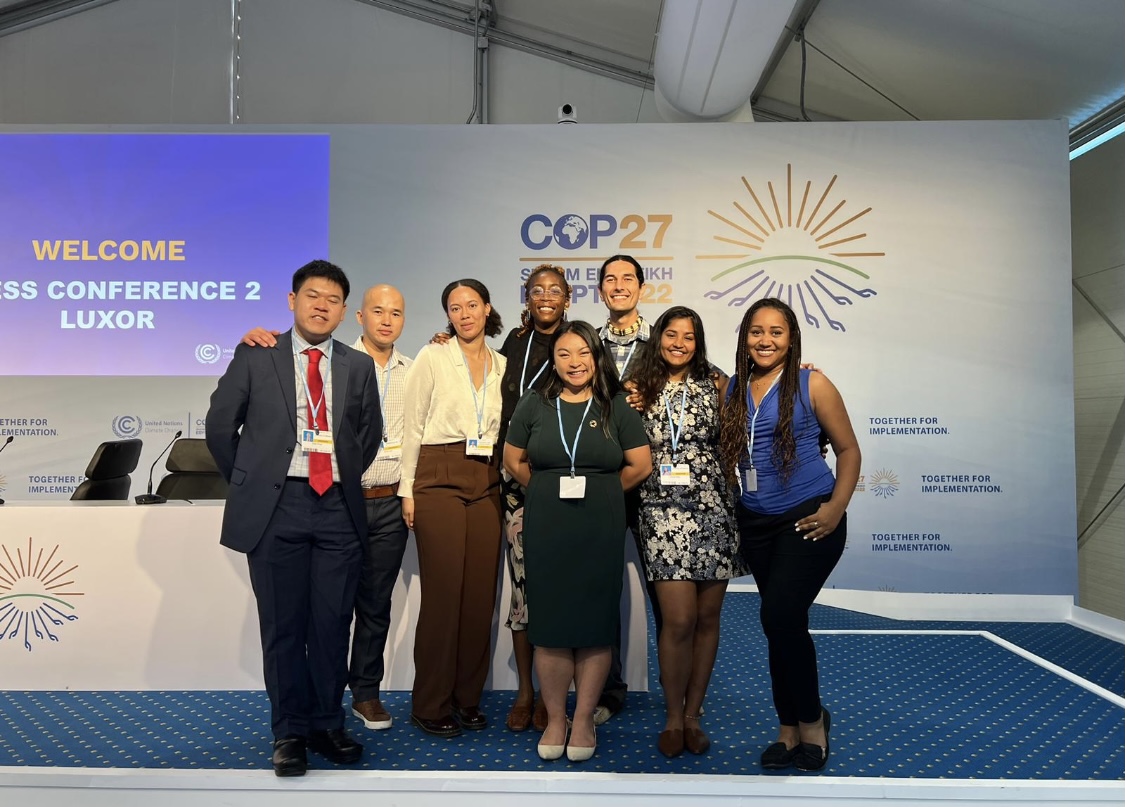 Marum and other SERC panelists pose for a photo during the COP27 conference in Egypt.
What was it like being a part of SERC's COP27 delegation?
Participating in COP27 with SERC was amazing. There were so many brilliant students in our delegation—from first-years all the way to PhD students—so everyone had something to contribute. I really enjoyed meeting people at COP; it was probably my favorite part of the trip. 
Hearing from so many different people and talking about the different initiatives their countries are pursuing was amazing, but it was of course, not perfect. We went into COP27 looking at it through a lens of Environmental Justice, which highlighted some of the inequities at the conference. Pretty quickly after getting there, our delegation noticed little things like how some African nations had very tiny booths while other non-African nations had huge booths with high tech. That was something certain members of the delegation and I want to examine more in the next semester. We also went to a panel where Indigenous people talked about how some of the climate solutions proposed during the COPs are impacting them more than other countries—just like the climate problems in the first place. It was so multifaceted that there was a lot to take away, but overall it was amazing to be there and have that platform.
What did youth participation look like at the conference?
We held a press conference that gave our perspectives on the climate crisis as students. Youth have so much passion, and our delegation really showcased that by taking any opportunity to talk to anyone and learn from other delegates, but there weren't a lot of other universities that we came into contact with. I met maybe 10 other youth delegates while I was there, and a lot of them came from universities that only sent one or two people. We came with 10 students, which was surprising for many.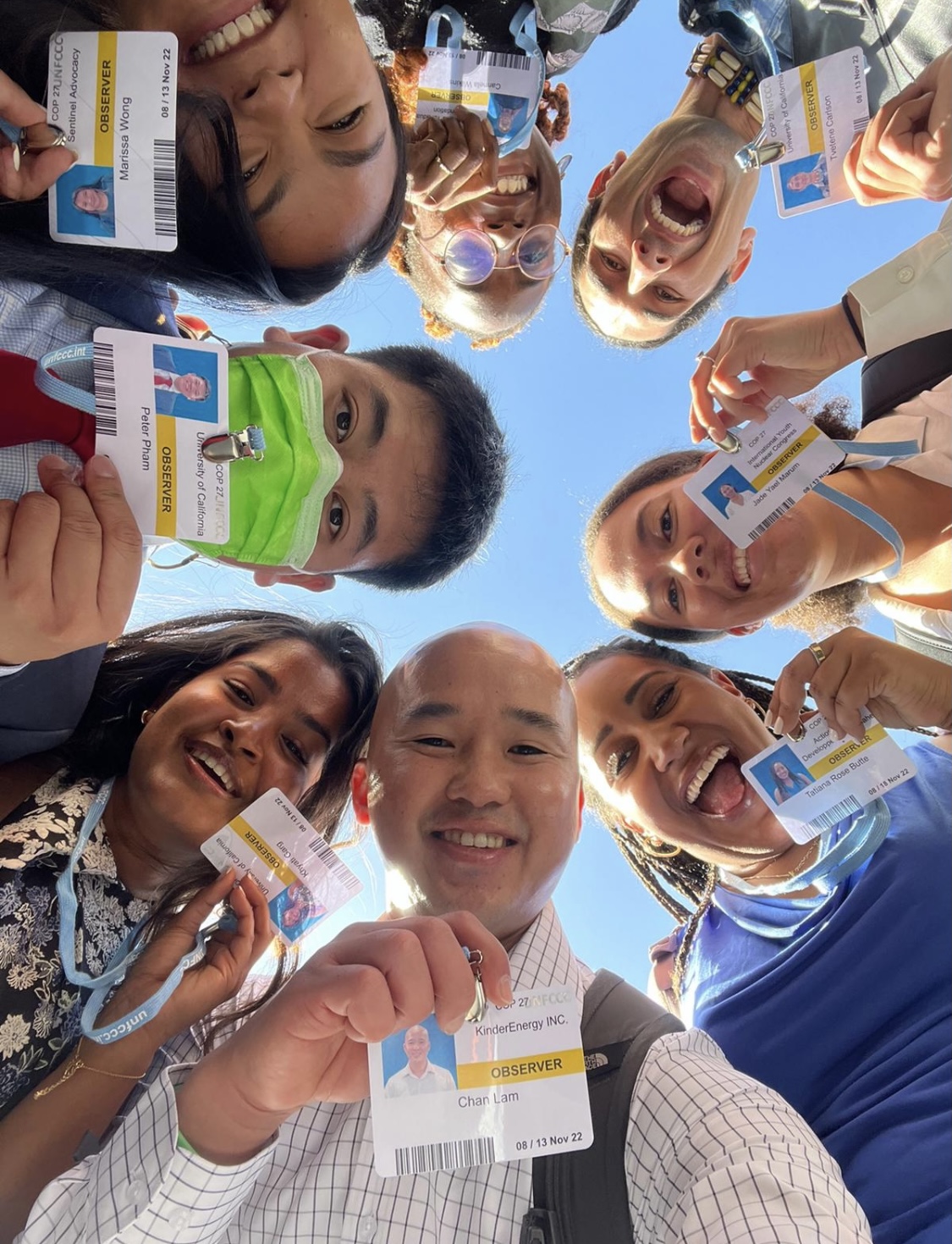 Marum (center right) and members of SERC's COP27 delegation pose for a photo with other delegates.
Most people I spoke to told me they had gone to many COP conferences, which is amazing, but I think it is important to get some new people there—specifically youth. These decisions are impacting us just like everyone else, so every age group and experience contributes something meaningful to the conversation. Some delegates told us that it was amazing that we are so young and participating in the conference, and that youth participation helps keep everyone motivated to know that we're here doing the work together. But, you have to be there to do that, and I don't think that students and youth are represented at the magnitude that they need to be.
Did your experience at COP27 influence your field of study?
I definitely plan to focus more on Environmental Justice because my identity as a Black woman informs everything; it's impossible to not look at things through that lens. We were asked to think about connections we can make after COP27, and I want to examine and research the historical patterns of racism and environmental degradation in the United States.There was also a panel that talked about colonialism in Africa as a major instance of environmental degradation and resource extraction. I want to explore how those connect.
What is your favorite part about working with SERC?
I really like the events we plan through SERC because I get to meet people who I never would have met otherwise. As co-associates, we host events to get people outdoors, especially marginalized communities who either don't have the equipment or don't feel comfortable going into these spaces. We try to make the outdoors accessible to people who may not have the equipment or a certain level of experience and familiarity. So far we've hosted a free accessible swim series where we hired a Black swim instructor to teach a group of Black students how to swim, broke down some misconceptions, and allowed people to share why they didn't feel comfortable learning how to swim before. We're also planning a kayak trip for LGBTQ members of Berkeley next semester, and are looking to organize several hikes or one-day events.
How do you like to spend your free time outside of class and your job with SERC?
I swim a lot. I've loved being underwater ever since I was a kid. I swam competitively from the age of 10 until I graduated high school, and was also on my high school swim team. Now I mostly swim on my own and teach private lessons to adults in San Francisco. Aside from swimming, I spend a lot of time reading and hanging out with friends. I feel like I'm still trying to make up for the pandemic by seeing people as often as possible. 
Do you know of a student or group in Rausser College involved in noteworthy research, community outreach, or extracurricular activities? Let us know by submitting a suggestion with this nomination form.