According to the United States Department of Agriculture, global food demand will grow by at least 70% by 2050. This demand—as well as an increasing awareness that continuing to produce and consume food in conventional ways will exacerbate global climate change—will shape agriculture and food production in coming years in ways we are only just starting to imagine.
A conference hosted last week by Rausser College of Natural Resources grappled with these issues and engaged industry leaders, scientists, academics, investors, and entrepreneurs to discuss the future of food. Through panels, lectures, and company spotlights, the day highlighted agricultural and food science advances that are making a global impact on climate change, resource management, nutrition, food security, and energy demand. 
Held Tuesday, September 12, at the Bakar BioEnginuity Hub on the UC Berkeley campus, the event presented panel discussions on topics including challenges faced in existing food systems; the production, scaling, and adoption of new foods and food solutions; and the environmental, social, economic, and health impacts—both good and bad—that may result from advancements in agricultural and food science. 
From top: Glenda Humiston, Vice President of the UC Division of Agriculture and Natural Resources, and Christine Birdsong, Undersecretary of the California Department of Food and Agriculture, speak during the Innovations on the Menu event.
Kicking off the event, Glenda Humiston (PhD '09 ESPM), Vice President of the UC Division of Agriculture and Natural Resources, noted that "agriculture is food, which is nutrition, which is health and wellness," and emphasized the importance of transdisciplinary collaboration—across academia, government, and industry—to foster innovation that will address issues like climate change, food security, human health, and more. She also highlighted the important work of UC Cooperative Extension specialists and advisors, who co-create and share research with communities, farmers, industry sectors, and natural resource managers involved in food systems.
Undersecretary of the California Department of Food and Agriculture Christine Birdsong (BA '95 Anthropology and English) delivered the keynote address, speaking about the latest developments for farmers and ranchers across the state. "The answer to what's driving innovation at the Department of Food and Agriculture, and for agriculture across the state, is really simple—it's climate," she said. "Our agency is working with our community to expand the suite of climate-smart agricultural practices that can help our farmers adapt to climate change. This includes things like zero-emission vehicles, energy efficiency, extreme heat adaptations, manure management, and nature-based solutions to meet our ambitious goal to be carbon neutral by 2045."
In addition to climate change, Birdsong discussed other drivers of innovation including market demand and changing pest pressures. "Our industry has to adapt so we can all survive and thrive in agriculture, well beyond this crisis point," she said. She outlined various examples of innovations that have moved successfully from idea to implementation, including dairy digesters, irrigation technologies, and practices to improve soil health.
The day continued with panel discussions featuring speakers at the cutting-edge of new food technologies, from well-established companies and startups alike. A recurring theme throughout the discussions was the challenge of scaling and bringing new food innovations to market at a price point that can compete with conventional food products. "We have to make these products for a price that can participate in the market. Otherwise we don't get the goods that we're all aiming for, which is a world supported by plant-based solutions that isn't so threatened by the climate," said Shannon Hall, CEO and Co-Founder of Pow.bio, a company building the continuous fermentation infrastructure that will be needed to produce many plant-based foods at scale. 
Kevin Klatt and Priera Panescu listen as Patricia Bubner, CEO and Founder of Orbillion Bio, speaks on a panel focused on the environmental, social, economic, and health impacts of emerging food systems (left). Shannon Hall, CEO and Co-Founder of Pow.bio, speaks on a panel focused on producing, scaling, and adopting new foods and food solutions (right).
"Environmental and health concerns are very much secondary drivers," said Priera Panescu, lead scientist at the Good Food Institute, a nonprofit think tank working to accelerate the plant-based meat industry. "It really just comes down to taste and price and in the end, if you can't check those two off, you can have the most environmentally friendly, healthiest thing in the world, but nobody cares."
Challenges including customer awareness, slow regulatory processes, and entering very established and powerful markets like the conventional beef industry were raised, but speakers focused on the opportunities of disrupting traditional food systems to create more sustainable products that kept them motivated.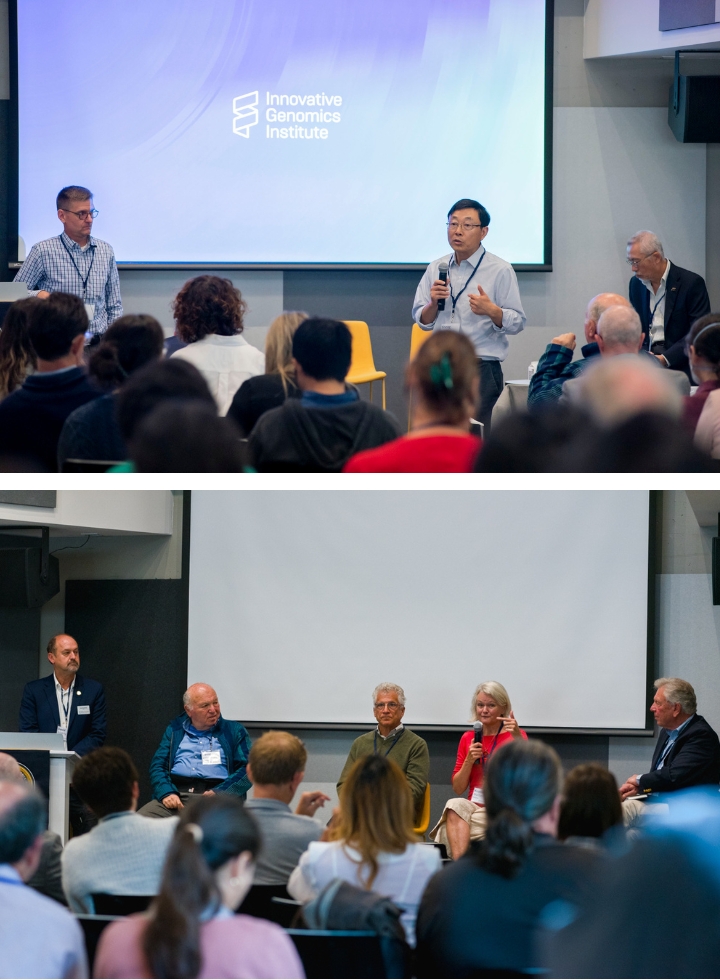 Innovative Genomics Institute Executive Director Brad Ringeisen (left) and Plant and Microbial Biology professor Sheng Luan engage in a discussion with the audience (top).  Rausser College Dean David Ackerly moderates a panel focused on the challenge of existing food systems (bottom).
A later session focused on scientific advances in gene-editing and CRISPR technologies that promise to help fight plant pathogens, improve crop yields, and store more carbon in the soil. Plant and Microbial Biology professor Sheng Luan and Innovative Genomics Institute Executive Director Brad Ringeisen engaged in a robust discussion with the audience on how new technologies used in food are regulated, studied for nutritional qualities, and accepted—or not—by consumers. 
Kevin Klatt, a research scientist and instructor in the Department of Nutritional Sciences and Toxicology, expressed concern about health communication and the lack of trust in nutrition sciences, which could create problems as society continues to make choices about foods created with new food science technologies.
Interwoven throughout the discussions was the theme of equity, including topics of how to attract diverse groups to agriculture as the field evolves, how to make healthy foods available to all people, and the importance of making sure that new technologies create jobs for those working in current agricultural systems that may be affected. A key point made by numerous speakers was the importance of always remembering to ask who will benefit from innovations and new technologies. Kristine Masden, professor of public health and former faculty director for the Berkeley Food Institute, asked "Who decides what the outcomes are? Who decides what success looks like? And who defines progress?" She also urged society to consider reducing consumption: "Anytime we're talking about progress and technology, [we should be] pairing that with a conversation about where we can step back as individuals and as industry and then hopefully move forward into a whole new system, including a food system that's not just driven by major industry interests."
For David Zilberman, a professor in the Department of Agricultural and Resource Economics, the new system should be a circular bioeconomy, which utilizes agricultural and natural resources not only for food but as sources of fuel, chemicals, and medicine. This new science-based approach will take advantage of all technologies, he says, and it will create new jobs and economic opportunities around the world as agriculture is integrated into the production of almost everything. 

Pat Brown, CEO of Impossible Foods, answers a question from the audience during a panel on new foods and food solutions (left). Richard Lyons, Associate Vice Chancellor and Chief Innovation & Entrepreneurship Officer, speaks to leading VC executives about investing in startups innovating in the food-tech frontier (right).
With the advent of new technologies such as robotics, drones, self-driving tractors, and soil sensors, Birdsong said that the labor force will need to evolve. In addition to pickers and packers, "there will be jobs all the way up the scale, from field crews to engineers, warehouse logistics to pure biology, but all of it—even the most basic jobs—will increasingly deal with technology and data analytics," she said. Birdsong stressed that innovation would mean people, not just machines and computer code. "These are going to be some serious, high-skill, high-paying jobs that didn't even exist a decade ago, and we're doing our best to make sure that the current workforce can be lifted up into these jobs."
Attendees also had the chance to hear from venture capitalists investing in new food technologies, and a highlight of the day was a reception offering the opportunity for attendees to sample many new food innovations including vegan sushi tuna made using seaweed and pea protein, cuts of meat made with a fungi named koji, tea sweetened with precision-fermented sweet proteins, honey made without bees, beer brewed with bioengineered yeast, crispy chickpea chicken, plant-based bacon, and more. 

Plant-based alternatives to tuna invented by Impact Bio (right), honey invented by MeliBio (center), and salami invented by Prime Roots (right) are served to attendees during a reception.
"The motivation for this project comes from the fact that society is asking the farmer of the future to satisfy the food needs of a growing world population, to provide the feedstocks for the burgeoning bioeconomy and bioenergy production, and to play a significant role in carbon capture and sequestration," said John Coates, director of the Energy & Biosciences Institute, who proposed the conference idea and co-led planning. "This needs to be achieved in the face of a changing climate and the depletion of essential natural resources such as phosphorus and potassium."
"I am honored to have had this opportunity to organize an event where so many distinguished guests shared their views on such a pressing and important issue," said Mike Cheng, who co-led planning of the conference through his role as advisor to the dean and executive-in-residence at Rausser College. "I hope this conference can serve as a catalyst for further ideas and conversations that will lead to actions to address the environmental, social, economic, and health aspects of food science and technology advancement. I certainly look forward to being a part of the food science revolution."
"Today as we think about climate, food, and land use and biodiversity, we see a triple challenge for the century ahead," said David Ackerly, dean of Rausser College of Natural Resources. "These are critical issues, and as we seek solutions in all sectors and industries, food and agriculture are critical."  
More photos of the event are available on the Rausser College Facebook page.