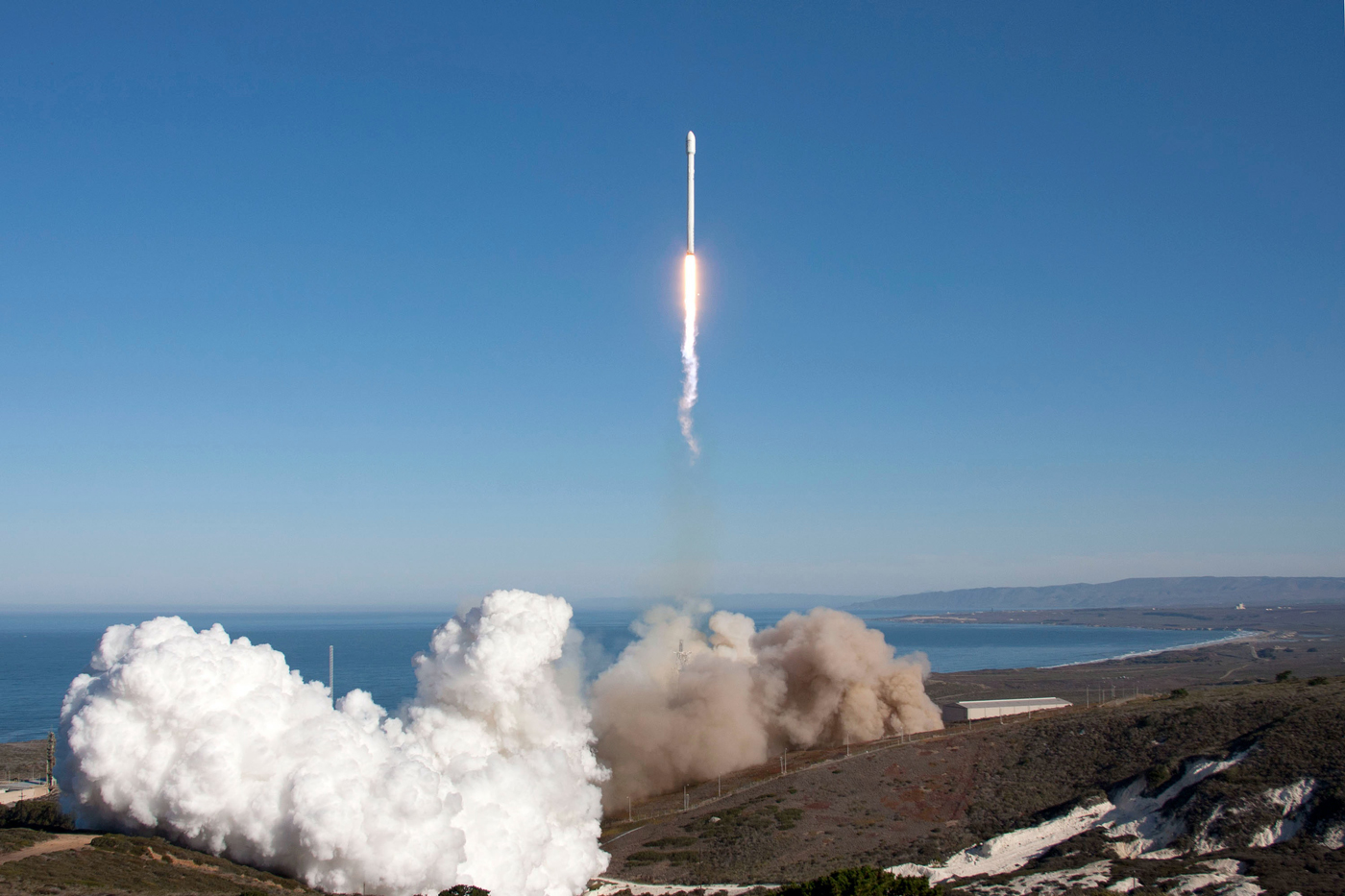 A SpaceX rocket launches from Vandenberg Space Force Base in Santa Barbara County, California.
Outer space has long been the setting for science fiction, but with new technologies and advances, our connection to that "final frontier" may be closer than one might think. 
A new perspective paper published by University of California, Berkeley researchers today in the Proceedings of the National Academy of Sciences (PNAS) explain how space exploration will involve new areas of innovation and drive a space economy, and how public-private partnerships will be crucial in avoiding a "tragedy of the commons" as competition for space goods and services accelerates. 
The paper is authored by Gordon Rausser, professor emeritus in the Department of Agricultural and Resource Economics (ARE) and dean emeritus of Rausser College of Natural Resources, Elliot Choi, a researcher in ARE, and Alexandre Bayen, a professor in the Department of Electrical Engineering and Computer Sciences.
Pointing to cost-effective technologies like reusable rockets and the increasing deregulation of space launches and flights, the authors assert that "global economic activity in the space industry has begun to surge." They identify six innovative fields that will likely emerge as dominant space sectors in coming decades: space transportation and logistics; in-space manufacturing; bioproduction – which is the production of organs, tissue, chips, and drug therapies under microgravity conditions; nuclear launch and propulsion – which utilizes nuclear energy to potentially substitute current fuel sources; space agriculture; and satellite services and maintenance.
The authors note that "in the race among countries to capture the value of space exploration, NASA, American research universities, and private companies can avoid any coordination failures by collaborating in a public-private research and development partnership (PPRDP) structure." Their paper evaluates partnership and incentive structures of PPRDPs, addresses how PPRDPs can increase the probability of major research discoveries and innovations, and introduces a novel form of polycentric governance to administer PPRDPs by using decentralized autonomous organizations.
The University announced today a partnership with NASA's Ames Research Center and developer SKS Partners to create a research hub for companies interested in collaborating with UC Berkeley and NASA scientists and engineers to generate futuristic innovations in aviation, space exploration, and how we live and work in space. The Berkeley Space Center will eventually consist of 1.4 million or more square feet of research space on 36 acres of land at NASA Ames' Moffett Field in Mountain View, leased from NASA for 99 years. 
Both Bayen and Rausser, who has extensive experience negotiating public-private research partnerships, were instrumental in the development of the project. Since 2019, Rausser has led two sequential committees working to shape the future of UC Berkeley's engagement with NASA and create a vision for the development of research and development (R&D) and instructional activities in collaboration with private partners on the Moffett site. Bayen serves as associate provost in charge of the project.
"In the decades to come, breakthroughs needed to revolutionize the space economy and industry will rely on unprecedented advances in science and technology," said Rausser. "These innovations will be enhanced through collaborative coordination of industry, academia, and government through new partnerships, in which each stakeholder provides complementary skills needed for success."
"The Berkeley Space Center will provide our private-sector partners access to leading talent and a state-of-the-art hub that facilitates innovation and collaboration between R&D teams," Bayen said. "The co-location with NASA and other agencies, combined with the proximity to tech and start-up companies in the heart of Silicon Valley, will create optimal conditions for research breakthroughs and technological advances."
Read the open-access perspective paper on the PNAS website.