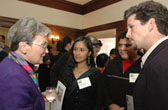 Farm Fresh Choice, a unique program that improves access to fresh produce in lower-income areas of Oakland and Berkeley, was recently recognized as an exemplary partnership between the University and local community.

The program was one of six campus/community partnerships honored on Monday, October 25, 2004 by Chancellor Robert Birgeneau and his wife, Mary Catherine, at the fifth annual University and Community Partners Recognition reception.

The annual event celebrates the achievements of individuals and groups from UC Berkeley and the local community, whose joint efforts enhance the quality of life for area residents. Through unique collaborations, university and community members share information, research, and expertise as they address some of the most pressing challenges of the day.

"Contributing to the betterment of the local community -- and to society in general -- is synonymous with UC Berkeley," said Chancellor Birgeneau. "Creating a successful university/community partnership takes hard work, compromise, a deep commitment to the outcome, and mutual respect fo the talents, needs, and interests of all partners. Through university and community partnerships, together we are bettering our world today and building a brighter future."

Farm Fresh Choice works to improve access to and choice in fresh produce for families in lower-income areas of Oakland and Berkeley through weekly mini produce stands at childcare centers. UC Berkeley helps Farm Fresh Choice with information and advice on health, marketing and economic topics, in addition to information about the impact on small farmers and participants consumer behavior. Campus and community partners include CNR's Center for Weight and Health andDepartment of Agricultural and Resource Economics, along with the UC Berkeley School of Public Health, the Ecology Center and the City of Berkeley Health Department.

For more information on the partnership, visit berkeley.edu/news/berkeleyan/2004/10/27_farmfresh.shtml.