Senior Rosalind Bump shares fond memories of her years at Cal, ideas for incoming freshmen, and the story of one class that helped her understand the relationship between nature and poetry.
Rosalind Bump
4th Year, Molecular Environmental Biology, emphasis on Human & Environmental Health
Best study spot on campus?
I enjoy studying outside, so you'll often find me on the patio of the Free Speech Movement Cafe. If it's serious studying though, I quite like the Hargrove Music Library, with its glass windows overlooking the surrounding trees. If there are a few minutes between classes, I love getting work done at the CNR Student Resource Center, where there's always a familiar face and good company.
Best Cal memory?
There are so many! Carefree afternoons on the glade, as the laughter of friends and frisbees filled the air and the Campanile marked the hours; the moments in classes where concepts finally clicked; mornings of espresso, musings, and people-watching at Strada; adventures up the fire trails and down to the marina; the intense concentration of dead week and the feeling of triumph and relief after finals end, alongside peers who have become an irreplaceable support system throughout the years.
What is your favorite CNR class or professor and why?
I have very fond memories of ESPMC12 (English C77) "Introduction to Environmental Studies" from my freshman year. The course was one of my very first at Berkeley, and it asked us to reflect upon really essential questions, like "What is 'the environment'? What does it mean to be 'environmental'? Are those different, or the same, and why does it matter?" Coming into college without a direct path ahead of me, I had often found myself at the crossroads of my love of both nature and poetry. The course validated for me that the two not only intersect, but are in fact intertwined, and it was the first of many classes at Cal that redefined how I interpret and engage with the world. Plus, the professors, Bob Hass and Gary Sposito, are so incredibly welcoming, intelligent, and personable. 
Rosalind and her friend catching a sunset on North Stradbroke Island in Australia, where they conducted marine biology research
What advice do you have for an incoming CNR student?
There are so many opportunities and communities at your fingertips! Don't be afraid to jump in—whether that be a research lab, one of the museums on campus, or a volunteer group—if even you don't feel like you have "enough" experience, because the experience will come with time. Invest yourself thoroughly in the classes and activities that you join, but know that at the end of the day, it is just as important to invest in the people around you (for they will be the friends to pick you up on the rough days). Lean in to the uncomfortable challenges and moments of adversity that will inevitably come your way, because they will likely be the moments in which you grow most deeply.
What is your plan for after graduation?
I plan to work in a research lab for one to two years before applying to grad school, ideally to a program that allows me to pursue questions of public health and environmental health through the lens of molecular biology.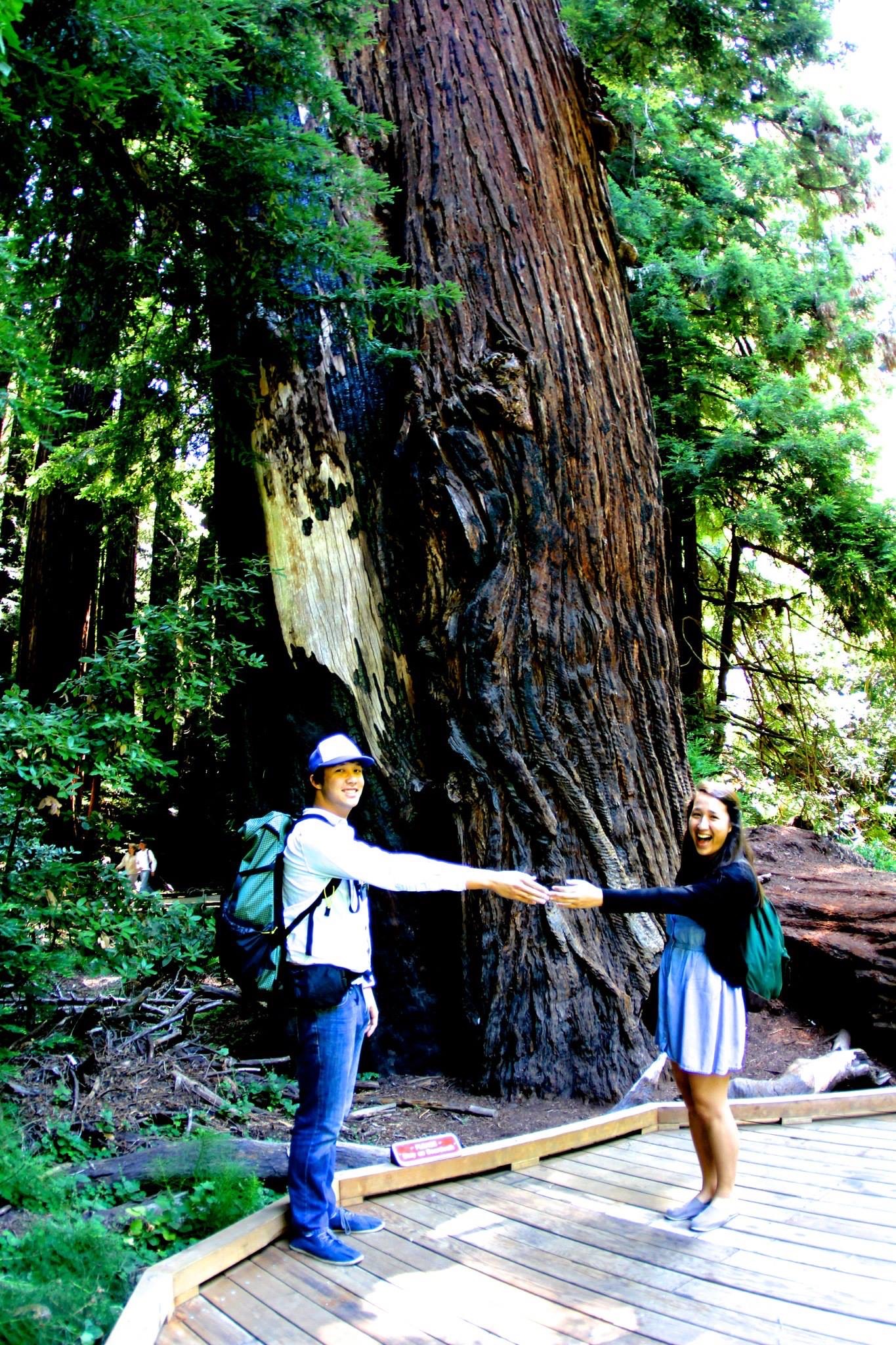 Rosalind says that being in Berkeley means having access to so many places of natural grandeur nearby, such as Muir Woods.
What have been the most meaningful activities you've been involved with while at Berkeley?
The past few semesters I've been able to explore my love of science communication and outreach through BEAM (Berkeley Engineers and Mentors). BEAM mentors are so wonderfully enthusiastic and committed to hands-on, scientific discovery for elementary and middle school students in Berkeley, and we hope to inspire the next generation of budding scientists. I have also been quite involved with a variety of projects on campus: from the Specimen Prep Lab at the Museum of Vertebrate Zoology, to STeam (ASUC Sustainability Team), to plant research with the Lemaux Lab and my current research on tissue regeneration with the Hariharan Lab. Additionally, studying abroad in Australia (while not at Berkeley, per se) is one of my most cherished experiences; I am so thankful to have been able to immerse myself in marine biology and terrestrial ecology for a semester, alongside truly brilliant professors and peers. 
Do you know of a student or group in Rausser College involved in noteworthy research, community outreach, or extracurricular activities? Let us know by submitting a suggestion with this nomination form.