An Undergraduate Home in Mulford Hall
The Rausser College Student Resource Center is a physical hub designed to foster academic, educational, and social activity and to provide a supportive environment for daily student life. The Resource Center is conveniently located within the College's Office of Instruction and Student Affairs, which is where students go to for all of their academic advising needs. 
By providing a wide range of materials pertaining to major/minor and departmental program information, jobs and internships, and graduate programs, and also serving as a central location to hold various programs that support the College's standards of education, the Resource Center exists to build community for students, staff, and faculty alike.
Hours and Location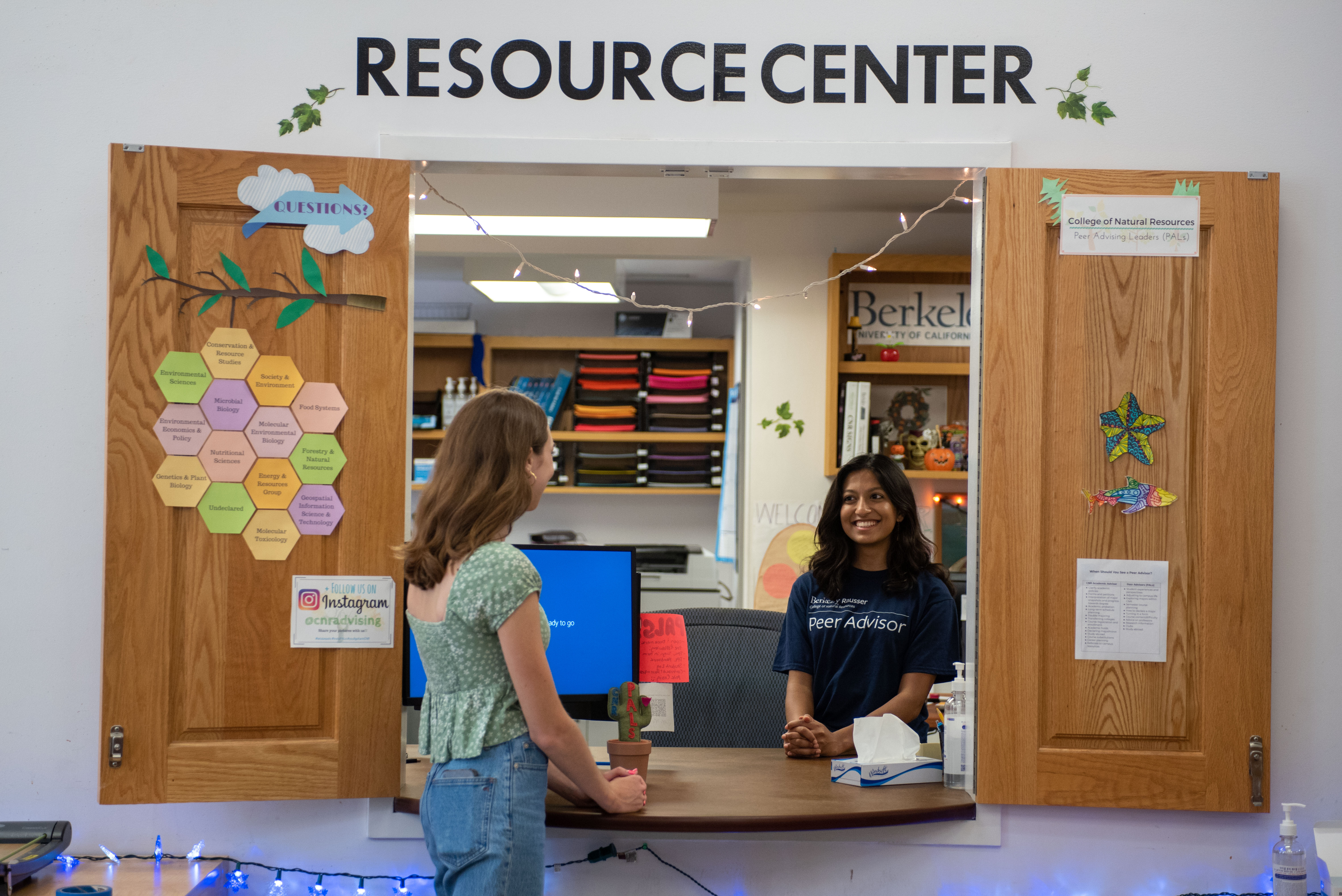 Office of Instruction and Student Affairs:
260 Mulford Hall
Monday, Tuesday, Thursday, Friday: 8:30am - 4:30pm
Wednesday: 1-4:30pm
Hours of operation generally adhere to the UCB academic calendar, including summer sessions.
Like us on Facebook and follow us on Instagram for updates about what's going on in the Resource Center and how you can stay involved!
Facilities and Amenities
Study Space and Lounge Area
Large study tables and comfy couches are available in the lounge area for everyone to enjoy
Course Reserve Materials and Reference Collection: We offer a large selection of books and videos that can help you with projects. We keep some professors' course reserve materials on hand as well.
Meeting Space:  A number of student programs use the Student Resource Center as a meeting place. Find out about student groups at Rausser.
Office Supplies: Paper cutter, hole puncher, stapler, etc.
Computer Lab
10 Dell computers are available for use for Rausser students
Printing – As a Rausser undergraduate student, you are provided with 10 pages of free printing every day. Current students should be able to log in to the computers using their CalCentral credentials. Recently declared students may need to see the front desk to set up their computer lab printing account. 
Peer Advising - 
Have a quick question about your major or classes? Our Peer Advising Leadership Students (PALS) are a phenomenal resource!
For the Fall 2021 semester, the PALs will continue to assist our students remotely via the Virtual Front Desk and via their pal@berkeley.edu email account.
For more information about our Rausser College PALs, visit their page here.
Rausser College Event and Program Calendar
Want to know what's going on at Rausser? Check out the online calendar to stay up-to-date with various programs and events.
Information Center
Bulletin Boards: A wide range of information on everything available for students at Rausser, including Student Groups, internships & scholarships, study abroad, grad school info, various academic publications, etc.
Major/Minor Information Racks: QR codes that link directly to each of the snapshots for the majors/minors in Rausser College.
Publications Rack: Check out all the latest issues of the Rausser Forum and the College's Breakthroughs magazine.