Kimberlie Le shares her experience in the CNR Honors Program, recalls conducting research in Taiwan, and tells us about the exciting new social venture she co-founded with her classmates.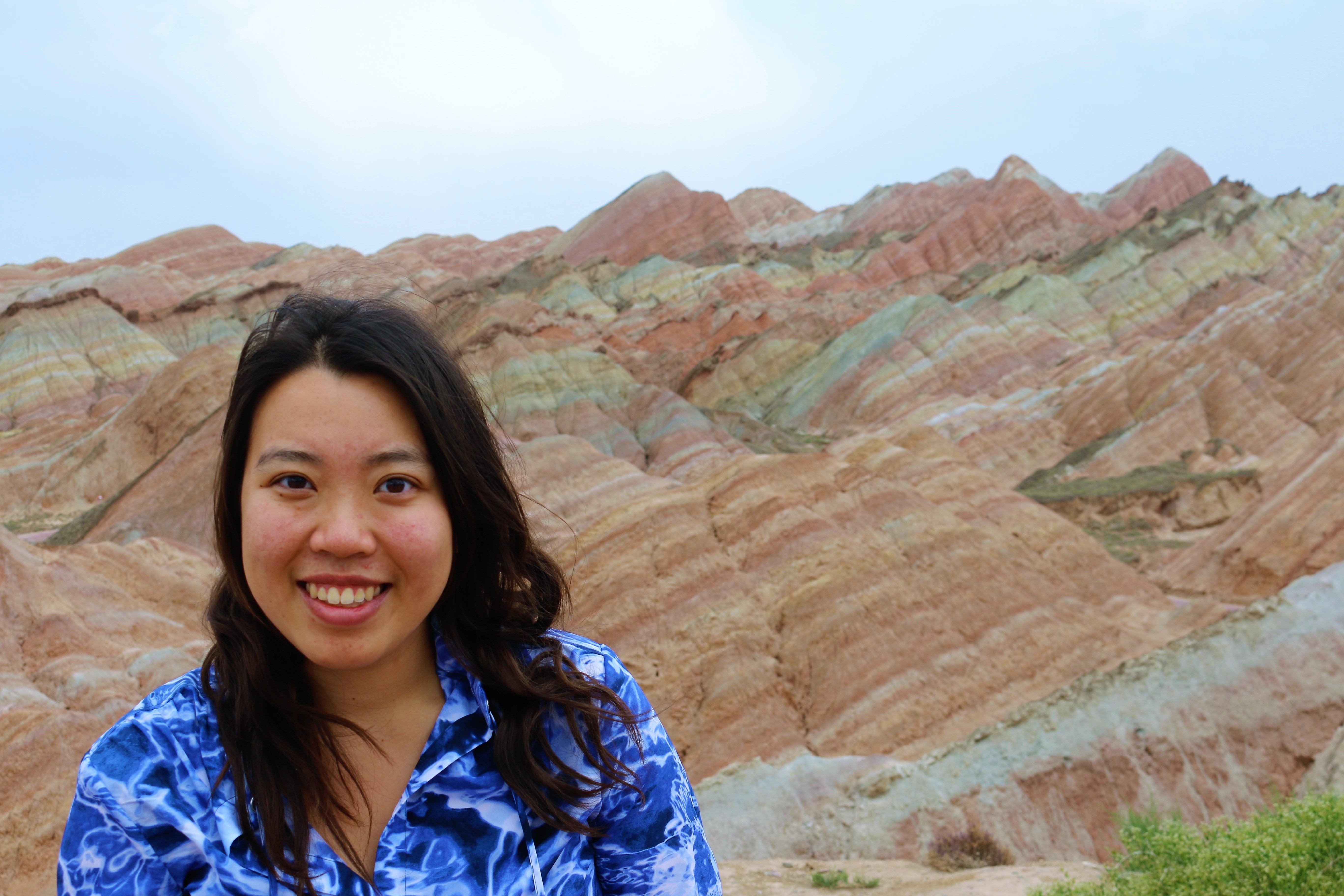 Kimberlie in Zhangye National Geopark in western China.
Kimberlie Le
4th year, Conservation and Resources Studies, Legal Studies, and Society & Environment, with minors in Food Systems and Music
How do you see your majors and minors working together? Do they share any commonalities in how you approach these fields? 
As a competitive freestyle snowboarder, I have always been motivated to understand and protect our snowy mountain environments. My commitment to addressing environmental issues solidified during my gap year between high school and college when I taught and studied abroad in China, a place where I witnessed firsthand major air and water pollution. I entered Berkeley intending to study music and to just take other classes that interested me. As I was taking my breadth courses, I realized that there were large gaps in many of the analytical frameworks that are used in different disciplines to analyze environmental issues. In the end, I chose my majors and minors mostly to be able to gain a multidisciplinary view of how environmental issues are being understood and addressed from the scientific, economic, legal, and social points of view.
Hitting the slopes in Park City, Utah.
One of the defining experiences during my time at Berkeley was the privilege of being able to travel abroad to conduct independent research in Taiwan through the CNR Honors Program. Through this experience interacting with and studying rivers in agricultural communities, I realized my passion for research that looks at issues within the globalized food system from an interdisciplinary perspective. I hope to be able to use all of the knowledge that I've acquired through my journey at Berkeley, both technical and theoretical, in my future studies and research. I think that the lenses that my three majors take to tackle food systems and environmental issues are very different. I hope that in my career I will be able to find an effective way to communicate and advocate for our environment to make legal and policy changes that positively impact our climate.
Could you tell us more about why you're drawn to freestyle snowboarding?
Although I skated when I was a kid, I've always wanted to go faster and feel smaller in this huge world, and I dislike feeling trapped in an urban environment. Most of my high school experience was spent on the mountain where I learned how to effectively manage my time between school, training, and other extracurriculars such as teaching and music, both lifelong passions of mine. It's hard to describe why I snowboard, but I think that beyond the adrenaline rush and competition that keeps me going, the best way I can put it is that snowboarding gives me a way to be connected with nature and makes me feel small so I keep asking questions and finding answers. In a sense, my love for the mountains and snowboarding gave me drive and really motivated my path within science, which in my mind is the process of critical inquiry. Sometimes when I'm stuck inside most of the day, it seems like nature is small and distant, but when I'm on the slopes between large trees floating through fresh powder, there is a sense of harmony that is indescribable.
We heard that while you've been involved in a new social venture  - can you tell us about this project and how it came about?
I spent this past summer travelling throughout Asia working on a social venture that was born out of a course I took at Berkeley called Challenge Lab, which was sponsored by the Sutardja Center and the U.S. Department of State. The problem that we were tasked with solving was the lack of energy infrastructure in developing countries. The venture is called Povigo, which means "power" in Esperanto, a language spoken in more than 100 countries and often called a "universal language." Povigo aims to connect artisan communities to consumers who want to make a direct impact by helping fund clean energy resources. My team came up with the idea by using the problem-solving skills, teamwork, and knowledge that we acquired through our time at Berkeley and we are really excited to see our work becoming a reality to impact the lives of others. Currently, we have a selection of teas and gift sets that were collected from our trip that can be purchased online via our website: www.povigo.org. Each of our products comes with a brief story and background about the regions we are targeting and how we are planning to help the communities in these areas. By purchasing these products, consumers can directly aid in the investment of much-needed clean energy resources for these communities. We will be using a community-based model to provide the clean energy resources which are essential to empower and educate future generations in these areas.
Conducting research in Shei-Pa National Park in central Taiwan.
What has been the most valuable part of studying at CNR?
One of the most valuable skills that I've learned from being in CNR is how to think critically and make decisions while also understanding and seeing different viewpoints. Something that was hard for me to learn was how there is rarely a clear-cut solution to issues and how critical inquiry is ever so important in a world where information is so readily available. Not only has the course content in my classes been helpful and thought-provoking, but my peers have inspired and motivated me throughout my journey at Berkeley.
What advice do you have for an incoming CNR student?
Make your own journey and don't be afraid of being uncomfortable: Berkeley is a big place and it can be extremely overwhelming trying to figure out what you "should" be doing. I think it's important to explore your personal interests and not get caught up trying to figure out what others are doing to try to fit in. There are tons of clubs, courses, and organizations on campus with most accepting students of all years and backgrounds. I'd also highly recommend studying abroad as it allows you to explore a new environment and forces you to get out of your comfort zone.
Make connections and take advantage of the resources that are available: Even as someone who is an extrovert, I found it hard and scary at first to approach and talk with my graduate student instructors and professors, but after you go to office hours a few times it becomes a lot easier. These connections were important for me as I have gotten invaluable help and advice about my academic and personal life. Professors and instructors have all been an undergraduate at some point in their lives, so they can relate! Cal is full of resources and people who are here to help students with everything from how to navigate scheduling to research resources. If you ever feel lost or want help finding resources, good sources of information are teaching staff, fellow students, and advisors.
Do you know of a student or group in Rausser College involved in noteworthy research, community outreach, or extracurricular activities? Let us know by submitting a suggestion with this nomination form.