Delving Deeper
The College of Natural Resources Honors Program is designed to support undergraduate students interested in developing, executing, and evaluating a year-long independent research project under the guidance of a faculty mentor.
Students who successfully complete the Honors Program will earn recognition at graduation and will also receive a notation of Honors in their major on their diploma. The Honors Symposium, held once each semester, gives all Honors students the opportunity to present their research to fellow students, faculty, Deans, friends, and family.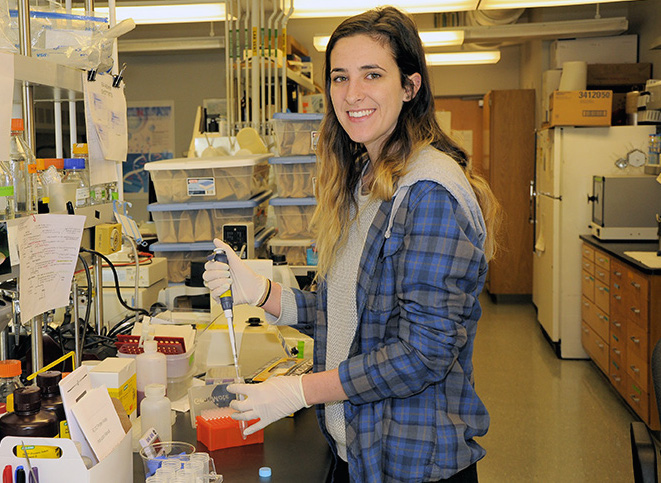 Plant and microbial biology student Mary Ahern. Photo: Jim Block
Qualifications
Possess an overall GPA of 3.6 or higher.
Have no more than 2 Incomplete grades on your academic record.
Have completed a minimum of 60 semester units (attained junior or senior status).
Junior Transfer students must have completed at least one semester at UC Berkeley with a 3.6 GPA.
Requirements
Complete 8 units of a two-course H196 series (4 units per course) in a College of Natural Resources department under the guidance of a Faculty Research Mentor/Sponsor. You must enroll in both H196 courses for a letter grade.

Students must be on campus for two semesters of consecutive research (no EAP, no summer).

Earn grades of a B or better in each H196 course.

Maintain a 3.6 GPA or better through graduation.

Write an honors research thesis and submit copies to your Faculty Sponsor/Research Mentor. Thesis format will conform to the expectations for submission of a "publishable" paper to the relevant research discipline. A one page summary of your paper is due to the Honors Program Coordinator the day of the oral presentation.

Give an oral presentation at the CNR Honors Symposium.

Attend a mandatory meeting the beginning of each semester.
How to Apply
Complete the CNR Honors Program Enrollment Form.

Write a research proposal (300 words minimum).

Identify a faculty mentor to serve as your research mentor.

If you choose to do research with a faculty mentor from a department outside CNR, you must also identify a CNR faculty sponsor in your home department in CNR.

Submit your Enrollment Form to 260 Mulford Hall by the end of the third week of instruction of the semester in which you plan to enroll in the Honors Program.
SPUR and the Honors Program
CNR encourages students applying to the Honors Program to apply for SPUR funding as well. SPUR (Sponsored Projects for Undergraduate Research) awards CNR student-faculty mentor pairs a research grant for a Student-Initiated project.
Archive of Past Participants Projects 
Insterested in seeing what research projects are previous participants have completed? Click Here.
Double Majors
If you wish to participate in the Honors Program in one major, the guidelines described above are exactly the same.
If you wish to pursue Honors in both majors, you must meet the full requirements of the Program for both. You will need two research projects with two Research Mentors, and a Faculty Sponsor in each department. You must take 8 units of H196 with each Sponsor and write two publishable papers. This kind of endeavor will almost certainly take two years to accomplish, so careful planning is a must.
Simultaneous Degree Students
Simultaneous Degree Students are welcome to pursue Honors in their CNR major, with all the same requirements and opportunities.