Photo by Natalea Schager.
Rebeka Ramangamihanta
Master of Development Practice student
In this month's Student Spotlight, graduate student Rebeka Ramangamihanta tells us about an internship experience in Ghana, how Malagasy poets influenced her love of literature, and how she plans to use her Berkeley education to help kids in her hometown in Madagascar.
What led to your interest in the development field?
I started to become aware of poverty and development issues in Madagascar at a very young age. I grew up in rural Madagascar, in a town called Fenoarivobe, which is about 75 miles away from the capital Antananarivo. Due to a lack of infrastructure in the country, it takes about eight hours to travel from Antananarivo to Fenoarivobe during the dry season and nearly 24 hours during the rainy season. Many people in Madagascar live in poverty, and that is often exacerbated by food scarcity during the dry season. Growing up, I was in a class of 85 students with only one teacher. As I grew older, I promised myself that if I had the opportunity to help others I would, and so I eventually decided to apply to the Master of Development Practice (MDP) program.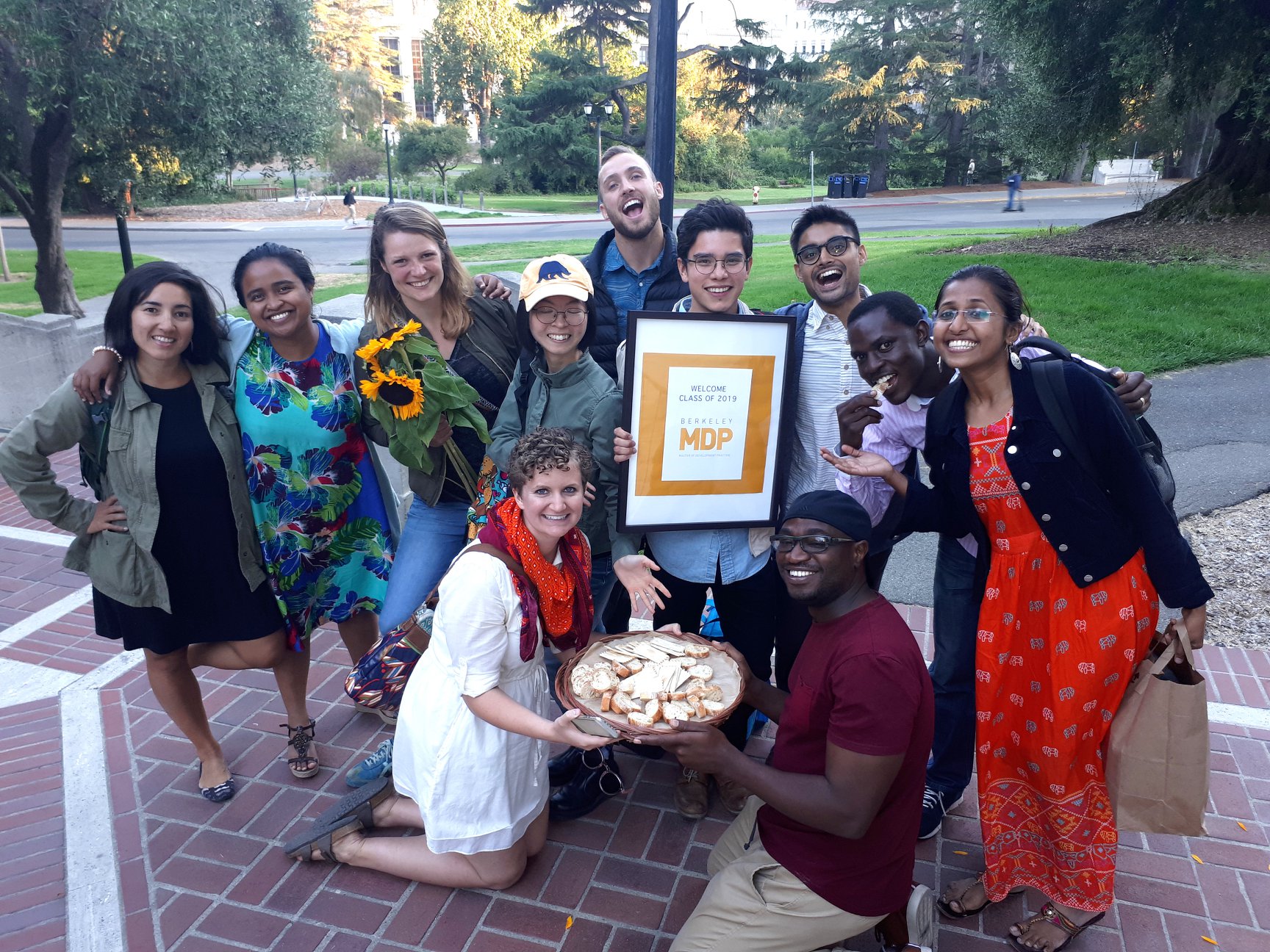 Rebeka (second from the left) with fellow graduate students at an event for the incoming class of 2019 MDP students.
What's been the most interesting class you've taken during your MDP studies?
In my first year of MDP, I took a course called Management of Technology Innovation, which focused on entrepreneurship and managing startup companies. We were mentored by a group of venture capitalists who work in Silicon Valley, which gave us a glimpse into the Bay Area startup world. This class allowed me stretch my skills and go out of comfort zone. It was also a chance for me to work on my elevator pitch and gain more storytelling skills.
Can you tell us more about your summer internship with the nonprofit Securing Water for Food in Ghana?
Securing Water for Food is an organization that is supported by USAID and the governments of Sweden, Norway, South Africa, with the goal of helping farmers increase their food production capacities while reducing water use. As an intern, I was assigned to one of Securing Water for Food's grantee organizations, Ignitia, a Swedish company operating in West Africa. Ignitia sends weather updates via text message to Ghanaian farmers in an effort to optimize crop yields. Ghana's tropical conditions include many microclimates, and weather information broadcasted through TV or radio isn't always reliable or accurate. This is why location-specific text messages can offer a simple solution.
On a day-to-day basis, I interviewed farmers in order to learn more about their needs and how they could use mobile technology to improve crop production. My translator and I travelled to eight out of the ten regions in Ghana. After I collected the data, I analyzed the interviews and reported my findings. The report concluded that using texts and mobile technology increases earning potential, optimizes farmers' time, and reduces the amount of fertilizer needed to maintain crops.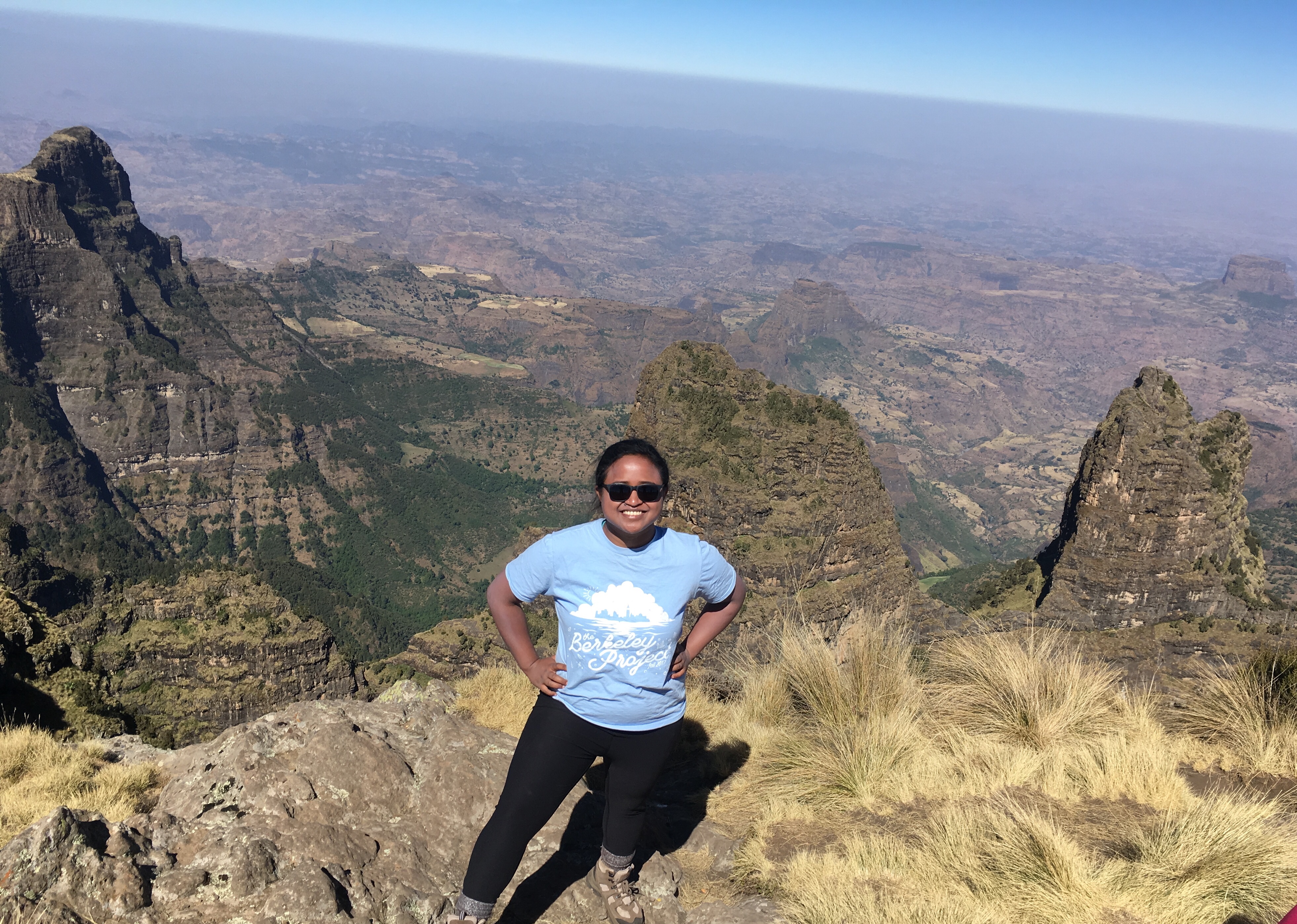 During a recent trip to Ethiopia, Rebeka visited the Simien Mountains.
As an undergraduate student, you worked in your university's library. Where did your love of reading come from?
My love of literature started in middle school when I began learning about the 20th century Malagasy poets who wrote about Madagascar's colonization. These poets used literature to challenge the colonial government, bring Malagasy people together, and to launch social movements.
I didn't read much growing up because the Malagasy culture is rooted in an oral tradition. I enjoyed listening to stories from adults about the ways of the ny ntaolo—the ancestors. In an effort to improve my English, I began reading more frequently as I worked on applications to American universities for my undergraduate degree. I couldn't afford to pay for English lessons so I borrowed books from the U.S. embassy's library to practice. Since then, I have grown to love reading, both for pleasure and as a student. A love of literature is important for development practitioners; in our ever-evolving field, it is important to keep up with new practices and theories.
You published a blog post calling for an investment in education in Madagascar. How do you hope your role as a development professional might help shape the country's education policies and practices?
I believe in the potential of Madagascar's broken public education system because I am a product of this system, even if I'm an outlier. I recently spoke with a former government official who oversaw an educational research reform group in Madagascar in the early 2000s. She shared her frustration about the difficulties of reform but similarly to me, she is hopeful for the future. Policy is one of the spaces that I would like to see myself in a few decades as I gain more experience and as Madagascar becomes more politically stable.
For now, I want to work where I believe I can see a more measurable impact. I am hoping that within five years, I can launch and manage a career development and scholarship program to support disadvantaged youth in Antananarivo. Before that, I am looking to gain more business and organizational experience, as well as more professional connections and management experience before returning to Madagascar.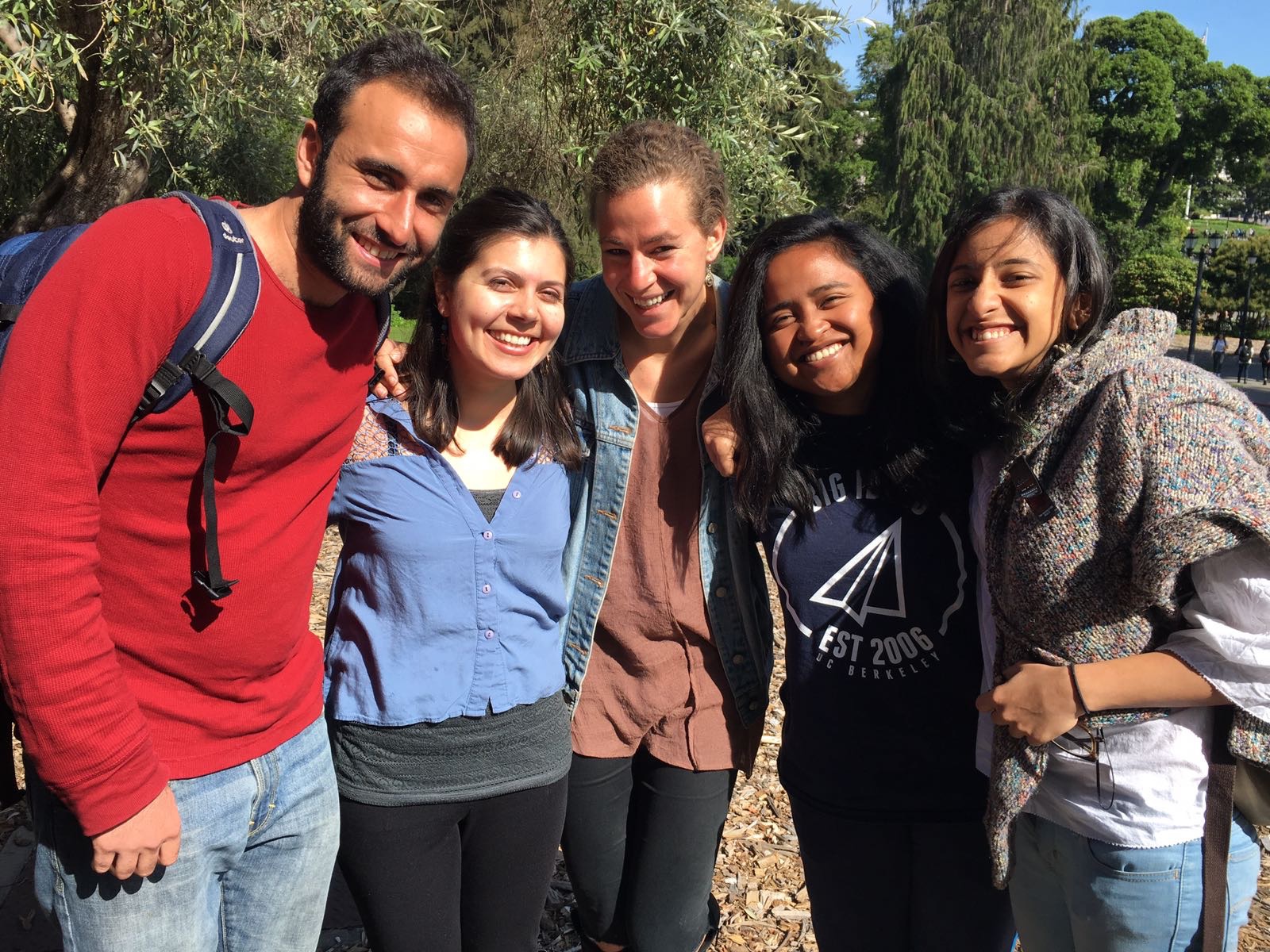 St. Aloysius Gonzaga Institute team members, participating in a case challenge consulting project as part of the MDP curriculum.
Looking ahead, how do you hope to use the skills and experiences you've gained at Berkeley in your career?
Berkeley has played an important role in my personal and professional growth. I have taken data analysis classes, and I'm learning to program in Python and SQL. I have been well supported and have the most amazing network of MDP students and alumni. I have also gained a lot of leadership skills through the Mastercard Scholars Program, and working and living at the International House. Being an MDP student has made me more confident in myself and my skills. At this point of my life I am interested in working for a nonprofit organization, or social enterprise, or for a corporation that is invested in being a socially responsible business. I am really interested in how businesses can create social good and promote sustainable development, and I want to bring those ideals back to Madagascar.
Do you know of a student or group in Rausser College involved in noteworthy research, community outreach, or extracurricular activities? Let us know by submitting a suggestion with this nomination form.