For our first student spotlight of the 2018-2019 school year, grad students Chippie Kislik and Christine Wilkinson and alum Kelly Easterday share how they use remote sensing technology to help the environment, from water quality analysis to behavioral ecology.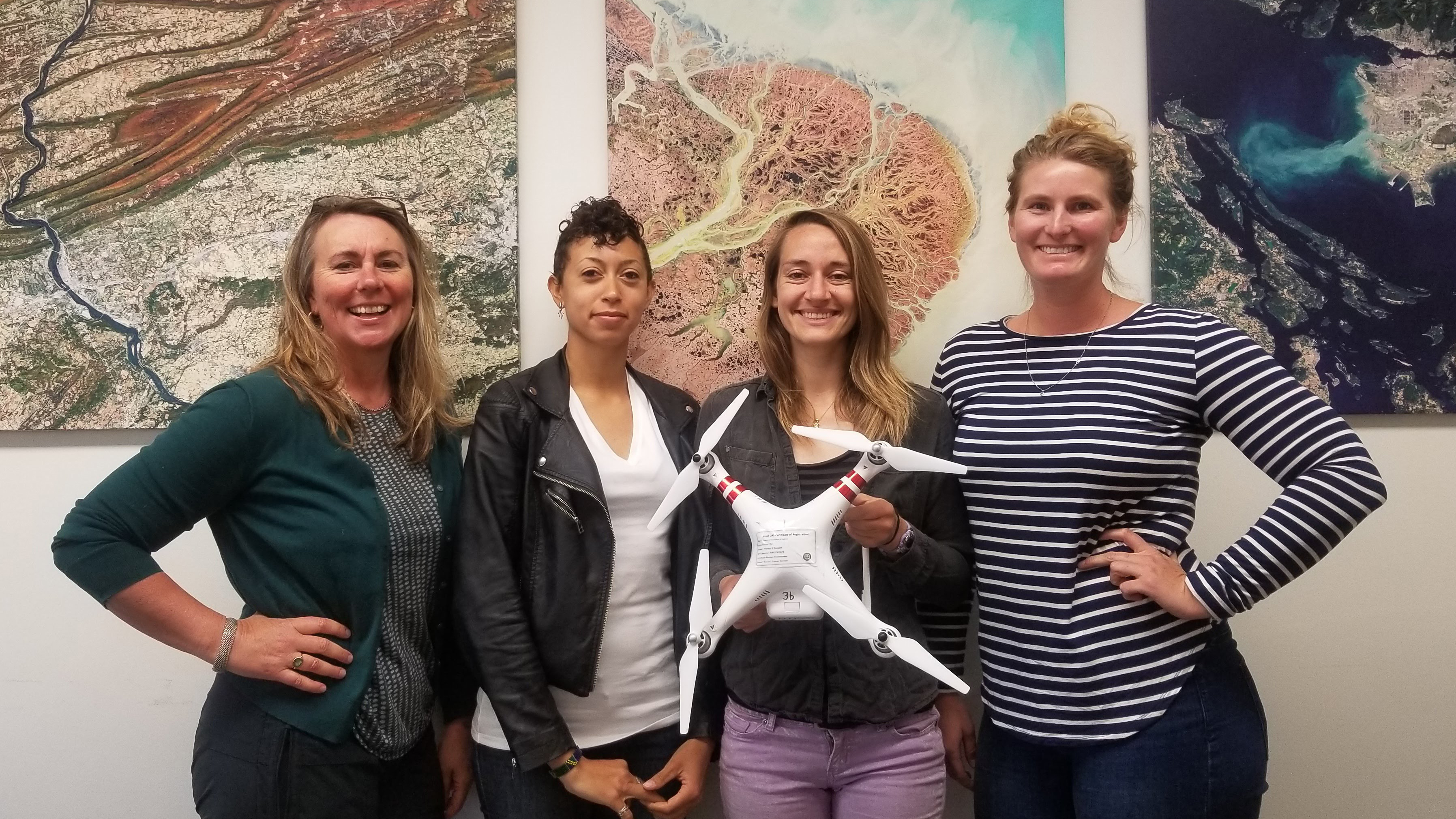 A few members of the Kelly Lab team (from left to right): Professor Maggi Kelly, Christine Wilkinson, Chippie Kislik, and Kelly Easterday.
Christine Wilkinson
PhD candidate, Environmental Science, Policy, and Management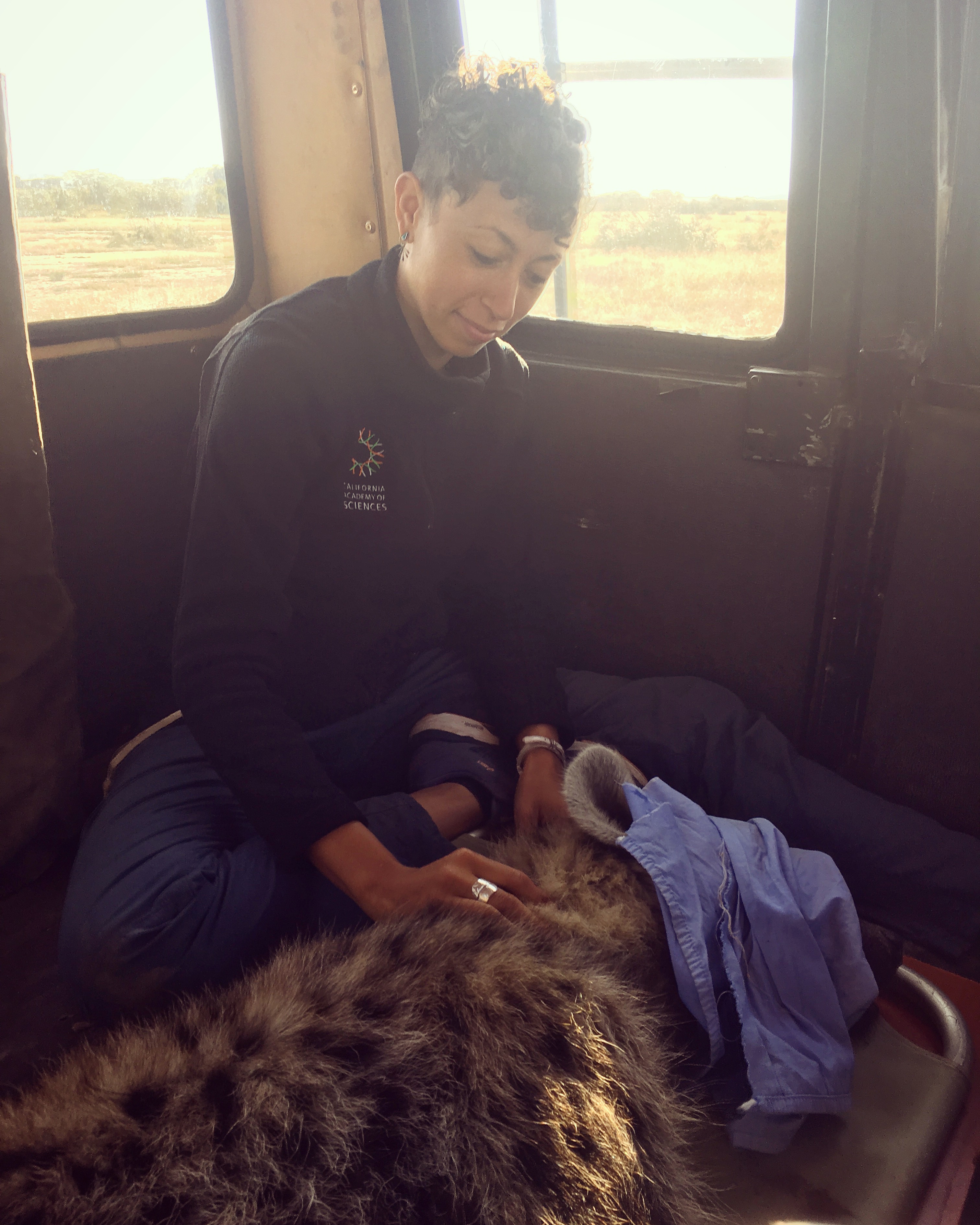 Christine anesthetizing hyenas to measure and outfit them with GPS collars to track their movement.
What led to your interest in environmental studies?
I spent my childhood in Queens, NY watching squirrels, capturing hornets, chasing lightning bugs, and plastering my shirt with live cicadas, which I often brought to the dinner table. The summer after I graduated from high school, I had my first encounter with research in the field, an experience that ignited my interest in conservation biology. As an undergraduate student studying natural resources, learning about the environmental issues facing our world depressed me—it seemed like there were more problems than could ever be fixed. Fortunately, I took several undergraduate classes that inspired me to believe there are positive pathways forward in the age of the Anthropocene.
Although for much of my life I had been interested primarily in wildlife, during my first experience living and studying in East Africa, I became acutely aware of the equal importance of human perspectives and experience in conservation, and I've never looked back. As a person of color and a woman, I feel strongly about conducting research that can be applied in ways that benefit and empower disadvantaged and underrepresented groups which are so often left behind in decision-making processes around conservation and environmental sustainability.
Only four percent of remote pilot certificates are held by women—why is it important for women to enter this and other STEM fields?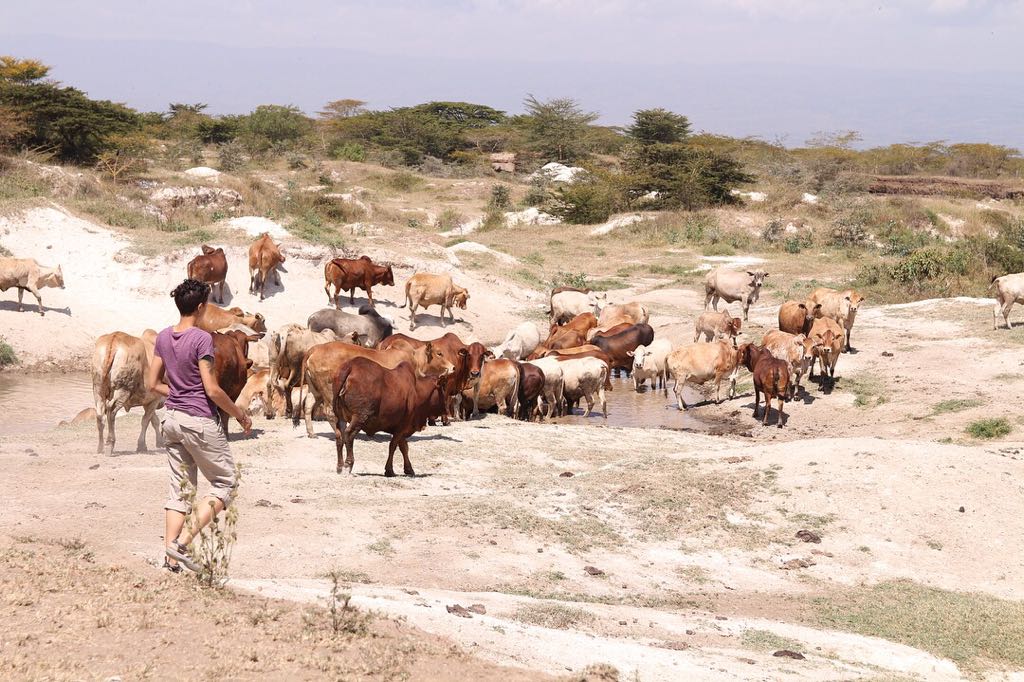 Christine is mapping land cover with livestock using remote sensing technologies. PHOTO: Jessica L. Ortiz
This is also connected to accessibility in conservation and in decision-making processes. Throughout history, maps have held much more power than we give them credit for—in management, conservation, land use planning, and more. Remote sensing is just a small part of what we as researchers and planners use when we create maps. Luckily, women are increasing in STEM fields, including in the various remote sensing fields. I think I speak for my fellow Kelly Lab members when I say we would love to inspire other women to use remote sensing and unmanned aerial system technology, and hopefully we can continue to think of ways to foster young women's capacities in this field.
Chippie Kislik
PhD candidate, Environmental Science, Policy, and Management
Why is drone technology important in studying California's—and the entire planet's—landscape and ecology?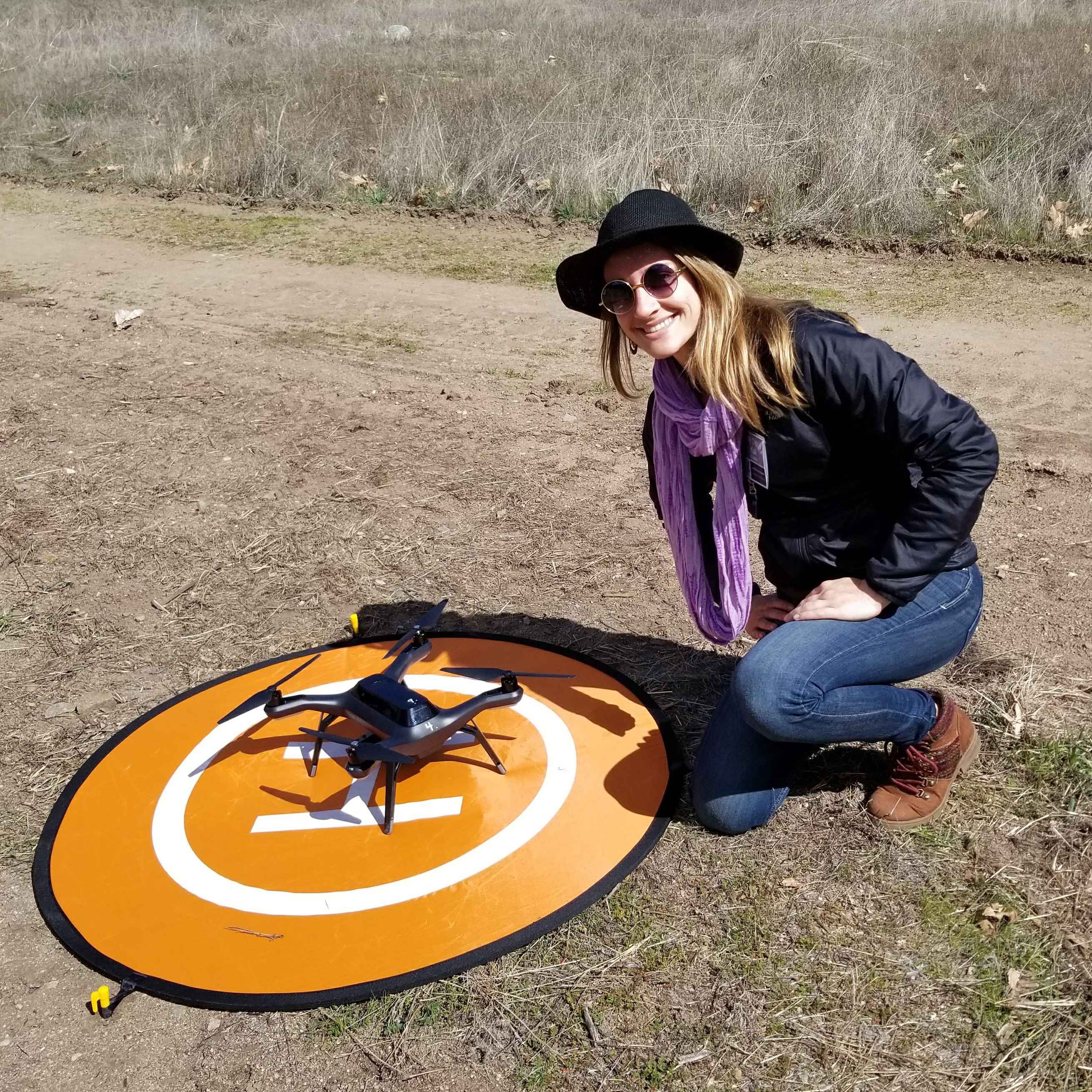 Chippie at Drone Technology & Regulation: A Workshop for Biologists, 3 Day Course at the UC Hastings Reservation, March 7-9, 2018
Drones are incredible tools that allow for democratized data collection and analysis. They can survey regions that satellites and airplanes often cannot—due to cloud cover, tree cover, or other limitations—and their high resolution allows for a greater understanding of the scale at which natural processes transpire. They're also really fun to fly, and it's exciting to be part of the entire data process—from collection to analysis to visualization.
How did your undergraduate studies at Berkeley prepare you for your graduate research?
I had a phenomenal experience as an undergrad at Berkeley, and I thoroughly enjoyed the conservation and resource studies major because it was highly interdisciplinary, introduced me to professors outside of my field, and allowed me to design my own honors thesis project, which examined the potential to expand rainwater harvesting on the Colombian island of San Andrés. This was one of my first independent research projects, and it helped me develop strong writing, analysis, and communication skills that I utilize in my graduate studies today. Also, the geospatial information science and technology minor helped me acquire the hard skills of data downloading, image processing, and data visualization that I use in my current work which involves spectrally analyzing carbon, nitrogen, and water content in a variety of terrestrial plants.

Chippie taking an aerial photo with her drone at Caesar Chavez Park in Berkeley, CA
Kelly Easterday
PhD alum, Environmental Science, Policy, and Management
What has been the most exciting part of conducting research as a graduate student?
Conducting research as a graduate student in the Department of Environmental Science, Policy, and Management has offered me the opportunity to learn, connect, and discuss issues across disciplinary boundaries. The interdisciplinarity of the department and the people within it have challenged me to think bigger and question my perspectives which benefits our work as scientists.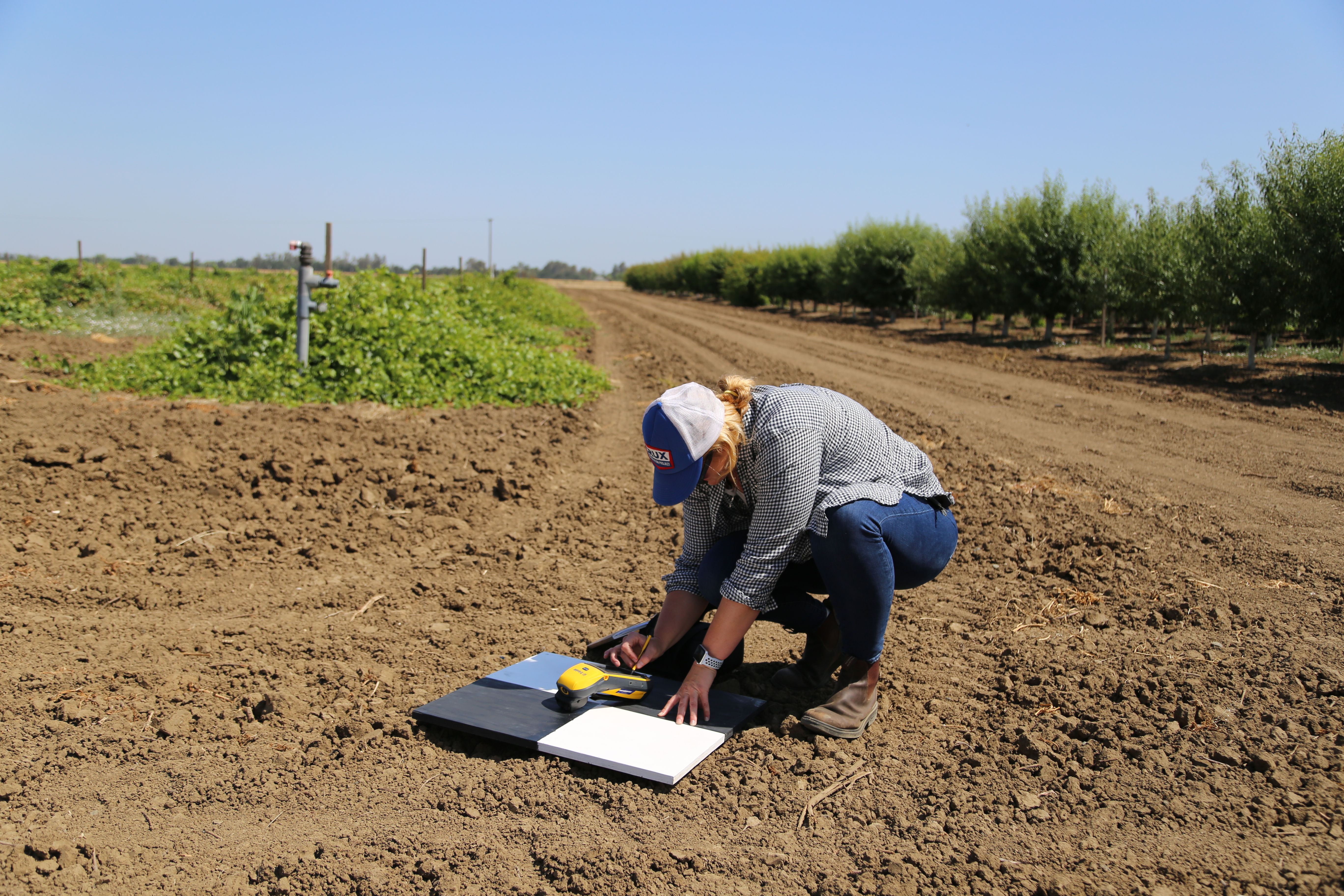 Collecting GPS locations of ground control targets for drone surveys of agricultural fields at UC Davis's Russell Ranch. The ground control targets help to give the imagery collected from drones a more accurate position on the Earth's surface.
I also have had the opportunity to work in cooperative extension through a statewide Informatics and GIS (IGIS) program out of UCANR directed by my PhD advisor Maggi Kelly. IGIS works to bring applied mapping and analytical solutions and training to people working on critical issues across California. Working with IGIS, UCANR, and in Cooperative Extension has helped me understand that scientists, policymakers, and conservation management groups must work together to solve the planet's most pressing environmental problems. My research experiences have also helped me feel more optimistic about the future of conservation: I now know that there are lots of smart, dedicated individuals and groups working toward strengthening the ties between science, policy, and management.
What was it like teaching an undergraduate course focused on geographic information system mapping technology?
Teaching GIS and the Environment (ESPM 164) has been an incredible experience for me. Many students enroll in the class to learn how to make a map, but by the end of the course, they walk away amazed at the power and reach of GIS. I love witnessing the moment in which students begin to understand the power of these mapping technologies.
GIS is both a science and a tool—making it an incredibly flexible and versatile technology—so the class draws a diverse mix of students from engineering, integrative biology, development practice, earth and planetary sciences, history, statistics, geography, environmental design, society and environment, and beyond. This collection of students from across campus creates an ideal space for engaging in discussions about privacy, power, and representation which are key elements of GIS. I learn so much from my students—whether it is figuring out how to push the technology further or coming up with creative solutions to a new problem, I always leave the class in awe of the power and reach of GIS and drone technologies.
 Do you know of a student or group in Rausser College involved in noteworthy research, community outreach, or extracurricular activities? Let us know by submitting a suggestion with this nomination form.