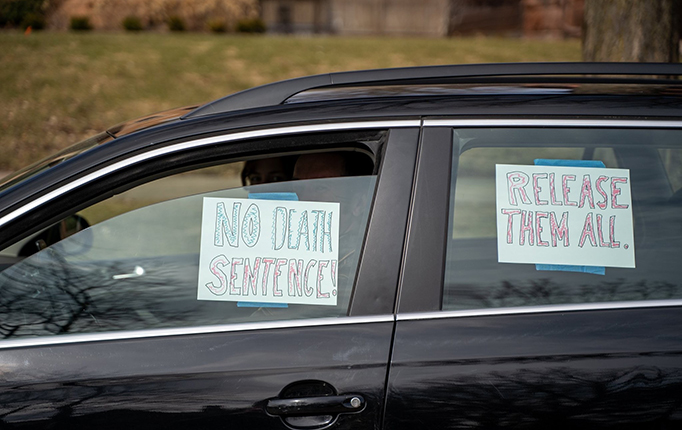 A March 22, 2020 car caravan protest outside the Minnesota Governor's Mansion. While physically distancing, protesters called for the release of all immigrant detainees from Minnesota jails. Photo by Brad Sigal.
In an article published in American Journal of Public Health  today, Miriam Magaña Lopez, a research and policy analyst at the Berkeley Center for Social Medicine, and associate professor of environmental science, policy, and management Seth Holmes examine how immigration raids, detention, and deportation negatively impact public health, especially during the COVID-19 pandemic.
The article outlines how Immigration and Customs Enforcement (ICE) activities go against public health recommendations and shelter-in-place orders that were implemented to mitigate the COVID-19 outbreak. It also notes that such actions engender immigrants' distrust in public health institutions and worsen equipment shortages, among other impacts. 
The authors argue that ICE raids, detention, and deportation should not be deemed essential during a pandemic. Moving individuals to overcrowded detention centers or deporting them, they write, unnecessarily spreads the virus, and the use of N95 masks by ICE agents exacerbates shortages of protective equipment for frontline health care workers. 
Past studies suggest a connection between immigration raids and higher levels of distrust in public institutions among immigrant communities. Such raids during a pandemic could lead community members to avoid medical treatment, the researchers write, even when an individual is experiencing COVID-19 symptoms.
"These actions threaten to overwhelm our public health system and fan the flames of the pandemic," write the authors in the article. "As a country, we have a history opportunity to set our priorities straight. Literally to survive, we must provide necessary equipment to frontline health workers, follow public health recommendations and stop ICE raids, detentions and deportations."
Read the paper in the American Journal of Public Health here.