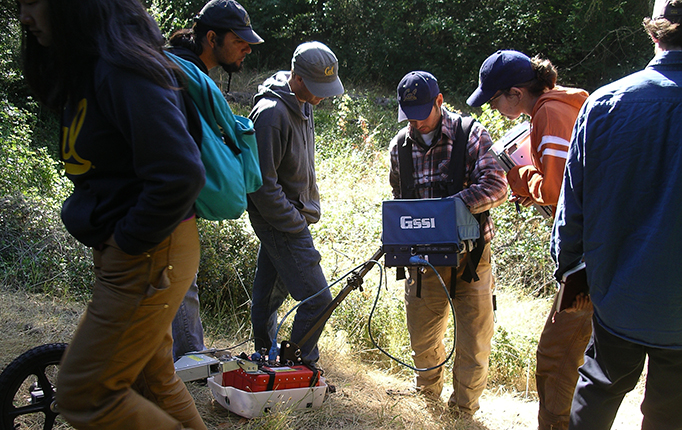 Assistant professor Peter Nelson and Berkeley students review ground-penetrating radar data from a geophysical survey at an archaeological field school at Point Reyes National Seashore in 2015.
At Berkeley, scholars are advancing the field of Indigenous archaeology, a subfield that disavows the cultural imperialism often associated with traditional archeology. It combines tribal customs, perspectives, and collaboration into scholarship, while its practitioners utilize precision technology—including ground-penetrating radar and magnetometry—to prevent unnecessary damage from digging and better preserve landscapes. 
One such scholar is Peter Nelson, an assistant professor in the Department of Environmental Science, Policy and Management. In a recent Berkeley News  article, Nelson discusses how western science, Indigenous knowledge, and cutting-edge technological advancements have attracted more Native Americans to the field of anthropology. He is Coast Miwok and a citizen of the Federated Indians of Graton Rancheria in the North Bay.  
"All these wonderful tools and methodology speak to our preservationist values as Indigenous archaeologists and to the values of tribal communities," says Nelson.
While earning his Ph.D. in anthropology at Berkeley, Nelson researched paleoethnobotany, or the study of ancient plant and seed remnants, to better understand pre-colonial environments in California's Sonoma County. His current research investigates anthropological archaeology and Indigenous environmental studies, in collaboration with tribal nations and Indigenous peoples.
To read the full story, visit the Berkeley News  website.