Maryani Rasidjan on stage giving a lecture. Photo courtesy of Maryani Rasidjan.
Congratulations to Mary Wildermuth, a professor in the Department of Plant and Microbial Biology, and Maryani Palupy Rasidjan, a lecturer in the Department of Environmental Science, Policy, and Management, on receiving the 2021 Faculty Award for Outstanding Mentorship. 
Awarded by the Graduate Council Advisory Committee for Graduate Student Instructor (GSI) Affairs and the Graduate Division GSI Teaching & Resource Center, the university-wide honor recognizes faculty who have provided outstanding mentorship in teaching and pedagogical training. Four instructors were selected from across the university, for courses that involved GSI mentorship in multi-section courses, stand-alone courses, or a 375-level pedagogy course. 
In their nomination materials, GSIs said that Wildermuth gives the autonomy for catered teaching and lab instruction, and they praise her confidence in them to deliver complex lectures and guide students through difficult experiments while maintaining high standards. They also note that she creates a supportive space that enables her GSIs to grow as educators and succeed.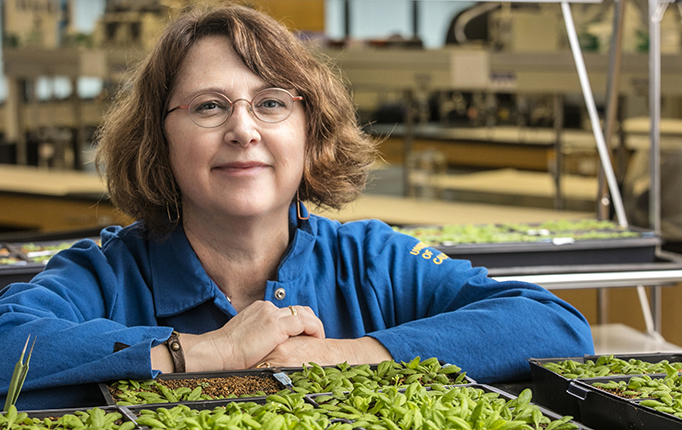 Mary Wildermuth in the lab. Photo by Jim Block.
Rasidjan's GSIs described her as a holistic instructor who incorporates wellness, active community involvement, and a critical praxis towards engagement in her approach to the classroom. They also mention that she openly invites them to help craft the course of instruction with her, and she provides a welcoming and safe environment within which to practice pedagogy and productively challenge its constructs.
Wildermuth's research focuses on the mechanisms by which plant hosts and pathogens interact to change plant metabolism and physiology. Outside of her research, she leads the Be A Scientist program, which places Berkeley researchers into middle school classrooms to mentor students and bolster science curriculum. Rasidjan is a medical anthropologist who focuses on women's reproductive health and family planning programs in Papua, Indonesia. In particular, she investigates how identity and difference relate to race in the reproductive health of women. 
Learn more about the award and the 2021 recipients on the Berkeley Graduate Division website.