BS Genetics & Plant Biology and Data Science, minor in Food Systems
Chloe Cho is a 2021 graduate with degrees in Genetics & Plant Biology and Data Science, as well as a minor in Food Systems. She is a writer and project coordinator at The Lexicon of Sustainability, a nonprofit organization that uses evidence-based storytelling, strategy, and mobilization to build movements to tackle food systems challenges. She is also a Science Fellow for the nonprofit Pesticide Action Network, where she works to reduce pesticide use, focusing in part on traditional and Indigenous farming techniques as an alternative to high-input, conventional agriculture. Cho also contributes to UnScilenced, an online publication that explains complex scientific research to the public, and she has done other nonprofit work to bolster STEM education in public schools. From 2018 until her graduation, she served as a student representative on the Rausser College Dean's Advisory Board.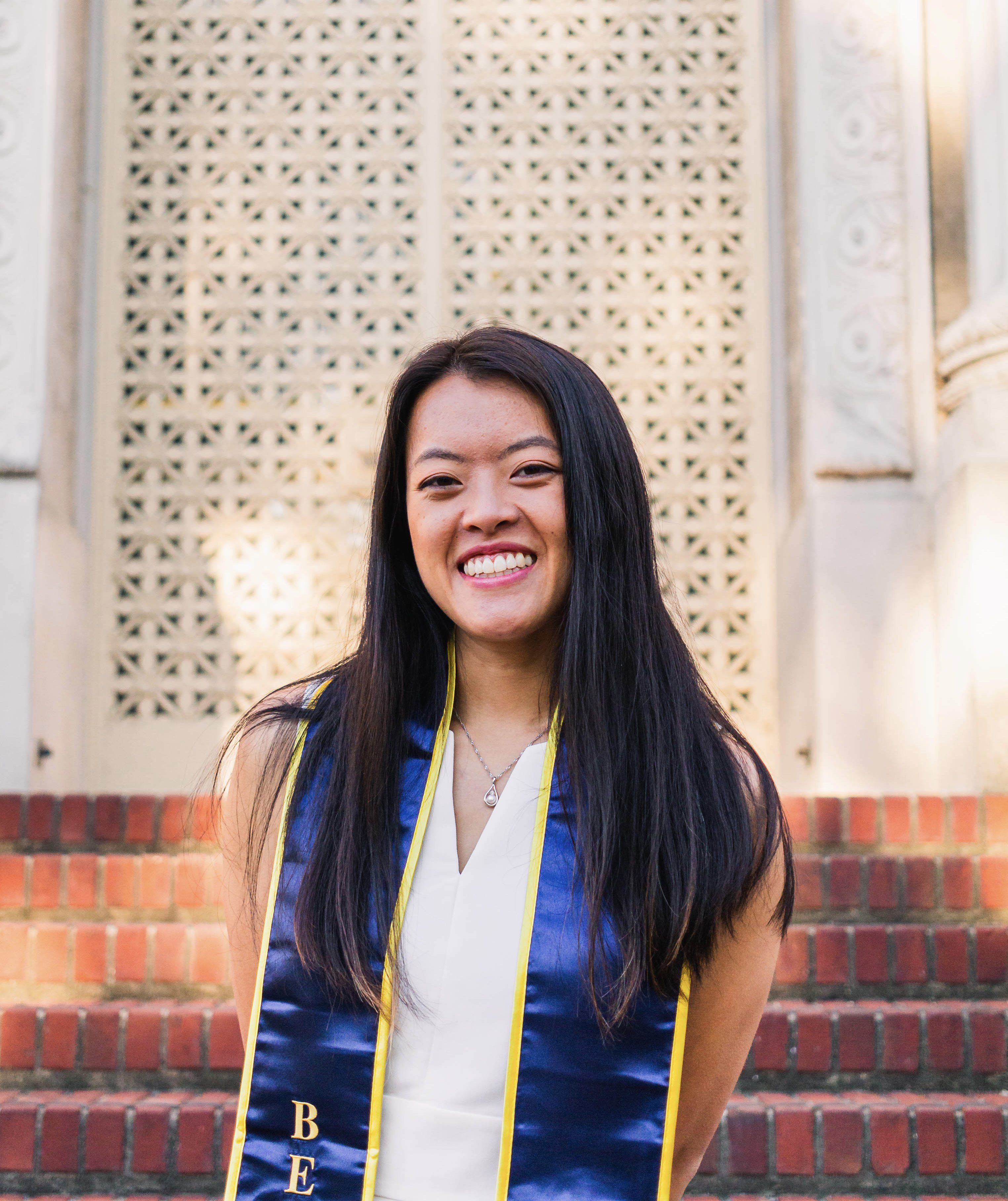 Graduation photo in front of Hilgard Hall, where Cho spent many hours sorting and identifying parasitoid wasps. Photo by Emily Zeng.
How did you first get interested in genetics, plant biology, and farming systems?
I was always fascinated by the outdoors and spent a lot of time exploring the natural landscape around the American River Parkway, near which I grew up. Generally, I found myself gravitating toward plants and insects instead of human biology or other vertebrates. I came into the College as an Undeclared Biological Sciences major, but decided pretty early on that I wanted to pursue plant biology. Exciting plant labs in introductory biology—and the potential for agricultural applications and research—helped confirm my decision. 
Since high school, I had become increasingly aware of the environmental impacts of people's daily choices—especially decisions surrounding food. Once I came to Berkeley, I took courses such as GEOG 130 (Food and the Environment), ESPM 162A (Health, Medicine, Society, and Environment), and others, which really got me thinking about the consequences of conventional farming on the environment, producers, and consumers, as well as the ecological and social intricacies of these networks. Afterward I decided to take more classes on agriculture and the food system, such as ESPM 118 (Agroecology), before getting involved in agroecology research. Because entomology and insects had always fascinated me, focusing on pesticides and beneficial insects in agriculture proved an ideal intersection of my interests. 
Can you talk more about the research that you participated in?
I joined the Altieri Lab through a Rausser College Sponsored Projects for Undergraduate Research (SPUR) project with ESPM PhD candidate Joshua Arnold. I spent a lot of time collecting insect samples, counting pests in the field, or sorting and identifying the parasitoid wasp collections. But this research became one of my most formative experiences at Cal, because it was where I found a passion for ecological pest management. I was fascinated by how beneficial insects like parasitoid wasps could serve as an alternative to pesticides in managing agricultural insect pests, all within the broader context of agroecology. 
The research later informed my undergraduate honors thesis, and it will likely also influence my future goals for graduate study. I came away with a key realization about the complexity within agricultural landscapes, and the potential for agroecological practices to create and maintain systems that do not rely on chemical inputs. Moving away from high-input, conventional agriculture can also make food production far more equitable and socially just for farmers, especially smallholders and practitioners of traditional farming methods.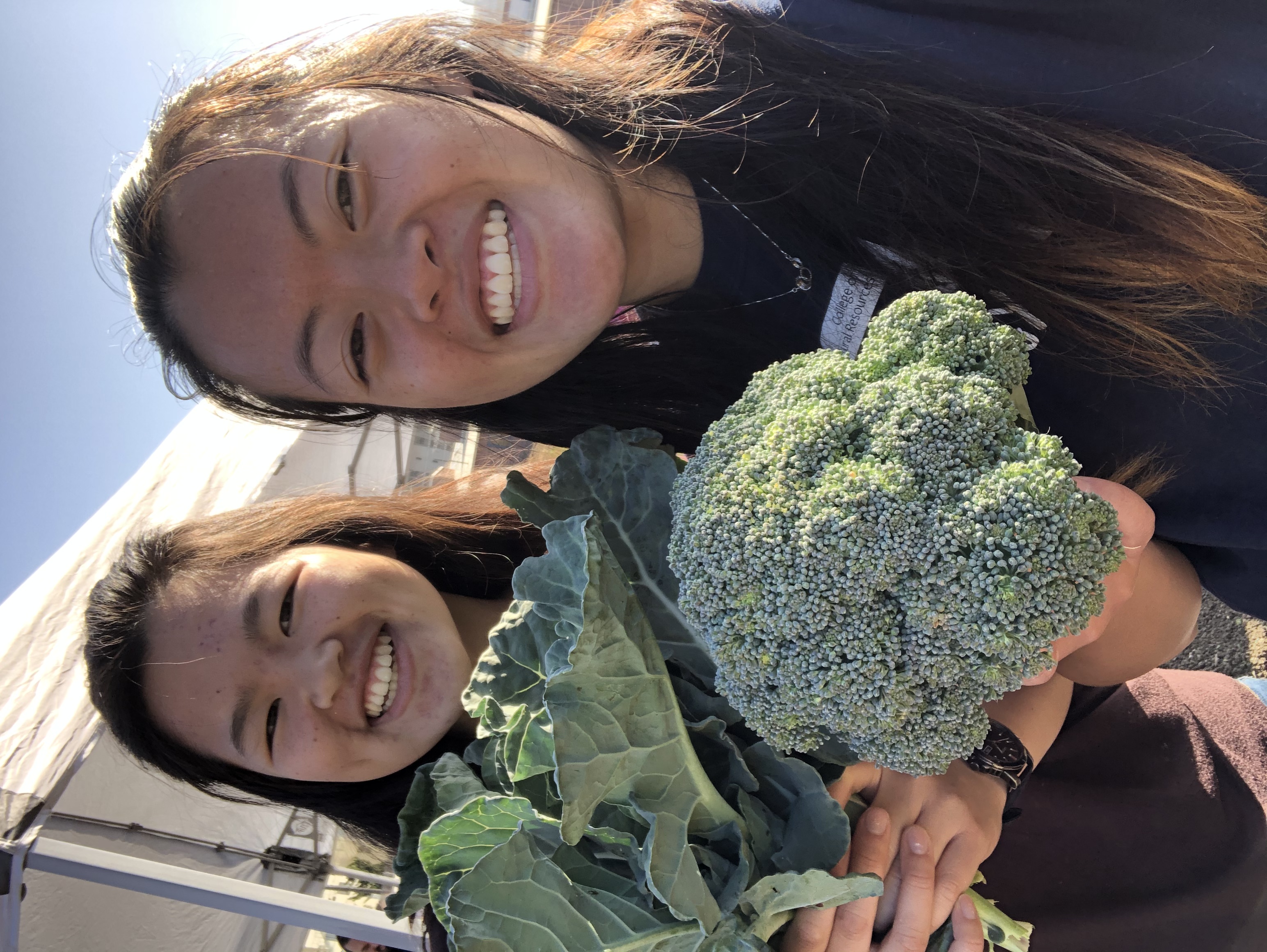 Harvest day during the last field section of ESPM 118 in Fall 2019. Photo by Chloe Cho.
Tell us about your experience at Pesticide Action Network.
I first joined Pesticide Action Network (PAN) as an intern for part of my Food Systems minor. I had previously read about their research and advocacy for ecological alternatives to synthetic pesticides. During the internship, I joined the Grassroots Science Hub and the PAN International Agroecology Workgroup, where I was involved in a literature review to understand climate change's impacts on agricultural insect pests, as well as the potential ramifications this would have on pest management and crop production. It will soon be publicized as an issue brief and blog post on the PAN North America website. In addition, I supported the PAN International Agroecology Workgroup with their projects, including being part of the planning team and co-hosting an international webinar, Agroecology: Farmers' Pathways to Liberation from Pesticides. 
As a part of PAN, I've been able to refine my research and writing skills. But equally gratifying, I've had a wonderful opportunity to work with scientists, organizers, and advocates from around the world who all have a common goal: eliminating the use of highly hazardous pesticides in agriculture.
How did you get involved with UnScilenced, and how did you become interested in making science more accessible for the public?
For many years, friends and I would talk about the inaccessibility of science journal articles. Not only was there a paywall that kept science from the public, but the language and writing style was often difficult to understand and synthesize—even for those with formal science backgrounds, let alone for the public and policymakers. I heard of UnScilenced through a friend at UC Davis, where another undergraduate, Naomi Murray, had started an organization of young scientists whose goal was to translate journal articles into everyday language. With UnScilenced, I wrote articles about my main research focus, sustainable agriculture and food systems. 
Although I'd long thought about how to make science more accessible, the need for this type of science communication has become increasingly apparent. Today, some people deny the validity of scientifically-proven problems like climate change and the pandemic. The concerning amount of misinformation being put out on a daily basis has highlighted the need for accurate, unbiased, and understandable science communications, which I believe would enable more informed decision-making by the public and policymakers.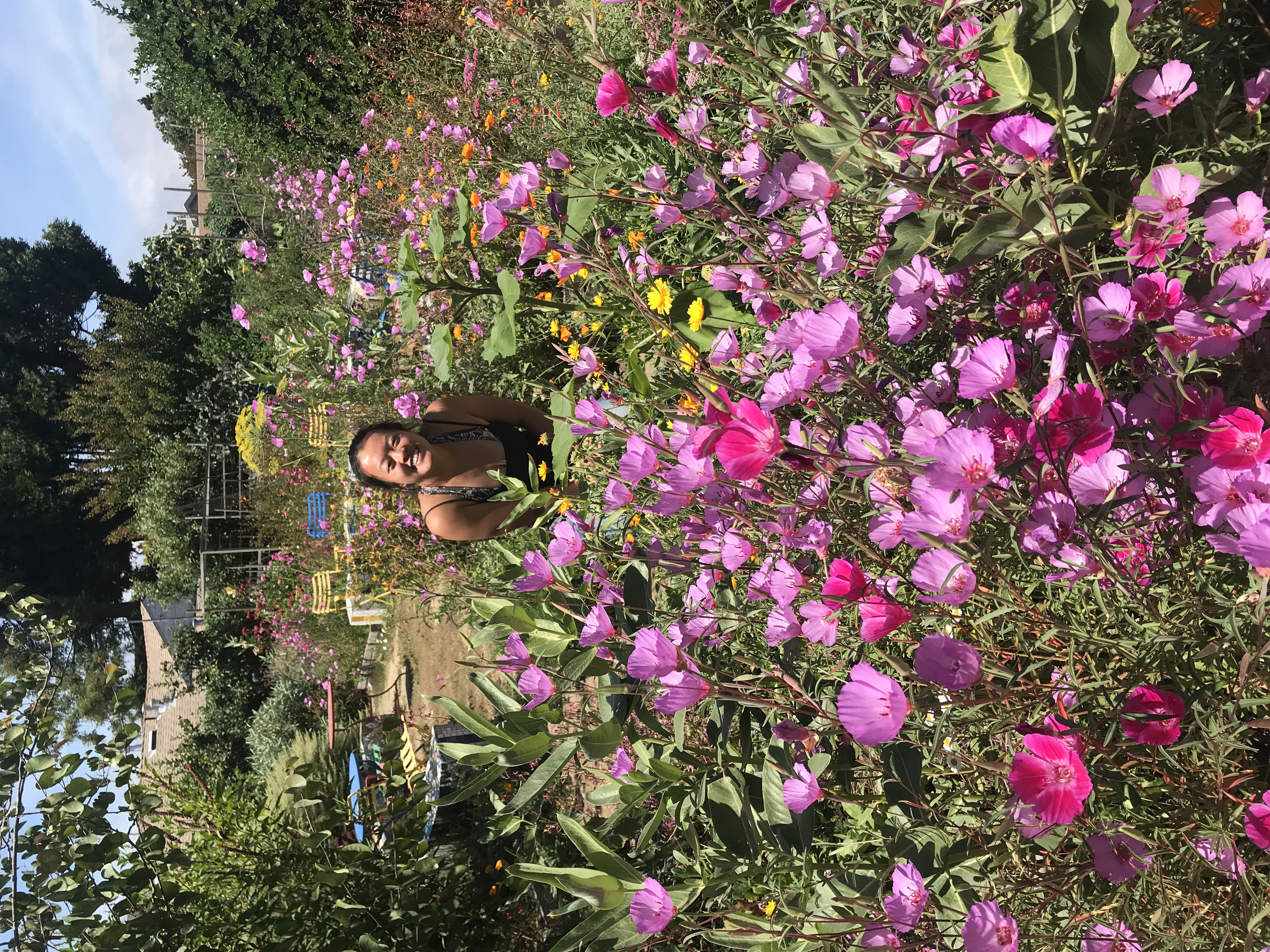 Cho at a field visit to Peralta Community Garden in Berkeley. This photo shows the high biodiversity and floral resources that encourage beneficial insects, such as parasitoid wasps and pollinators. Photo by Nica Goldstein.
Talk about your work in The Science Corps.
Initially, I started out as a volunteer with Science Corps, a non-profit organization that sends recent PhD graduates in STEM fields abroad to help develop and teach STEM curriculum in schools with under-resourced science programs. Last year, I took on the role as their Director of Outreach. Although I did not have previous background in education or curriculum development, the mission of the organization resonated with my belief in the importance of science education. I think it's critical that students have the opportunity to be exposed to science at an early age, and Science Corps fellows have supported many students in the pursuit of higher education who may not have been able to otherwise. 
The STEM curriculum that Science Corps develops is designed for schools to continue to provide lessons to their students long after a Science Corps fellowship has ended. For example, one role of Science Corps fellows at our Philippines host site, Central Visayan Institute and Foundation, is to design Learning Activity Sheets for the Dynamic Learning Program. These worksheets play an integral part in maintaining student engagement during remote learning due to COVID-19 and will continue to be useful long into the future, which has led the program to be recognized by the Philippines Department of Education. 
Can you talk about your experience serving on the Rausser College Dean's Advisory Board?
Being on the Rausser College Dean's Advisory Board has been an incredible experience. I first got involved during my sophomore year, when I received a nomination to serve as the undergraduate student representative on the board. I'm very thankful to have had the opportunity to have my voice heard, and it's been an honor to represent my fellow undergraduates during Advisory Board meetings. It was also very interesting to see a part of the internal workings of the College, and to see how much thought and work goes into improving the student experience. 
While conducting research in the Altieri Lab, Cho went out into the field and collected insect samples using an insect vacuum, before sorting out the parasitoid wasps and capturing them under a dissecting microscope. The experience helped Cho develop her interest in agroecology and pest management, later informing her honors thesis and future career goals. Photo by Chloe Cho.
How have your studies and work gone throughout the coronavirus pandemic?
Like many of my peers, the pandemic completely changed my plans and how the last year of my college experience would play out. One thing that I had been looking forward to was conducting my own experiment for the Honors Program and being able to continue working at the Oxford Tract. But I ended up leaving Berkeley and moving back home during my senior year. 
I still attempted an intercropping experiment, remotely supported by Professor Tim Bowles, with a kale monocrop and a kale/buckwheat intercrop at my local elementary school's garden, to investigate the effects of intercropping on insect pest abundance. However, I was foiled by ground squirrels multiple times and had to pivot my project.
I ended up doing a literature review on agroecological pest management systems and an analysis of data collected as a part of Joshua Arnold's project. Although this was nothing like what I had originally planned for my honors thesis, and I had to restart everything in the middle of the process, I ended up with a completed literature review and statistical modeling results that I'm proud of. 
What are your career plans after graduation?
I'm taking at least one gap year before I apply to graduate school to pursue a PhD. I'll continue as a writer and project coordinator at The Lexicon of Sustainability. I'm also continuing as a Science Fellow at Pesticide Action Network and the Director of Outreach at Science Corps. 
I plan on continuing to focus my research on ecological pest management and agroecology as alternatives to pesticides. I also hope to incorporate my passion for science communication and writing for broader audiences. Additionally, I do see a lot of potential to merge data science with genetics and plant biology. Collections of research data from around the world could be analyzed to help answer long-term ecological questions, such as the impacts of human disturbance and agriculture on the environment. So I hope to continue to incorporate data science into my future research endeavors. 
Do you know of a student or group in Rausser College involved in noteworthy research, community outreach, or extracurricular activities? Let us know by submitting a suggestion with this nomination form.