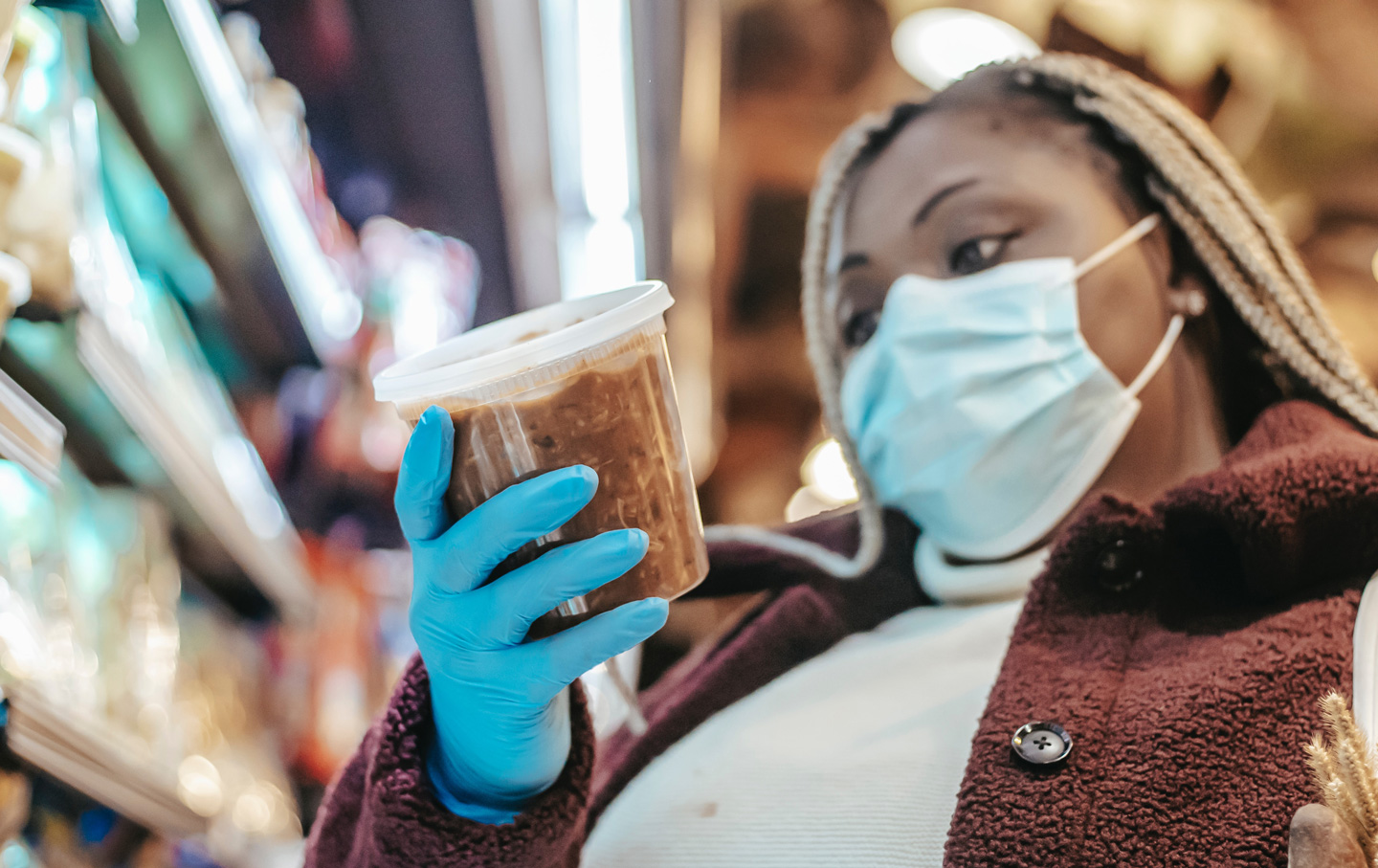 A woman in a mask shops at a grocery store.
Research led by two recent undergraduates in the Department of Agricultural and Resource Economics (ARE) suggests that the average consumer is less willing to pay a premium for products labeled "COVID Safe" than those identified as sustainable. 
Conducted during the height of the COVID-19 pandemic, a time when shelter-in-place orders changed travel plans and pushed commuters off the road, the study's findings were published in the December issue of Applied Economic Perspectives and Policy, a journal of the Agricultural and Applied Economics Association.
Measuring Consumer Choice
"Early on in the pandemic, we heard a lot about changes in traffic and improvements in air quality and environmental health," explained co-author Nica Campbell, '22 Environmental Economics and Policy, who is now a graduate student in the Energy and Resources Group (ERG). "At the same time, we noticed disparities in labor conditions for essential workers—especially those in meatpacking plants."
Meatpacking workers across the United States were unable to stay home during peak periods of COVID. The continued operation of this essential industry led to mass outbreaks of COVID-19 linked to the meatpacking industry, raising concerns about product shortages while sparking debates about working conditions.
Campbell connected with her econometrics classmate and eventual co-author Jackie Copfer, '22 Environmental Economics and Policy, to explore the issue further. "We were really interested in how COVID might influence consumers' choice toward products that could potentially mitigate or limit the chances of something so extreme happening in the future," Copfer said.
While neither student had led a research project before, the pair approached Sofia Villas-Boas, a professor in ARE, with their question. She agreed to mentor them and encouraged them to apply for funding through the Sponsored Projects for Undergraduate Research (SPUR) program at Rausser College of Natural Resources.
The SPUR funding helped Campbell and Copfer administer consumer surveys in California and several midwestern states that reported COVID outbreaks linked to meatpacking facilities. Respondents were either asked to choose between a conventional product and a higher-priced "sustainable" product; or between a traditional product and two higher-priced meat products that featured labels indicating "COVID-safe" working conditions.
According to their findings, respondents who had (or knew a loved one with) COVID-19, or those who reported higher income, education levels, and the ability to shelter in place during the mandates also had a higher willingness to pay for more expensive, COVID-safe meat options.
Younger respondents were also willing to pay a premium for the COVID-safe option, while older respondents were among the group that was less willing to pay that premium. On average, consumers were less likely to purchase the higher-priced, "COVID-safe" products than the higher-priced "sustainable" ones.
A Chance to Lead Research
Copfer and Campbell both said they were initially unsure if they were prepared to conduct original research. "If you asked us in fall 2019 whether we were ready to lead a study, I'm not sure how we would have answered," said Copfer, explaining that they originally struggled to connect their training in econometrics to real-world research.
"When you read studies in class, the data is already provided—you don't get to always see the thought process that the author put into building their model and dataset," added Campbell. The pair worked closely with Villas-Boas, who they credit for assisting with survey design and implementation.
"The idea for the project was totally theirs," said Villas-Boas. "I was their advisor and they asked me to help with the methods. We worked together as total co-authors as if they were research colleagues."
Copfer, a transfer student with a love of economics, called every milestone—from securing funding to seeing the publication in print— very humbling and incredible. "Leading this research showed us we were more prepared than we thought," she said. "I still can't believe it sometimes."
Campbell, who had previously participated in faculty-led research projects, called initiating a student-led study difficult yet rewarding. "I had never done this before, so there was a big learning curve for me," she said. "You can't fully understand the experience unless you've actually conducted your own study."
Publishing and communicating the findings of economic research was an experience Campbell hoped to gain as an undergraduate, and one that inspired her to pursue a masters degree from ERG. She currently studies climate economics as part of Professor David Anthoff's Society, Environment and Economics Lab and is a researcher at the Lawrence Berkeley National Laboratory.
"I don't think I'd be doing it without my undergraduate research experience," she said.