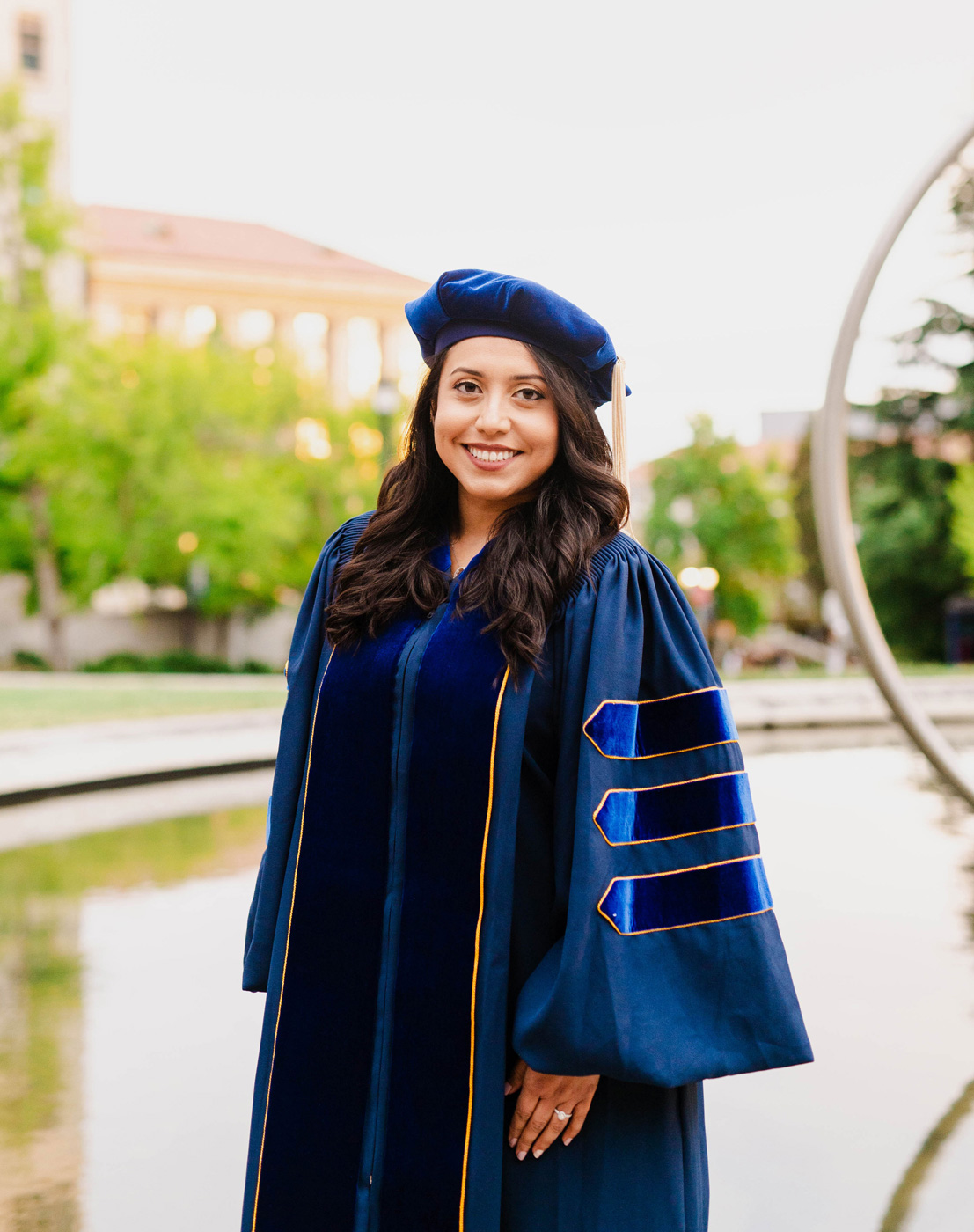 When Areidy Beltran-Peña first came to UC Berkeley in June 2010 as a participant in the summer bridge program, she could not have imagined that the campus would become the catalyst for a remarkable and transformative journey.
Flash forward more than 10 years: Beltran-Peña is an accomplished climate change scientist with multiple degrees from UC Berkeley. She completed her PhD in environmental science this summer, making her the first in her family with a bachelor's, master's, and doctorate, and placing her among the 0.52% of Latinas with a PhD.
Beltran-Peña was named a recipient of the Stanford Doerr School of Sustainability Dean's Postdoctoral Fellowship this year. There, she is working with Professor Noah Diffenbaugh to develop a climate risk assessment framework for agriculture and energy systems reliant on mountain snowpack and precipitation under global warming. 
We spoke with her about her time at UC Berkeley, research, and future.
This interview was adapted from material provided by Beltran-Peña.
Can you tell us about your time at UC Berkeley?
UC Berkeley's vibrant atmosphere, intellectual rigor, and diverse community provided me with an environment in which I could discover my true passions. As an undergraduate, I was a research fellow at Lawrence Berkeley National Lab (LBNL) and completed internships with the Community Water Center in Visalia, California, and Fundacion Cantaro Azul in Chiapas, Mexico. I also had the opportunity to study abroad in India and Indonesia. Those experiences unlocked a world of boundless opportunities and opened my eyes to the difference I could make in the world as a scientist. During my masters program, I persistently addressed knowledge gaps, delved deeper into my interests, and refined my vision for the role I aspired to undertake in addressing climate issues. 
Beltran-Peña at "Mexico and California: Building Environmental Resilience Together" conference in Mexico City. Courtesy
As a daughter of immigrants who came from impoverished communities in Mexico, I know that my family and my people are a part of the population that will be most vulnerable to the impacts of climate change. Hence, I chose to pursue a PhD focused on climate science to better understand the impacts that a changing climate will have on vulnerable communities worldwide, explore research strategies to mitigate risks, and develop recommendations that will enhance climate resilience through adaptation. During my PhD studies, I was fortunate to have been invited to participate in prestigious programs at NASA, the National Center for Atmospheric Research, LBNL, and the Carnegie Institution for Science.
The highlight of my UC Berkeley experience was organizing a side event and presenting my research findings on the impact of climate change on the food-energy-water nexus at the 2019 United Nations Climate Change Conference (COP 25) in Madrid, Spain. That same year, I had the beautiful opportunity to reconnect with my roots by attending the "Mexico and California: Building Environmental Resilience Together" conference in Mexico City, which was organized by Latinxs and the Environment. I traveled to Austria during the final year of my graduate program to participate in the International Mountain Conference where I connected with the international mountain community, presented my research, and co-led a workshop on the future of mountain snow and ice. In sum, my time at UC Berkeley was filled with a wealth of remarkable opportunities that have equipped me to emerge as a future global leader in the field of climate science.
Can you tell us more about your research?
My PhD research focused on assessing the impacts of climate change on water resources and agricultural systems using integrated assessment and Earth system models at global and regional scales. By integrating biophysical, hydrological, climate, and societal models, I was able to perform a global food self-sufficiency analysis in the 21st century under sustainable intensification of agriculture, the results of which were published in Environmental Research Letters. I also co-authored a study published in the Proceedings of the National Academy of Sciences that assessed the global potential for sustainable irrigation expansion under different levels of global warming. That work was cited in the 2023 U.S. Economic Report of the President and transmitted to Congress this March. I will be participating in and sharing this research at the 2023 World Climate Research Programme Open Science Conference, which is aimed at advancing climate science for a sustainable future in Rwanda.
I am grateful to have received fellowships to support my research from the Hispanic Scholarship Fund, the Ford Foundation, the National Science Foundation, and the U.S. Department of Energy. Not only did those provide me with the time and resources to focus solely on my research, but they also allowed me to return to Berkeley Lab as a graduate student where I learned how to leverage supercomputing and Earth Systems models to assess how the hydroclimate of the Sierra Nevada region will respond to a warming climate.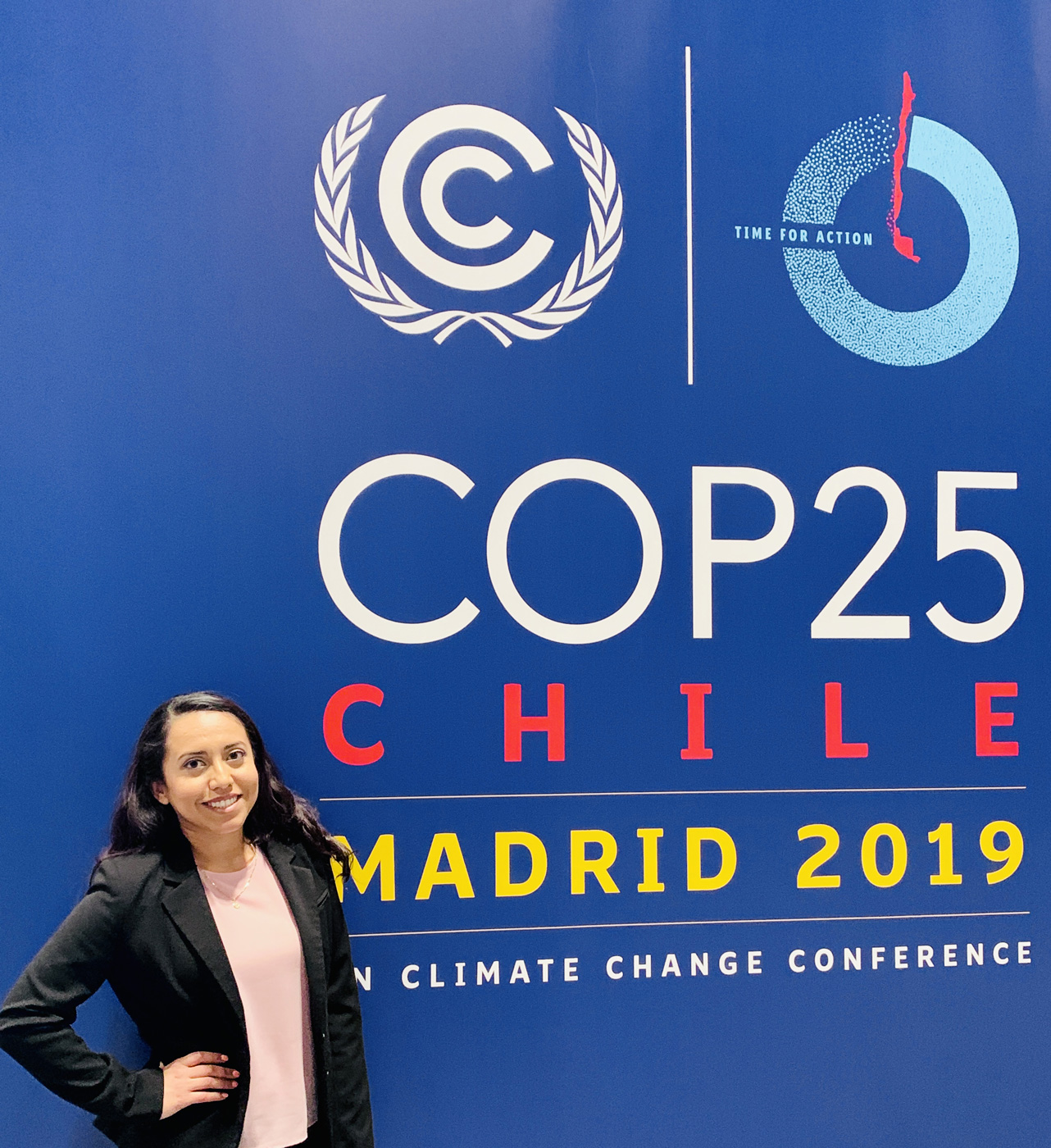 Beltran-Peña at the 2019 United Nations Climate Change Conference. Courtesy
Are there any faculty or researchers who had a big impact during your time at Berkeley?
Becoming the first person in my family's history to earn a PhD could not have been possible without the unwavering support of my mentors during my time at UC Berkeley. Environmental Science, Policy, and Management professor Paolo D'Odorico believed in me from day one and guided me throughout my PhD journey. UC Berkeley professors Dennis Baldocchi, Manuela Girotto, Alice Agogino, Inez Fung, Berkeley Lab researcher Alan Rhoades, and Carnegie Institution for Science scientist Anna Michalak provided me with valuable feedback and encouragement throughout my studies, and consistently challenged me to learn new skills and reach new heights as an academic and scientist. Italian professor Annamaria Bellezza made my PhD experience exceptionally memorable, as her courses not only transformed me into a fluent Italian speaker but also served as a beacon of light throughout the pandemic. 
Finally, I extend my heartfelt gratitude to the mentors and advisors I encountered at UC Berkeley during my undergraduate and graduate years, including those from the Educational Opportunity Program and the academic departments I was a part of—who taught me how to navigate the university system as a first-generation, low-income student and inspired me to pursue graduate degrees.
How do you plan to continue your research in the fellowship?
I am delighted to join the newly established Stanford Doerr School of Sustainability as a Dean's Postdoctoral Fellow. I look forward to the incredible opportunity to collaborate with leading academics to produce world-leading actionable insights and high-impact climate solutions. 
During my time at Stanford, I aspire to deepen my understanding of how climate dynamics intricately shape Earth's system processes, and the resulting consequences of a shifting climate on both natural and human systems. This encompasses exploring aspects such as hydroclimate, extreme weather events, water resource management, agriculture, and the disproportionate climate impacts in vulnerable communities. To kickstart my research at Stanford, I am identifying opportunities for adapting water-energy-food systems to the shifting landscape of snow hydrology and precipitation patterns, particularly in a future characterized by extreme precipitation and reduced snowpack. My goal is to catalyze the development of robust climate resilience strategies by sharing comprehensive high-resolution data through climate risk research. 
What advice do you have for other students?
I'm passionate about inspiring other students to pursue higher education and regularly participate in outreach initiatives, give invited talks, and provide mentoring and research opportunities to others. My number one message to other students is '"Si se puede!"' (Yes you can). I want to encourage them to be brave, carve their own path, believe in themselves, and reach for the stars.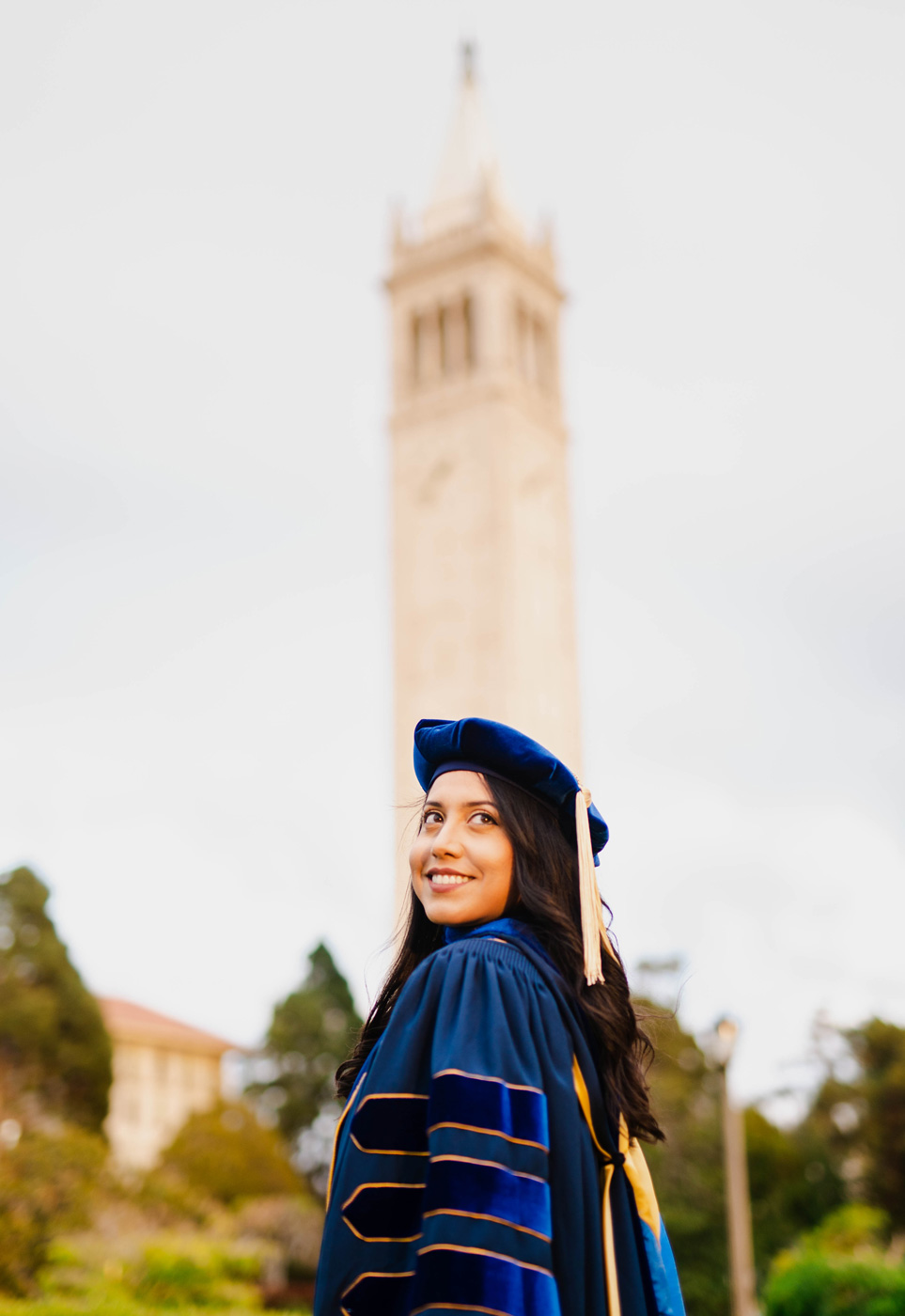 Here are some key pieces of advice I give students today:
Actively pursue and embrace opportunities as they arise. Some of my most enriching experiences have resulted from the unexpected. 
Build community, surround yourself with support and love. 
Gor for it! Apply to that program, job, graduate school, fellowship, etc. Don't be the first to tell yourself "No" before anyone else does. Rare;y will you find a moment when you feel entirely prepared to take that next step, so have faith in yourself and take the leap! I've witnessed individuals who hestitated to apply to medical school because they didn't believe they were ready or "good enough", only to be accepted into great institutions in the end. 
One piece of advice thay I wish I had listened to is "attend office hours, ask questions, and don't let imposter syndrome deter you". When I was a graduate student instructor, reflecting on my undergrad experience, I realized that I made things more challenging for myself by not having the confidence to ask for help and attempting to tackle everthing on my own. 
Finally, have the courage to carve your own path in life, even if the crowd is going in a different direction. Design your own life confidently! 
Do you know of a student or group in Rausser College involved in noteworthy research, community outreach, or extracurricular activities? Let us know by submitting a suggestion with this nomination form.