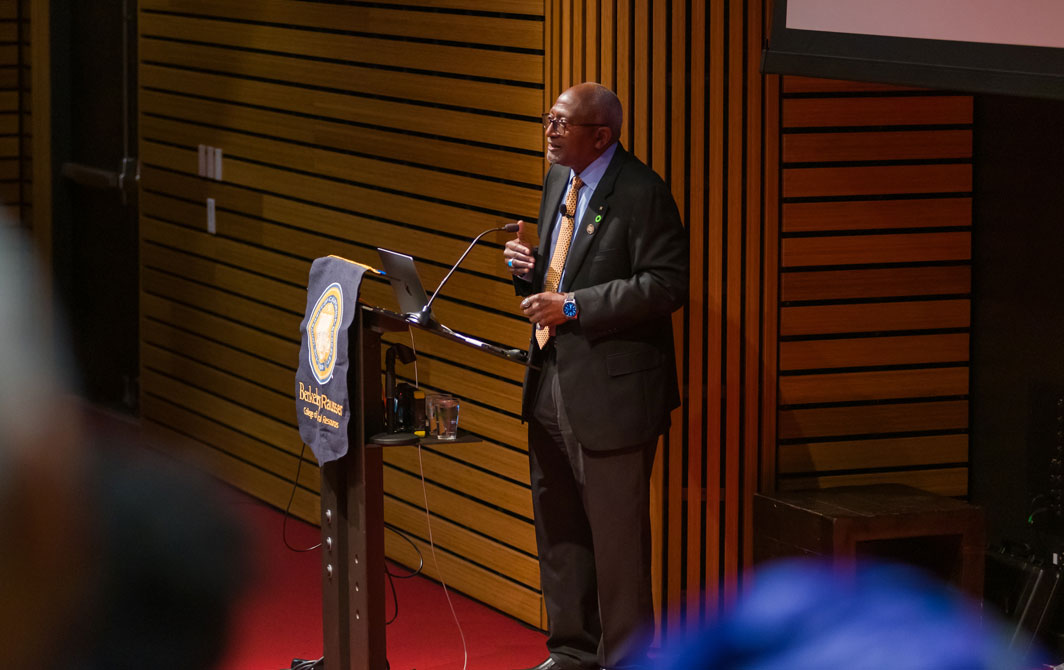 Dr. Robert Bullard, often regarded as the father of environmental justice, speaks before a crowd during the Fall 2023 Albright Lecture in Conservation. Photo by Mathew Burciaga
To Dr. Robert Bullard, climate change is the defining global environmental justice, human rights, and public health issue of the twenty-first century, and one that disproportionately affects the most vulnerable populations in the United States and around the world. These groups often suffer the earliest and most damaging setbacks because of where they live, their limited income and economic means, and their lack of access to health care. 
Bullard, a distinguished professor of urban planning and environmental policy at Texas Southern University, spoke about this disparity during the Fall 2023 Albright Lecture in Conservation held earlier this month. Presented in partnership with the UC Berkeley School of Public Health, the lecture emphasized the urgent need to empower vulnerable populations, identify environmental justice and climate change "hot-spot" zones, and design fair, just, and effective adaptation, mitigation, emergency management, community resilience, and disaster recovery strategies. 
Often regarded as the "father of environmental justice," Bullard offered a framework for dismantling systemic racism and policies and practices that create, exacerbate, and perpetuate inequality and vulnerability. He also stressed the importance of marrying facts, science, and data with concrete steps to make a transformative change and address environmental justice issues.
"Our movement redefined environmentalism," he told an overflow crowd at the David Brower Center. "Environmental justice embraces the principle that all people in communities are entitled to equal protection of our environment, housing, transportation, energy, health, and civil rights. We are talking about all the things coming together."
Watch more highlights from Bullard's lecture in the video below.