Student Groups at Rausser
Part of the Rausser small-college experience is getting to know fellow students with common academic interests. A number of student groups have sprung up to provide social and academic support addressing a variety of topics, disciplines, and issues.
AMEBA (Association of Molecular Environmental Biologists in Academia) - "We're an interdisciplinary club, dedicated to supporting students of the MEB major or those interested in Molecular Environmental Biology and/or the intersectionality of ecology + molecular biology. The club is open to all who are interested (you do not need to be an MEB major to join!). Our goals for this year include:
to promote the interests of students studying science, especially Molecular Environmental Biology;
to create a community of students interested in MEB and the intersection of molecular biology and ecology;
to offer networking opportunities for members with peers and professors within the College of Natural Resources;
to provide guidance and tutoring support for students in MEB-related courses; and
to outreach to local elementary, middle, and high school students to introduce them to biology and science and provide encouragement in futures with biology."
"BEEPS (Berkeley Environmental Economics and Policy Students) is an academic, professional development, and social community for all students interested in Environmental Economics and Policy. They cultivate a hub of resources and support that connects students with peers, professors, alumni, and industry professionals through networking events, a mentorship program, and speaker events. Most importantly, BEEPS fosters a community of connected students interested in EEP by hosting fun socials."
Cal Pre-Vet Club (PVC) - "The mission of the Cal PVC is to connect pre-veterinary students at the University of California, Berkeley, in a supportive community and to provide opportunities to learn about the field of veterinary medicine. These opportunities include: 
Lectures delivered by professionals in the veterinary and animal science fields.
Educational field trips to veterinary and animal care facilities.
Community service for or with local animal welfare organizations.
Informational meetings that address students' questions about academics and obtaining animal experience.
Cal PVC prides itself in being UC Berkeley's premier resource for pre-veterinary students. Cal PVC aims to serve its members in all academic and extracurricular endeavors, and these services are unique to Cal PVC alone. Through the club, Cal PVC members forge long-lasting relationships with local veterinarians, enjoy priority for behind-the-scenes tours of major organizations, and receive significant aid in preparing their applications for veterinary school. Cal PVC hosts a wealth of knowledge and experiences, and we are proud to serve the UC Berkeley veterinary community."
"Catalyst is a student-led organization catalyzing learning through peer education and professional development for future biologists, researchers, and healthcare workers. Through active leadership and membership, students will create and learn from modules that relate to interest and the biological sciences encouraging broad skill development, inclusivity, and fostering new excitement for education. Our goal is to ensure that all biology students feel welcome and have the materials to successfully build a career outside of Berkeley and whatever field they chose to go in. We incorporate lab tours, professional development sessions, networking events, and socializing into one club that can truly be the biology community you are looking for or just a way to relax and gain important skills."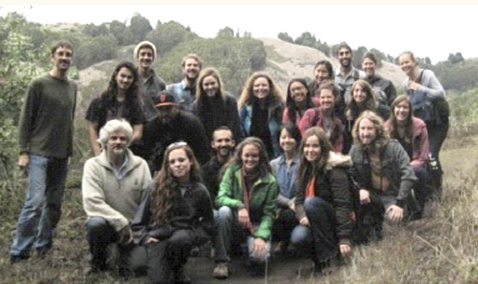 "CRSSO (Conservation and Resource Studies Student Organization) is a club that supports any students with a CRS major or minor that want to join, and we welcome anyone that wants to learn more even if they aren't in CRS! We host a lot of picnics, hikes, and camping trips with the intention of helping CRS people make friends, ask questions, and enjoy the outdoors! In the spring semester, we plan an Alternative Graduation (Alt Grad) for graduating CRS students and we pair up seniors with non-seniors in our Adopt-A-Senior mentorship program. Come join one of our picnics and learn about ESPM classes, AOIs, living diplomas, and make some friends!"
Entomology Club at Cal - "Our purpose is to create a space for a community of insect-loving individuals to come together, talk about insect biology, encourage participation in citizen science, and educate the public on the biodiversity and importance of insects, as well as participate in collecting trips and biodiversity surveys. Fill out this form if you're interested in joining and would like to stay updated on club events and activities. "
Epsilon Eta - Epsilon Eta is a gender-inclusive environmental service organization founded in 2017. We offer a community for undergraduate students interested in environmental service and incorporating environmentalism into their careers and everyday lives. Our members come from a variety of disciplines and majors as we aim for interdisciplinary and intersectional environmentalism. We actively promote community resource sharing for academic and professional success in the environmental realm and uplift our members' lived experiences. Epsilon Eta is a fraternity with multiple chapters across college campuses in the United States; we are not associated with traditional Greek life.
ESSA (Environmental Sciences Student Association) - "ESSA's main goal is to bring students with interests in the environment together in a fun, academic, and social atmosphere. Membership is open to all UC Berkeley students. We organize guest speakers, workshops, nature hikes, book clubs, and much more! When possible, we also plan semesterly camping trips." 
Forestry Club students participate in a logging sports competition
"Cal Forestry Club is a vibrant community of friendly, outdoorsy people who love trees! We meet once a week and have monthly 'bean feeds' with chili and drinks. We also have a competitive logging sports team, if you're interested in throwing axes and wielding chainsaws. We have all sorts of people in the club, but we are united by a love of the outdoors, through recreation, study, and advocacy! In addition to social events, we provide a wide range of career and mentorship opportunities in forestry and natural resource management, from guest speakers, resume workshops, and professional certification training to an official mentorship program that connects students with professionals in their desired career paths. Join Cal Forestry Club and you'll find a lifelong group of friends and a diverse set of new ways to engage with the outdoors!"
"Perennial: The Undergraduate Environmental Journal of Berkeley - Operating between the space of a traditional news magazine and a formal academic journal, Perennial publishes mainly two categories of content: original editorials written by Perennial's staff and academic articles submitted by Berkeley undergraduates. In mixing more easily digestible journalistic articles with academic works, we hope to appeal both to those already very knowledgeable on environmental issues and those who have just a casual understanding. Our two main teams are Editorial, responsible for producing one article per semester in collaboration with a Senior Editor, and Design, responsible for creating the visual components of our publications."
"Planty Social is a club for plant enthusiasts and those interested in learning about plants by doing hands-on activities and going on excursions!!! We also provide a place for students to learn more about research, careers in plant biology-related fields, and the Genetics and Plant Biology major!"
"Student Environmental Resource Center (SERC) is the environmental community hub at Cal. We offer a variety of programming and events to involve new students in the eco-community. If you need funding for your org, space to hold meetings, or just a place to work on exciting environmental projects and meet new friends, check out SERC!"
"The Student Nutrition Advocacy Club (SNAC) at Berkeley is a student-run organization that works to promote nutritional awareness on the UC Berkeley campus and its surrounding community. Our goal is to make nutrition more accessible – nutrition education is our main focus. We offer opportunities to volunteer, network, cook, and more!"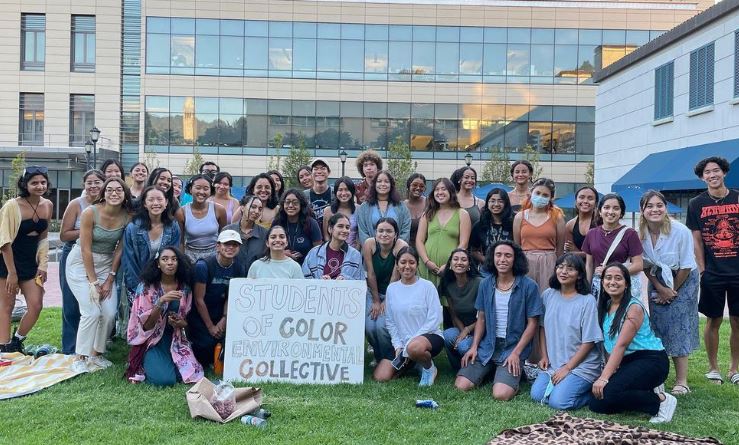 Students of Color Environmental Collective (SCEC) - The Students of Color Environmental Collective (SCEC) centers marginalized voices in environmental and social justice movements to dismantle systems of oppression and environmental racism. SCEC is a group intended to be a healing space for students of color to seek refuge from white-dominated environmental and social justice spaces, to learn more about the intersections between environmental and social justice, and to raise the conversation about environmental racism and justice on and off campus. If you self-identify as a person of color, this is a space for you to share thoughts, experiences, ideas, and educational resources. It is also a space for venting, dialogue, and healing, as well as planning future events and outreach. Please be respectful of this space as existing for students of color.
SURG (SDG Undergraduate Research Group) is an undergraduate research group affiliated with the UC Berkeley Office of Sustainability and guided by the UN Sustainable Development Goals. We strive to research local cross-cutting issues, empower undergraduate voices, and increase the accessibility of research on campus. Undergraduate researchers will join working groups that tackle an area of sustainability tied to the UN SDGs, contribute to a collaborative research report, and present their findings to key stakeholders.
"The Wildlife Society at Berkeley is a student organization dedicated to fostering an inclusive academic and social community for wildlife enthusiasts of all backgrounds. We host academic and professional development events that are designed to increase accessibility to the field of wildlife biology, conservation, and more! We also host fun socials like trips to Cal Academy or the Zoo, local "herping" and birding in the East Bay Hills, and wildlife-themed trivia events!"
"Undergraduate CRISPR Journal Club is a fun and informative club led by the Innovative Genomics Institute and undergraduate student leaders. We hear from some fantastic CRISPR researchers and talk about cool applications and mechanisms of the CRISPR system. There's also free food!"
Below is a video of some of our prominent student organizations in the college from a presentation given at the start of Fall 2020.