Six new carved redwood benches, weighing 1,500-2,000 pounds each, made the journey from UC Russell Reservation, a research facility in the hills of Contra Costa County, to their new home adjacent to Mulford Hall today (May 7) to commemorate the 100-year anniversary of the UC Berkeley Forestry Club. The new 10-foot-long benches were carved by current forestry students, fire science associate professor Scott Stephens, and Tom Klatt, the environmental projects manager with the Vice Provost's office.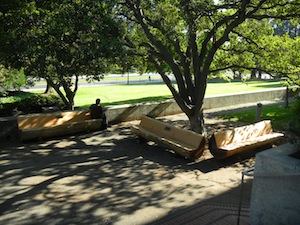 The Forestry Club commemorative benches, in place less than a day, are already an appealing resting spot.
---
"This project has been in the works for two and half years," said Stephens. "Maybe they will make it to the bicentennial of the Forestry Club." The historic club was created before the forestry major at UC Berkeley, and this early group was influential in the creation of the forestry major that is still in place today at the College of Natural Resources.

The new seating area replaces the now-decomposing benches that have been on campus since 1922, when "The Foresters' Circle" was placed in the eucalyptus grove by the then-fledgling Foresty Club. The benches later migrated to several campus locations, including Mulford Hall. The plaques from the original benches will be placed in a case in Mulford, where there is already an extensive wood exhibit on the first floor.

The logs for the new benches were donated by Humboldt Redwood Company and each bench has a plaque, some commemorating the centennial, and some bearing the same inscription as the original benches: "May the ideals fostered here play a worthy part in the conservation of the beauty and usefulness of our forests."


The original Foresters' Circle was placed in the Eucalyptus Grove in 1922 and is now badly decomposed.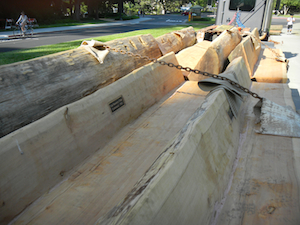 Heavy chains secured the load on its journey to campus.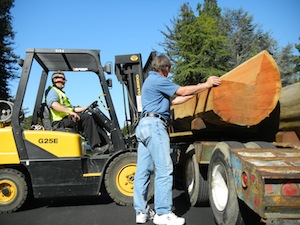 Tom Klatt drives the forklift as Scott Stephens makes adjustments.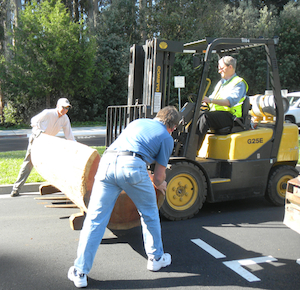 Tom Klatt drives the forklift as Tim Pine (top) and Scott Stephens steady the load.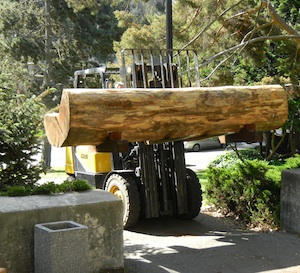 The nearly 2,000 pound log bench is hoisted above the narrow entryway.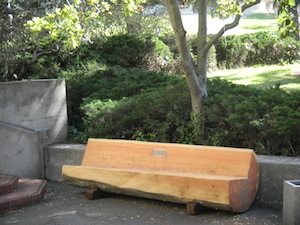 The first bench is placed in a shady corner.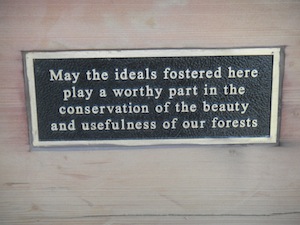 The inscription on the new plaque is the same as on the original 1922 benches.
Story and photos by Ann Brody Guy