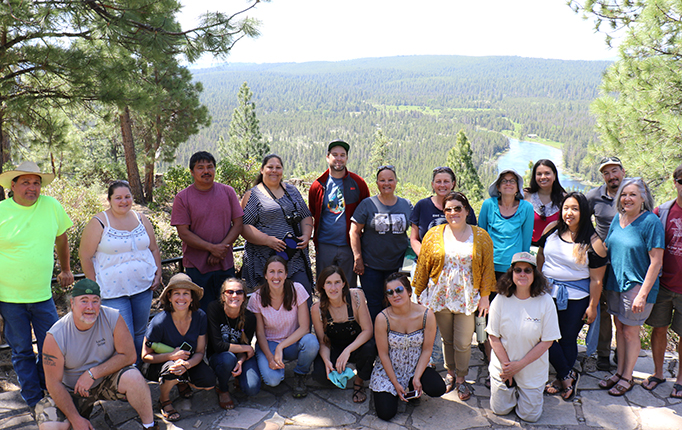 Tribal Food Security Project Team Members from Karuk, Yurok and Klamath Tribes; UC Berkeley, US Forest Service, UC Cooperative Extension and Mid-Klamath Watershed Council. Overlooking Spring Creek headwaters of the Klamath River. Photo by Jenny Staats.
In a new paper published in the Journal of Agriculture, Food Systems, and Community Development (JAFSCD), four researchers in the Department of Environmental Science, Policy, and Management (ESPM) and their collaborators lay out a cooperative approach to education, research, and outreach initiatives within Native American communities. Principles discussed in the paper summarize the findings of the five-year Klamath Basin Tribal Food Security Project, an assessment of Indigenous food sovereignty and food security in the region.
Assistant Cooperative Extension specialist Jennifer Sowerwine led the project, in partnership with the Karuk Department of Natural Resources, the Yurok Tribe Food Distribution Program, Klamath Tribal Health and Family Services, the Mid-Klamath Watershed Council, and the USDA Forest Service. Critically, the project design and leadership was done in conjunction with the three local tribes. Analyzing food systems in the Klamath River Basin, the team gathered data from almost 1,000 tribal residents in more than four counties across two states.
"Multi-agency partnerships with tribes to achieve food sovereignty require attention to the historical impact and ongoing legacy of colonization and institutionalized racism, which contribute to the vast educational, economic, health, and nutritional disparities observed in Native American communities across the country," the authors write. "Collaborative partnerships require deep listening, respect, inquiry, and commitment to dismantling research, educational, and extension hierarchies."
Also among the authors' findings was that the integration of cultural values into K-12 curriculum and other educational programming, as related to food security, helps to strengthen cultural identity, validate cultural knowledge, and bolster tribal participation. 
Tribal disenfranchisement has a long track record in California and Oregon. The authors write that settler-colonial policies and academic research in Native American communities has largely been extractive by nature, resulting in tribal communities' lack of participation in—and deep mistrust of—programs spearheaded by non-tribal organizations.  
"As a land grant institution, UC's mission is to conduct research and outreach in service of all our California communities," says Sowerwine. "As such, it is our responsibility as UC academics to rebuild relationships of trust and partner with Native American communities on research and extension programs that support tribal goals and visions, and honor and acknowledge tribal sovereignty and self-determination.
READ MORE: