The Chancellor's Advisory Committee on Sustainability (CACS) recognizes five Rausser College undergraduates this year for their work bringing about environmental change on Berkeley's campus. For the past 17 years, CACS has honored students at its annual Earth Day summit, though the committee's celebration for the fourth-year students is postponed due to the COVID-19 pandemic. 
During their time at Berkeley, the students found unique ways to promote sustainability and to improve the environmental literacy of the Berkeley community. The soon-to-be graduates have spearheaded projects related to environmental communications, policy, and education, with positive sustainability outcomes on campus operations such as Cal Dining and Landscape Services. Honorees are recognized for efforts to help tackle the world's most pressing environmental issues and bring the community closer to a more sustainable future. 
Sylvia Targ
Conservation and Resource Studies
Targ began her advocacy work when she worked with the university to incorporate the Monterey Bay Aquarium's Seafood Watch guide, which offers guidelines for sustainable fish consumption, into all dining hall food purchases. Since then, she has worked as the sustainability education coordinator for Cal Dining and as an undergraduate student instructor for Oceans C82. During her senior year, Targ served as the elected environmental community senator for the Associated Students for the University of California. Targ plans to continue pushing for environmental change by organizing and consensus building after she graduates.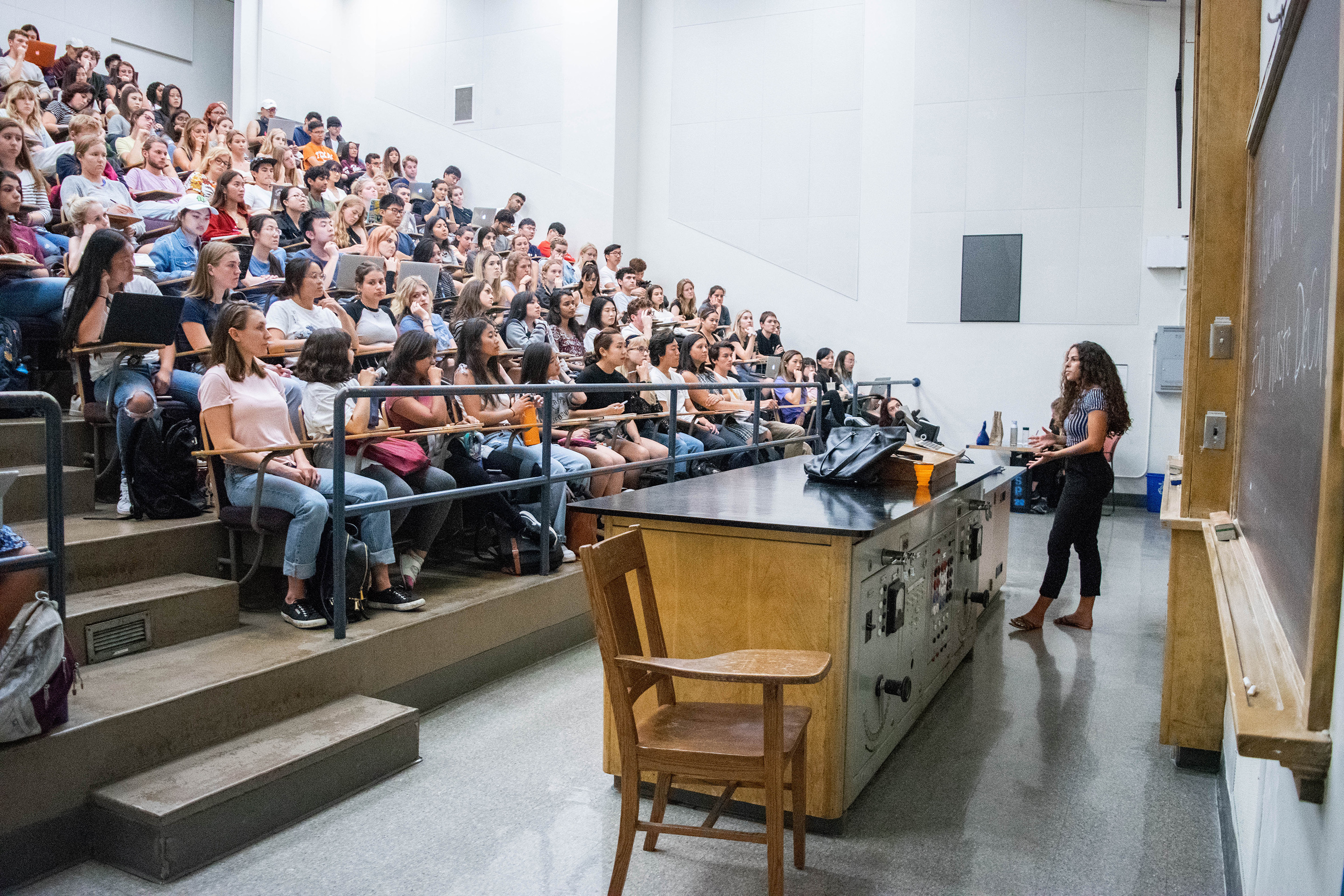 Lenier teaching the Zero Waste DeCal. Photo by Irene Yi.
Sage Lenier
Conservation and Resource Studies
Sage Lenier's interdisciplinary research helped her develop the DeCal course titled "Zero Waste: Solutions for a Sustainable Future." The course, growing from 25 to 300 students within two years, discusses global environmental problems and various ways that students can engage with solutions. Lenier's DeCal won a best practice award at the California Higher Education Sustainability Conference, and its clear, urgent message was featured in The New York Times  last January. She plans to introduce the course to other campuses in the future.
Lenier will also be featured in the Spring 2020 issue of Breakthroughs.
Dante Gonzales
Conservation and Resource Studies; Society and Environment
With a focus on community building and campus engagement, Dante Gonzales expanded his role as a Carbon Neutrality Initiative engagement fellow to encourage sustainability in various ways at Berkeley. Carbon Crew, the team formed and led by Gonzales within the Student Environmental Resource Center, has encouraged students to adopt sustainable behavior during the Cool Campus Challenge, implemented more vegetarian and vegan options on Cal Dining menus, and helped introduce environmental curricula to Bay Area schools. After graduating, Gonzales wants to continue working in climate resilience and organizing.
In a Student Spotlight, Gonzales shares how he became interested in carbon neutrality. 
Bridget Gustafson
Molecular and Environmental Biology
After learning about how chemical treatments were used on the plants near Clark Kerr Campus' volleyball courts, student athlete Bridget Gustafson founded Herbicide Free Cal. The campaign organized weeding days, where students would manually weed as opposed to spraying chemicals. As a result of Gustafson's efforts, a herbicide ban has been adopted at various UC schools, as well as at university campuses in Iowa, Texas, and Hawaii.
Gustafson was featured on the Department of Environmental Science, Policy, and Management's website when she was recognized on the 17 Bay Area Environmentalists Making a Difference in 2019.
Ella Griffith at a food waste event on campus. Since her freshman year, Griffith has been involved with Housing and Dining Sustainability Advocates (HADSA), where she helped develop an internship program and created campaign materials to raise awareness about food waste, among other activities. Photo from the HADSA Archives.
Ella Griffith
Conservation and Resource Studies
Ella Griffith's environmental work focuses on food waste activism. During her time at Berkeley, Griffith pushed for waste reduction in campus dining services and created the Housing and DIning Sustainability Team's first internship program. She has also worked to unite Greek life, student cooperative housing, and campus residence halls to educate students about how to sustainably dispose of their end-of-the-year waste. 
Griffith and her other environmental projects are featured in a recent Student Spotlight.