About the Rausser College of Natural Resources Undergraduate Peer Advising (PAL) Program
The Peer Advising Leadership (PAL) Program of Rausser College strives to offer personal insights and experiences to current & prospective RCNR students. Our PALs are trained in understanding & communicating our Major requirements, College policies, research opportunities, and more! The goal of these students is to offer peer advising to everyone - ranging from a first-semester Berkeley freshman to a last-semester senior! 
PALs also engage with prospective, newly-admitted, and current students at yield events, enrichment programs, Rausser College tours, Cal Day, Commencement, and more! Their work is integral to the success of their fellow undergraduates and to the formation of our friendly Rausser College community.
If you wish to contact a peer advisor send them an email or connect via Zoom.
SPRING 2022  OFFICE HOURS for the Peer Advisors working our Virtual Front Desk will be coming soon!
Not sure if your question can be answered by a PAL? Check out this chart!
2021-2022 Winter Break Virtual Front Desk Schedule:
December 3: Last day for Peer Advisors in the Virtual Front Desk until the Spring 2022 semester.
December 6-10 (RRR week): Staff advisors will be in the Virtual Front Desk Monday, Tuesday, Thursday, and Friday 10am-12pm and 2-5pm; Wednesday 2-5pm.
December 13-17 (Finals week): Staff advisors will be in the Virtual Front Desk Monday, Tuesday, Thursday, and Friday 10am-12pm
December 20 - January 7: Virtual Front Desk closed, see your individual major advisor's schedule for their availability during this time.
January 10-14: Staff advisors will be in the Virtual Front Desk Monday, Tuesday, Thursday, and Friday 10am-12pm
January 17-18: Monday Closed for the Martin Luther King Jr. holiday, Tuesday 10am-12pm
Want to find out more about certain courses? Click here for a list of classes the PALs have taken! 
You can also follow us on Rausser College of Natural Resources Advising Instagram and Facebook pages.
If you would like to hear more about the Peer Advising program, you can email PALs at pal@berkeley.edu, visit our Virtual Front Desk Zoom Room, or talk to your academic advisor for more information!
2021-2022 PALs
(click name or photo for student bio)
Health Worker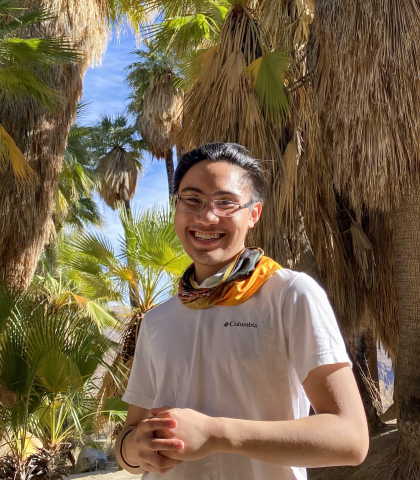 Molecular Environmental Biology
Hey there! My name is Gerard (he/him), a second-year studying Molecular Environmental Biology and minoring in Nutritional Sciences: Physiology and Metabolism. I'll be your Raussser College of Natural Resources Health Worker! As a health worker, I can help you navigate resources for your wellness, stability, prosperity, and full potential as your peer "first point of contact" for non-emergency health advising. I also post health tips on the virtual bulletin board and via emails weekly to share basic illness, first aid, and safer sex information. Outside of being a health worker, I am a resident assistant in Unit 1, a lab technician for the Yildiz Lab in Stanley Hall, and a research assistant for the Center for Environmental Health in Oakland, CA! In my free time, I love caring for house plants, going on adventures with friends, and trying new foods. Hope to see you in my office hours!