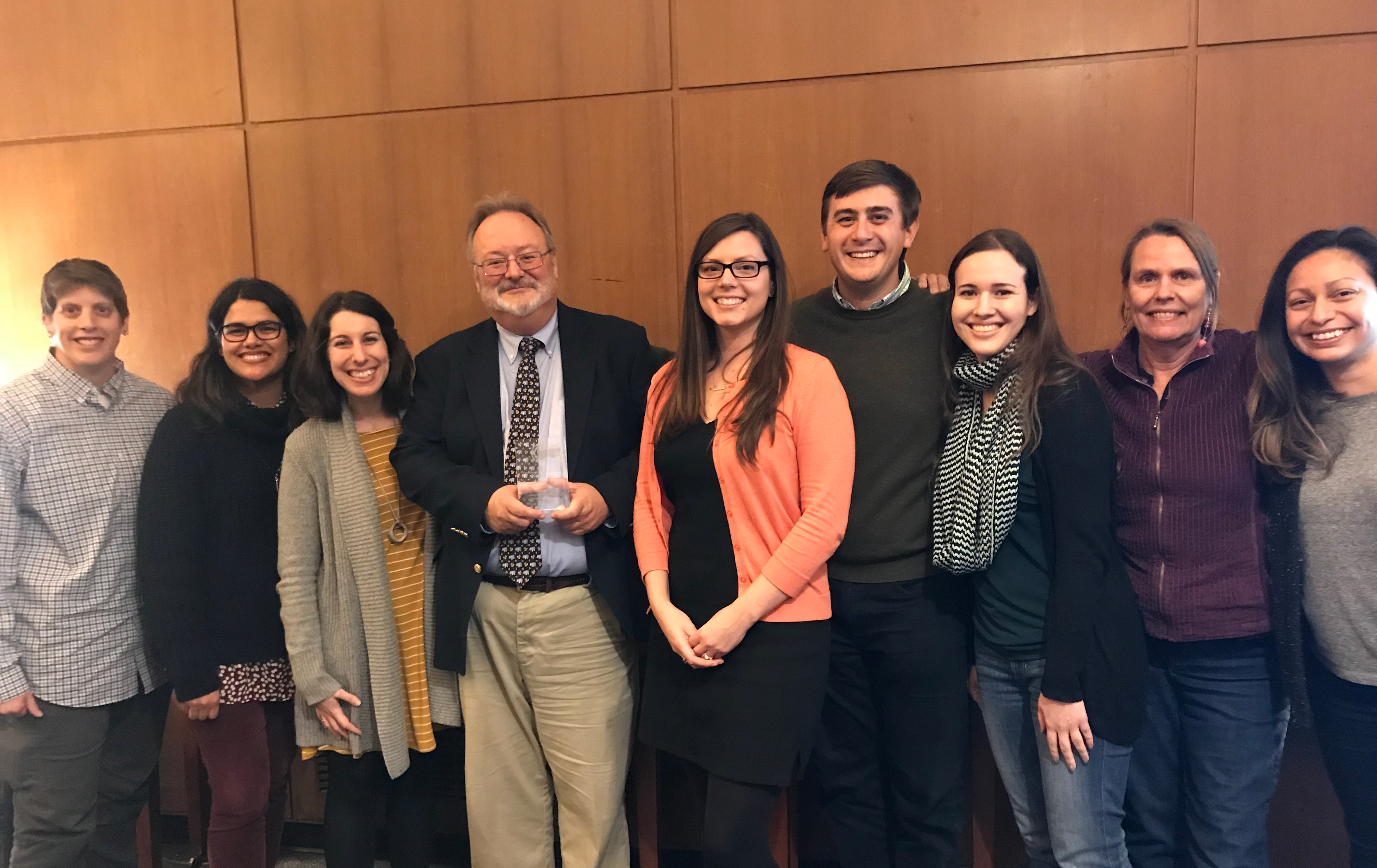 Dean J. Keith Gilless (forth from left) with Office of Instruction and Student Affairs advisors.
In a ceremony on December 18th, Dean J. Keith Gilless was honored with a 2017 Excellence in Advising Award from UC Berkeley's Advising Council. Each year, the Council recognizes the positive impact that faculty, staff, and university leadership have on student learning, performance, and engagement.
In a letter nominating Gilless for the award, the College of Natural Resources (CNR) Office of Instruction and Student Affairs cited his unparalleled and unwavering support for undergraduate education at the College, a population that has increased by nearly 1,000 students during his tenure as dean. By funding undergraduate research that supports faculty engagement with students, Gilless has expanded opportunities for CNR students. He has consistently supported a number of undergraduate programs including  Honors Research, the Sponsored Projects for Undergraduate Research, travel grants for undergraduates, and biannual undergraduate poster sessions. 60 percent of CNR students now participate in research by the time they graduate.
The nomination letter also highlighted Gilless's work to address the learning needs of a diverse student population. To provide more educational access, he initiated CNR-specific chemistry courses, and he was the first dean to grant credit for an introductory chemistry course that consistently includes 80 percent female students and 40 percent underrepresented student populations.
As Gilless completes his final academic year as dean of CNR, Rebecca Sablo, Assistant Dean of Instruction and Student Affairs, reflected on his legacy as a leader and advisor. "The innovations Keith has introduced are often the result of his problem-solving approach which takes into consideration the diverse needs and expectations of students, faculty, and staff," said Sablo. "His accomplishments and dedication to the student experience are remarkable, and he leaves behind a student population that is larger, more diverse, and happier than ever before."